Everything's Jumpin'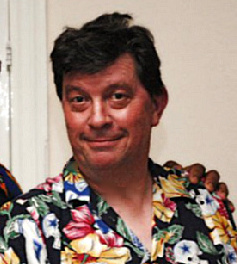 Everything's Jumpin' has jitterbug classes twice a week with Nick Kirby.
Nick trained with the Royal Ballet and worked with some of the world's top classical dancers and choreographers before discovering jive.

On Monday evenings he's at the Kingston Workmen's Club, 25 Old London Road, Kingston, KT2 6ND. On Thursdays lessons are at Handcross Parish Hall, High Street, Handcross, Sussex RH17 6BJ. More info from Nick on 01342 716464 / 07774 810404 or Alison on 07901 883934.


---
Jiving at the shed

<!img src="nickkirby.jpg" width=125 align=right hspace=10 alt="Nick Kirby"> Learn to jive with Dave and Wendy at the Carding Mill in Hepworth, West Yorkshire.

It's a multi-venue attraction based around a vintage theme. On Tuesday nights there's a beginners class at 7.30 followed by improvers and intermediates at 8.30. Cost is £6. Pay on the door. Come with a partner or alone. More info on 01484 680400.


---
Chicken Shack

The Chicken Shack offers beginners 50s dance clases in Leytonstone, East London.
Venue is The Sinbin, Plough and Harrow, 419 Leytonstone High Road, E11 4JU.
The classes run every Wednesday from 7.30 till 9pm on a drop-in basis. Cost is £5 with no need to book.
Organisers Malc and Tricia say: "Anyone can join at any time, with no partner needed, and no commitment for a fixed number of weeks. It's a fun way to exercise and enjoy yourself and will give you the confidence to get up and dance the next time you are out!"
More info on the Chicken Shack Facebook page.


---
Paris Rock


Paris Rock Club boss Jean Leclerc has Monday evening rock'n'roll dance classes in Waterloo, London.
Venue is the Waterloo Action Centre, 14A Baylis Road, SE1 7AA. Beginners at 6pm, intermediates at 7.10pm.
On Thursdays at 7.30pm classes take place at St Stephen's Hall, 1 Coverdale Road, Shepherd's Bush, London W12 8JJ.
There are also plans for an acrobatic r'n'r class for couples on Saturdays in Waterloo. More info at www.parisrockclub.com or call 07944 775556.


---
Absolute beginners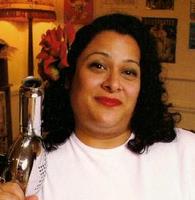 Hula Boogie has jive/rock'n'roll courses in South West London.
Venue is Kingsmeadow Live, Cherry Red Records Stadium, Jack Goodchild Way, 422a Kingston Road, Kingston upon Thames KT1. No experience is required and there's no need to bring a partner. Advance booking required via info@hulaboogie.co.uk
Hula Boogie also has jive lessons at South London Pacific, 340 Kennington Road, London SE11 4LD and other venues in central and south London. Enquiries to info@hulaboogie.co.uk

---
Go East

Swing East offers beginners jive and lindy hop classes in London's East End.
Lessons are on Tuesdays from 8-9pm at the St Paul's Way Centre, 83 St Paul's Way, London E3 4AJ. Cost is £7 per lesson or £30 for 6 one hour lessons. Please contact Nelson to book your place on 07956 568751 or email swingeast@poplarharca.co.uk

---
Vintage Jive

Vintage Jive teach "original and authentic" American 50s rock'n'roll and 40s GI jive in Surrey.



On Thursdays, lessons are from 8-10pm at North Leatherhead Community Centre, Kingston Road, Leatherhead KT22 7NX. The venue has a newly refurbished function room, and there's a bar available. Price £7 per session.

Terry and Cathy say: "Our unique style has been passed through the family from the GIs. It's fun to learn and there are no course fees to pay up front."

More info on 07854 621522 or email vintagejive@hotmail.co.uk

---
Surrey Jive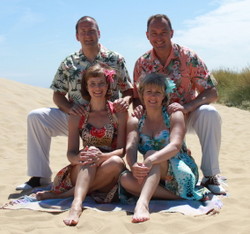 Surrey Jive are double jive champions (War and Peace Show and Jivemania as well as 2012 quarter finalists of the Sky TV dance competition, Got To Dance).

They hold 10-week swing jive courses for beginners and intermediates, and monthly dances. In the beginners you will learn the jitterbug and at intermediates savoy lindy hop.

Classes are on Wednesdays at St Patrick's Church, Park Hill Road, Wallington SM6 0RU, and on Thursdays at St Joseph's Church, St Margaret Drive, Epsom KT18 7JQ. Next start date in Wallington is January 8th 2014 and Epsom on January 9th.

For full details at www.surreyjive.co.uk or contact Paul on 07723 826752. Remember, everyone can jive... It just takes practice!

---
Jump with Jim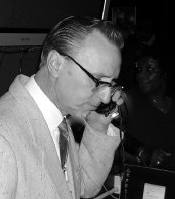 Veronica and Jumping Jim teach classic 50s jive as used in all the clubs up and down the country.



From all the top r'n'r and rockabilly weekenders, we show you the style and timing so you can dance with anybody at these great events and clubs. We teach at Hedsor Social Club, Bourne End, Buckinghamshire SL8 5ES on a Tuesday from 8.30pm for around 45 minutes.

Then Jivin' George will play all your top tunes for you to practise to until 11-ish. There's a bar, parking and a cheerful welcome. Partners or singles welcome. All for a fiver each! Check out the website at www.justdanze.co.uk


---
Lindy at The Aeronaut

Learn to lindy in a circus big top!



The circus-themed Aeronaut pub in Acton, West London has swing dance classes on Tuesday nights. Beginners 7.30–8.30pm, improvers 8.45–9.45pm. Cost £5. No partner is required and there's no need to book. Address is 264 Acton High Street, London W3 9BH. More info at http://www.hotchaswing.com/


---
Rocking Rebels

There's an absolute beginners rock'n'roll dance lesson at the beginning of the Rocking Rebels' weekly record hop in Harefield, West London. Venue is Harefield Cricket Club, Breakspear Road North, Harefield UB9 6NE. More info from the Rocking Rebels on 07951 652083 / therockingrebel@gmail.com


---
Smart Rockers

Learn to dance rock'n'roll in Bletchley, Bucks with the Smart Rockers.



IDTA qualified dance teachers Anne & Wally Smart have a new beginners course starting on Friday 3rd October 2014 at Queensway Methodist Church Hall, 261 Queensway, Bletchley MK2 2HB

There are also Wednesday night sessions at West Bletchley Community Centre, 3 Porchester Close, Bletchley MK3 6BH. For more information, call 01908 365185 or see www.smartrockers.co.uk


---
Village Hall Hop

There's a beginner's r'n'r dance lesson at the start of County Durham's fortnightly Village Hall Hop.



Venue is Coxhoe Village Hall, Front Street East, Coxhoe DH6 4DB. The beginners class runs from 7-8pm, with a record hop from 8-11pm. Cost is £3 for the class and record hop, or £2 for the record hop only. For dates and more info, see www.facebook.com/VillageHallHop or call 07834 856452.


---
Kav's classes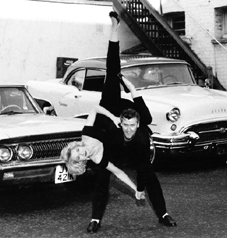 Kav Kavanagh has r'n'r dance classes in London, Surrey, and Kent.
The former British and 3rd place European Rock'n'Roll Dance Champ and partner Suzy Q can be found on Tuesdays at 8.30pm at the Mick Jagger Centre in Shepherds Lane, Dartford DA1 2JZ.
On Wednesdays at Kav teaches at Pooles Park School, Lennox Road, London N4 3NW from 8.30-10.30pm. Admission is £8.
On the second Monday of the month there's a lesson and record hop at the Burnt Mill Snooker Club, Harlow, Essex CM20 2DQ. On the third Monday of the month, the action moves to the Car Wash Diner, Horseshoe Garage, Hurst Green, East Sussex TN19 7QY.
On the first Thursday of the month he's at the British Legion, 1 Mill Lane, Westerham, Kent TN16 1SG.
Details on www.jiveafter5.co.uk or call 07721 489489 10am-7pm most days.

---
Gloucester's best kept secret

Gloster Jive & Swing has Tuesday night lindy lessons at the Guildhall Arts Centre, 23 Eastgate Street, Gloucester GL1 1NS. Organisers Gary and Sara Boon say: "The Guildhall is an amazing venue with a wonderful ambience, atmosphere and history. The dance floor is incredible and the staff are welcoming and friendly. It is without doubt Gloucester's best kept secret." Costs are £4.50 per class. Info on 01452 311136.


---
Hoppin' Mad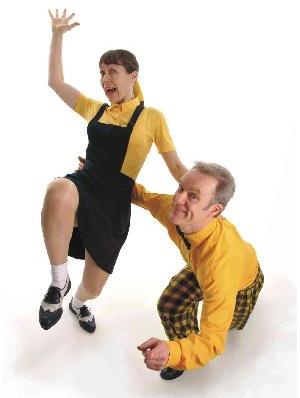 Graeme Puckett and Ann Peskett have weekly lindy classes in Bristol and Bath.
On Monday nights they're at the Elmgrove Centre, Redland Road, Bristol. Tuesday night lessons are at Bath Scout HQ, 7 Grove Street, Bath BA2 6PJ. You can start any week and no experience is necessary. For more infomation call 01225 332942 or see www.hoppinmad.co.uk




---
Swing Dance Bristol

Founded by David Zilkha in 2009, Swing Dance Bristol offers lindy classes in Easton, Bath, Southville and Clifton. For more infomation see www.swingdancebristol.com



---
Bristol stomp

Bristol Jive Club has a class and dance every Wednesday at Cadbury Heath Social Club, Cadbury Heath Road BS30 8HX Details at www.bristoljiveclub.com



---
Melksham classes

Melksham R'n'R Club in Wiltshire has jive classes with Jason and Sam on the first and third Tuesday of each month at the town's Rachel Fowler Centre. Get more info from Geoff on 01225 706463 or Jason on 01793 486067.



---
Good company

The Swing Dance Company has lindy lessons at the Fishbourne Centre near Chichester on Mondays and at Fareham Working Mens Club on Tuesdays. Info from Brooke on 0845 094 2834.



---
In cinque

Cinque Ports Swing Jive has lessons in Portslade, East Peckham, Dartford, Faversham and Hastings. Info from Gypsy John on 01233 758792 or 07999 806635.



---
In the swing

Get In The Swing has lindy lessons on Tuesdays in Steeple Morden and Wednesdays in Bury St Edmunds. Info from Paul and Debbie on 01763 242949.



---
Northants jive

RockRoll Jive Club is based in Towcester and Daventry, Northamptonshire. We run a rock'n'roll dance class in Towcester every Tuesday night for which there is no charge, but any donations are gratefully received for our nominated charity. We also run dance nights every other Wednesday at Caseys Club in Daventry. Please e-mail rockrolljive@o2.co.uk for more info.



---
R'n'r paradise

The Paradise R'n'R Club has dances with tuition every Tuesday at The Welcome Club, 1 Victoria Road, Stanford-le-Hope, Essex SS17 0JF. Admission £4. More info from Sam on 07505 150385.



---
Introducing Mr Dickie Bow's


In Essex, Mr Dickie Bow's has 40s swing classes on Monday nights in Rochford, and Wednesday nights in Southend. And there are 50s rock'n'roll classes most Thursdays in Rawreth near Rayleigh.

For full details see www.mrdickiebows.co.uk





---
Wolverhampton lindy

The Wolverhampton Lindy Hoppers are now teaching at the city's Bradmore Centre on Thursday nights. Sally & Chris are the organisers. More info on the website.



---
Easy does it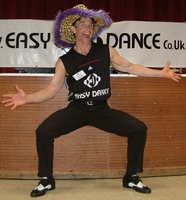 Easy Dance run modern jive classes and social nights in Sheffield.

Monday night venue is Woodseats WMC, The Dale, Woodseats S8 0PS. Thursday night venue is Walkley Community Centre, 7a Fir Street, Walkley S6 2TG. 7.30 till 10.30pm. Beginners welcome, no partner required. Just turn up. More info at www.easydance.co.uk or call/text Mark on 07905 162256. Every night's a party night at Easy Dance.




---
Swing At The Light

Swing At The Light has simultaneous lessons in lindy and balboa on Monday nights at The Light E1 Restaurant and Bar, 233 Shoreditch High Street, London E1 6PJ. Natasha Hall and Paul Crook teach balboa while Sean Hall takes care of the lindy class. Tim from Hellzapoppin' is the resident DJ. More info at http://www.swingtimedance.co.uk/where-to-dance.html


---
TC and Joycey B's Swing-Jive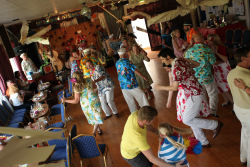 Beginners classes are at 7.15pm on Tuesdays at our new venue, Mytholmroyd Community Centre, Hebden Bridge, West Yorkshire HX7 5DY - home of the fabulous Hula Hop.
Includes a taught class (with loads of help!) Practice time and social dancing to great 40s/50s music. Vintage buy and sell, friendly and fun group, lovely big dance floor and on-site parking for at least 50 Cadillacs! Intermediate classes at 8.30. £5 per class. Call Joyce 01706 814996 or go to www.hepcathop.com. See ya on that dancefloor!



---
Havana comes to Herts

There's a new jive club in Hertfordshire. Havana Jive can be found on Tuesday nights at 50 Victoria Street, St Albans AL1 3HZ. Havana has recently been revamped with a new sound system, wooden floor, full bar and free parking outside. Doors open 8pm. The beginners class is at 8.15 and intermediates at 9.10 leaving plenty of time for freestyle until 11.


---
Jitterbug jitters hit 40s scene

<! Sept 2011>

Extra jitterbug classes are on offer in the Midlands after fears that the region's 40s scene is suffering from a lack of dancers.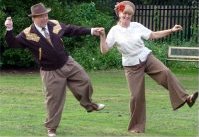 The alarm was raised by 40s re-enactor Bill Hayfield who noticed something was missing at the Severn Valley Railway 1940s weekend.... "When it comes to dancing on the Saturday evening, only a few people tend to have a go," he said. "In my opinion people want to dance but have to be taught correctly."
Bill's SOS struck a chord at East coast swing outfit Strictly Jitterbug, run by Alistair and Dawn Fitzgerald. After teaching for several years in Bedworth they have now launched extra classes across the West Midlands.
"We heard that people were struggling to find lessons in jitterbug, with the re-enactors scene expanding, so we decided to offer our services," said Alistair, who is well known on the Midlands swing and rock'n'roll dance scene.
On alternate Mondays Alistair and Dawn teach at The British Legion, 1 Park Road, Kenilworth CV8 2GF. Tuesday classes are at Shepwell Green Social Club, Willenhall WV13 2QF. Wednesday venue is the Irish Centre, 14-20 High Street, Digbeth, Birmingham B12 0LN. Thursday lessons are at The Griffin, 1 Kingsway, Rugby CV22 5PA.
Admisson is £5. More info at www.strictlyjitterbug.co.uk or call 07968 988442.


---
East coast jive

The Original East Coast Swing and Jive Dance Club has r'n'r jive classes on Wednesday evenings at Cobholm Community Centre, St Lukes Terrace, Cobholm, Great Yarmouth, Norfolk NR31 0AP.

Arrive at 7.30pm for a prompt start at 8.00 with Sarah V & Mark B. £1 for members, £3 non members. More info at www.eastcoastswingandjive.co.uk.


---
Rockin' in Shropshire

Fletcher Dance Studios have rock'n'roll dance classes at the War Memorial Club, Five Ways, Shifnal, Telford, Shropshire TF11 8AD More info on 07814 599802 and at www.fletcherdancestudios.co.uk.


---
Lindy in Lincs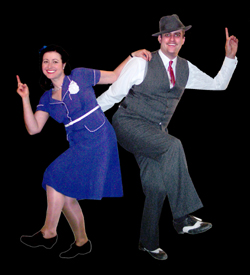 Caron and Steve Mason teach lindy on Thursday nights at the Mayfair Family Club (formally Smilies), Birch Road, Louth LN11 8DU.

Admission £6. More info at www.52ndstreetjump.co.uk or call 01507 463130.




---
Lindy in Lancs

Jazzswingdance has beginners and improvers lessons on Mondays in Preston at the Masonic Hall, Saul Street PR1 2QU.

On Tuesdays classes are at Boot & Shoe, 171 Scotforth Road, Lancaster LA1 4PU. Lessons are £5 or it's £2.50 for dancing only after the classes. More info from Anthony & Stephanie on 07902 342448 and at www.jazzswingdance.co.uk.


---
Whitstable wipeout

There are Tuesday night classes at the Horsebridge Arts Centre, Horsebridge Road, Whitstable, Kent CT5 1AF. More info at www.v8events.co.uk or v8events@hotmail.co.uk or call 07910 506967.



---
Sh'boom at the New Tyke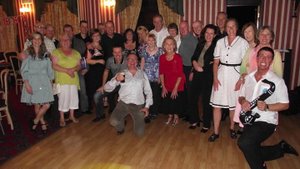 Eight-week jive courses are available at The New Tyke, Thornton Road, Bradford BD13 3DG.

Learn jive moves and strolls for beginners and intermediates plus plenty of time for social dancing to music from the 40s and 50s. It's £4 for a full evening of dancing. No partner required. Contact Karen on 07542 918997, Charlie on 01274 832040 or e-mail shboom1@hotmail.co.uk



---
Rockin' Roadoilers

The Rockin' Roadoilers 1950s dance club has jive lessons at the start of its monthly record hops at the Red Arrow Club, Ramsgate, Kent CT11 0QX. For dates and further info call Terry on 07977 651517.



---
Swingin' in Herts and Essex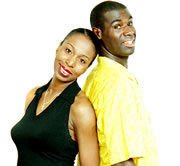 Jiveswing duo Joseph and Trisha Sewell have a new Monday night class and dance in Southend-on-Sea.
Venue is the Railway Hotel, 32 Clifftown Road SS1 1AJ.
There are also weekly classes at Letchworth, Anglia Ruskin University, Hatfield, St Albans, Warley, Welwyn and Watford. &nbsp Details at www.jiveswing.com and on 01438 712218.



---
Rockin' reverend

Reverend Boogie has launched another jive night in Kent.
It takes place every Wednesday in the superbly exotic Fiesta Room at The Cuban, 41-43b High Street, Canterbury CT1 2RY.
The evening starts with special meal deals available from 6-7.30pm accompanied by the relaxed sounds of 1940s and 50s latin and lounge. For those wanting to learn to jive or jitterbug there'll be a fun dance class from 7.30-8.30. The evening hots up at 8.30 as DJs Tiger Terry and Rev Boogie bring you a mix of big band swing, 1940s & 50s r'n'b, doowop, r'n'r and rockabilly. Entry including the dance class is £7 (£5 student), or £5 after the class (£4 student).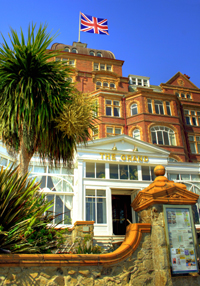 Rev Boogie's other weekly gig is at the Grand Hotel in Folkestone. Classes are held on Mondays in Keppels Bar from 7.30-8.30pm with music afterwards until 11.30. Price is £7 including class, and £5 after 8.30.

The rockin' reverend said: "I approached the venue who were very interested in the idea because it would tie in so well to The Grand's glamourous past. The Grand is an amazing venue. It was built in the 1890s with one of the first steel frames and was infilled with reinforced concrete (said to be a world first) and had suspended ceilings to improve sound proofing.

<!img src="grandfloor.jpg" width=175 align="right" hspace=8 vspace=8 alt="Keppels Bar, Grand Hotel, Folkestone"> "Other firsts included the first sprung dance floor in Europe in 1909 and the first public telephone box installed just outside on The Leas. Edward VII was a regular visitor along with his wife and mistress Mrs Keppel (after whom the bar is named). During the Great War the Belgian royal family used the hotel as a refuge, and later regular visitors included Edward VIII, Princess Margaret and Agatha Christie (who wrote Murder on the Orient Express at the time she was staying). The Palm Court Orchestra was founded to play at the hotel."
More info from revboogie@hotmail.co.uk or call 07896 654571.

---
Lindy in Leicester

Lin-D-Hop and Glen have Swing Into Lindy sessions every Thursday evening from 8-10pm at Anstey Jubilee Hall, Stadon Road, Anstey, Leicester LE7 7AY.

Everyone's welcome from beginners to people who want info on different moves or strolls, or anyone who just wants to practice. It's a very informal night. Just turn up and bring a drink. More info on 0116 230 2828.


---
Winning formula

West London's Winning Post R'n'R Club has beginners r'n'r jive courses on Tuesdays at the Winning Post pub on the A316 Chertsey Road in Whitton TW2 6LX. Start time 7pm.

For more details call Evelyne on 07767 358079 or see www.ukrockandroll.com.


---
Juke box jive classes

Learn 1940s jitterbug jive with Julie and Julian. Beginners to advanced. Fridays 8-9pm at Chiltern Sports & Social Club, Maple Lodge Close, Maple Cross, Rickmansworth, Hertfordshire WD3 2SQ. Please call in or give us a ring on 01923 492854.


---
Joanna and David

Authenic 50s style jive taught in a fun friendly atmosphere at various venues across Nottingham and Derbyshire. More info at www.rocknrollnottingham.co.uk



---
Beds and Bucks

The Adrian Marsh School of Dance teaches authentic 50s rock'n'roll jive in and around Milton Keynes, Bedford & Leighton Buzzard. There are classes every night of the week from 7 till 10.30pm. Absolute beginners to intermediates. Send an email and turn up. Contact Adrian & Sara on info@adrianmarshschoolofdance.com or visit www.adrianmarshschoolofdance.com


---
Mick's Mix

Mick's Modern Jive Mix happens on Thursday evenings at Biggleswade Working Mens Club in Church Street, SG18 0JS. The club has a good size wooden floor, very reasonably priced bar, rest areas and its own car park. We run a complete beginners and intermediate class every week, so it's not a problem if you miss an evening. Open from 8-11pm. It's just £5 for the whole night. Pay on the door.

Mick's Modern Jive Mix is affiliated to Just Jivin', which has been established for over 12 years teaching modern jive classes, running workshops and regular dance events.


---
Backstep Boogie

The Backstep Boogie Club has Monday night lessons in Bradford.
Venue is the West Bowling WMC, Dovesdale Road, West Bowling Bradford BD5 9QB Doors open 7.30pm. Among the styles on offer are boogie woogie, 20s Charleston, 30s Charleston, jitterbug, rock'n'roll and swing. More info from Trina on 07719 457688.


---
Rock Till You Drop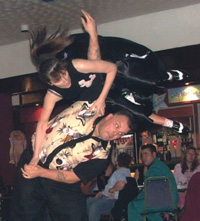 Beware of low flying women in Glasgow clubs...
They've probably learned their steps from Ray and Nicky at the Rocktiludrop Jive Club. Classes are on Monday nights at the KSC Social Club in Moodiesburn and on Wednesday nights at the Grand Ole Oprey. Says Ray: "50s style jive is still alive in Scotland!"
There's more info at www.myspace.com/rocktiludropjiveclub






---
Mad for it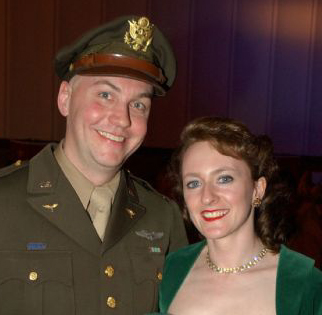 Maddy's Jiving School has 10-week beginners and advanced courses in West London. Since 1991 Maddy's has taught around 20,000 people to jive. "We sometimes see ex-students returning to the classes with teenage children who weren't even born when we started," say tutors Robin & Colette Weathersbee. "That is very scary."

For more details call 020 8566 5226 or see www.learntojive.com





---
Now That's Jive

In Hampshire Now That's Jive has lessons in 1940s/50s jive, jitterbug and East coast swing, with the odd stroller thrown in. "We promote a friendly atmosphere where our main emphasis is on fun," says organiser Gwen. Classes take place every Wednesday from 8pm at Merchistoun Hall, 106 Portsmouth Road, Horndean, Waterlooville PO8 9LJ. Cost is £5. Contact Chrissy on 07957 495570 or Gwen on 07766 761650 or go to www.nowthatsjive.com.


---
Jump Jive'n'Wales

There's a new place to learn lindy near Cardiff. Jump Jive'n'Wales has Monday night beginners lessons at the Paget Rooms in Penarth. More info from Rick on 029 2040 3794.


---
Revival Night

Yorkshire's Revival Night has Tuesday evening lindy lessons at Sunnybank Social Club, Silsden, BD20 9NX.

Organiser Jenny Newbould says: "We've put together a fabulous mix of beginners lindy hop, 20s Charleston, 40s jive, jazz steps, strolls and social dancing. Suitable for Everyone. Anyone who's just starting, or been dancing a while but wanting more swing steps, will find this course is designed especially for them." For more info call Jenny & Stuart on 01943 465457.

---
West coast comes to East Mids

There's a fortnightly dance class in Ashby de la Zouch. Venue is Hood Park Leisure Centre. Start time 7pm. Organiser Liam says: "We are the only club that teaches country and western couples dance for miles around. The styles we teach are two step, waltz, East coast and West coast swing, cha-cha, polka and more. Beginners are welcome, only £3.00 each. For more info please call 07754 051105."

---
Hep cat hop

There's an hour-long lindy lesson followed by a 30s/40s/50s record hop every second Wednesday of the month at the Hep Cat Hop in Manchester. Venue is The Lancaster Club, Broadway, Failsworth. Admission £2. Start time 7.30pm. For information contact Terry on 07703 461833 or terentius@myway.com

---
Congaroo Club

The Congaroo Club offers weekly lessons in 1940s/50s jitterbug, swing, jive and stroll in Godstone, Surrey.
Venue is the White Hart Barn opposite the village pond and next to the Beefeater restaurant. For more details contact Chrissie on 07957 495570 or 07766 761650.

---
Ginger Jive

<!img src="sdfpnat2.jpg" width=150 align=right hspace=10 alt="Paul & Natasha">

Ginger Jive run six modern jive nights a week in Newbury, Thatcham, Andover, Bath and Trowbridge plus many freestyles and themed events in Newbury and Melksham.

For more info call Kerrin or Luci on 01635 877253 / 07970 153518 or see www.GingerJive.co.uk


---
First Move

There's modern jive on a Thursday night at Uckfield in East Sussex. First Move happens at the Civic Hall next to Tesco. There's a beginners class at 8pm, intermediates at 9pm followed by freestyle through till 11pm with Discojive's Bob Ball. Dance teachers are Darren Sumner, Clair Febre and Ben Beroga.

---
Hollywood jives

<!img src="mojo.jpg" border=1 hspace=8 vspace=8 align=right width=175 alt="Robert & Claire">

Claire Austin teaches Hollywood-style lindy in North London.

Monday lessons are in Islington. On Tuesdays there are classes in Walthamstow. For full details, see www.londonswingcats.com.


---
LeRoc

LeRoc's
Colin Shaul
LeRoc started in November 1995 and is one of the biggest modern jive organisations in the UK. There are classes in Dorking on Mondays at the Friends Provident Social Club, Pixham Lane and on Tuesdays at Dorking Halls. Dances are also held in Ashtead. More info from Colin Shaul on 01883 740559/07944 971195 or e-mail info@leroc.biz









---
Full circle

Lindy Circle has started teaching the Charleston during the first hour of its weekly classes in West London. Venue is the Arts Educational School, 14 Bath Road, Chiswick W4. More info at www.lindycircle.com.



---
Wolverhampton wonder

There are classes in swing, lindy, modern jive and various other dance styles on Thursday evenings at 8pm at the Beacon Centre for the Blind, Wolverhampton Road East, Wolverhampton. Contact 07729 938735 or e-mail Dancaddiction@aol.com

---
Meet your Waterloo

Modern Jive Portsmouth has lessons on Tuesdays at Waterlooville Community Centre in Hampshire. "We're one of the friendliest jive venues on the south coast," says MJP's Becky Kale.


---
Mo'jive on the move

Mo'jive has Monday and Thursday lessons at the TA Base, Millbrook Road, West Southampton. There's a Tuesday lesson at the Pavilion Ballrooms, Westover Road, Bournemouth. On Wednesday Mo'jive is at Minstead Village Hall. <! a Monday night session at Hamworthy Recreation Club, Magna Road, Canford Magna.> More info on 023 8086 8068.

---
Brighton up your day

<!img src="viktor.jpg" align="right" hspace=8 vspace=8 alt="Viktor">

Brighton's jive scene is buzzing.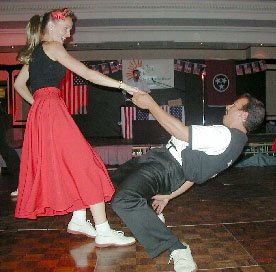 • Brighton Jive's Janneke Saebo and Colin Tenn (pictured right) have taught 10,000 people to jive over the past 14 years. They offer 1940s/50s jive lessons in Brighton, East Worthing and East Preston - plus monthly Kalamazoo and Jive Station club nights. For more info call 07534 097668 or see www.brighton-jive.co.uk.
• Brighton Boogie has launched Tuesday evening lessons and dances at the Verano Lounge, 95 Western Road, Brighton BN1 2LB.
• Sussex Swing has lindy lessons on Tuesdays at The Constitutional Club, 139 High Street, Lewes BN7 1XS and Wednesdays at St Mary's Church Hall, 61 St James's Street, Brighton BN2 1PR.
---
Non-stop Norfolk

Foot-Loose has lessons on Tuesdays at Dereham Memorial Hall.

Jive Survivors has modern jive dances on Sunday nights from 7.30 at the William Burt Center, West Winch, King's Lynn PE33 0JY.


---
Great Scots

The Fly Right Dance Company has swing dance lessons on Tuesday nights at the Bongo Club in Holyrood Road, Edinburgh followed by music from DJ Lenny Love.

The Edinburgh Swing Dance Society has Thursday lindy classes at the Calton Centre, Montgomery Street (just off Easter Road), Edinburgh. Beginners' sessions are at 7.30pm and intermediates and 8.45. Cost is £4 or £3.50 for members. After each lesson there's a free dance period where you provide the music by bringing a CD. More info at www.hopscotch-swing.co.uk or call 0131 661 6027.

---
Angel of the North

Gateshead is swinging on Monday nights. Venue for the weekly dance is the Bowes Incline Hotel near the Angel of the North. It happens in the hotel's newly refurbished function suite. The night kicks off at 8pm with a class by Lloyd. Then it's non-stop music until 11.30pm. There's no need to bring a partner and beginners are very welcome. Entry £5 (£3.50 concs.) Venue phone 0191 410 2233.

---
New in Newark

Jivefusion can be found on the first and third Tuesdays of each month at Bridge Street Community Centre, Lincoln Road, Newark, Nottinghamshire.

---
Jitterbug with Julie


Julie Oram runs lindy courses in London at the Marylebone Dance Studio and the Drill Hall in Bloomsbury. Info on 01628 476851 and at www.jitterbugs.co.uk






---
Leeds and follow

Swing Jive Leeds has classes on Thursday nights at North West Leeds Liberal Club, Woodhouse Street. Lindy Fridays are at the Swarthmore Centre near Leeds Town Centre.
---
Jump jive and Wales

Cardiff LeRoc has Tuesday classes at Sully Sports and Leisure Club. On Wendesday evenings the venue is the Electricity Social Club in Pontcanna and on Thursday nights the joint jumps at Pontprennau Community Centre. For more info call Michael on 029 3041 5191.

---
Swingland

Swingland runs weekly swing dance classes (lindy hop and East coast swing) in South and West London.

Beginners and improvers lessons are on Tuesdays 8pm-9pm at C Jam at The Bedford in Balham, South London - followed by dancing till late; on Wednesdays 8.30pm-9.30pm at Dance Attic Studios in Fulham; on Thursdays 8pm-9pm at Swing Thing in Hammersmith - followed by dancing till late; on Sundays 3pm-4pm at the Dance Attic Studios in Fulham.

Intermediates lessons are held on Sundays from 4-5pm at the Dance Attic Studios in Fulham.

The Bedford is at 77 Bedford Hill, Balham, London SW12. The Hammersmith Club is at Kent House, Rutland Grove, London W6. Dance Attic Studios are at 368 North End Road, London SW6. More info from Martin Ellis on 07956 952090 / 020 8560 4291 or see the Swingland website.

---
Local Derby

Derby Dance Centre offers lessons every Monday. Beginners at 8pm, Intermediates at 9pm. Info on 01332 370911. Coventry Jitterbugs meet every Thursday at the Spencer Sports Club, Albany Road. Info from Andy & Francis on 02476 595022. In Cambridge Hoc and Mark teach on Thursdays at Grantchester Village Hall. Beginners 6.45pm. Call 01767 680013.

---
Hepcat's whiskers

There's good rockin' tonight in East Grinstead, West Sussex. The Cat's Whiskers Jive Club meets at the Rugby Football Club in Saint Hill Road on Mondays from 7.30-10pm. There are lessons for beginners and improvers with freestyle and practice to music from the 40s and 50s. Entry is £3. For more info call Martin on 01342 303120 or Dave on 020 8651 4916 or check out the club's website at www.catswhiskers-jiveclub.org.uk

---
Bourne to bop

Modern jive classes are held on Wednesday nights at the Adeline Dance Studios, Adeline Road, Boscombe, Bournemouth. Beginners at 8pm, intermediates 9pm, freestyle till 11pm. Julie Perryman has more on 01202 303103 (work) or 01202 392575 (home).

---
Simon says


The London Swing Dance Society's Simon Selmon (pictured right) and Taina Kortelainen have Tuesday night lindy lessons at the Urdang Academy, Studio 2, 20 Shelton Street, Covent Garden, London. On Thursday nights there are swing and lindy lessons at Wild Court, 4 Wild Court, Holborn WC2.
Full details at www.swingdanceuk.com










We want your pictures to brighten up this page. It could be a jive class, a venue or YOU in action.
---

---

Tell us about your dance class... and why not send a picture to accompany your free listing here on the Class Action page? Email