Headlines from the year gone by
PLAY IT AGAIN
Planet Jive has covered stacks of stories over the past twelve months. Now, relive the highlights of 2015 with our review of the year.
---
January

The Jive Aces revealed how their latest big budget Italian-themed video was filmed in... East Grinstead.


Rockabilly front man Rudy La Crioux announced plans to retire after 17 years.


Crackerjack magazine closed after nine years an 54 editions, with editor Mike George blaming a lack of interest among promoters and contributors.



---
February

The Fireballs UK went ahead and played a gig in Nottingham, despite it being cancelled by the promoter. "We were determined not to let people down," said the band's Martin Smith.


Edinburgh's Fat Sam's Band played their final gig, 30 years and one day after starting out.


The Bands By The Sand all-dayer in Lowestoft featuring Crazy Cavan, Matchbox and The Jets was cancelled because of disappointing ticket sales.


A noise limiting device failed to spoil Glos-Jive-45's relaunch night when the club moved gigs back to Gloucester after a sharing a venue with Tewkesbury R'n'R Club for more than a year.



---
March

The T-Birds, Britain's only all-female r'n'r band, played their first gig.


The Jive Aces entertained packed theatres on their US tour, playing two sold-out shows a night in some towns including West Palm Beach, Florida.


Essex five-piece, The Jive Agents. played their launch gig.


R'n'r stage show Be Bop A Lula began its run at the Ambassadors Theatre in London's West End.




---
April

A fundraiser was held at Fort San Antone in Lancashire for Hoedown Weekend boss Michael Kluse Roberts, as he recovered from a heart attack.


The Alabama Slammers made plans to get back together for rehearsals "just for fun", 12 years after splitting.


French musicians rallied round for Gene Vincent tribute star Ervin Travis who is battling lyme disease.


Leeds band Lula & The BeBops released their debut album, Steady Roll.


---
May

The Inteli-Gents played their final gig, at the Atomic weekender in Northamptonshire.


The Jets played their first ever gig in Brazil when they headlined the Rockerama Festival in Sao Paulo.


The original Restless line-up of Mark Harman, Paul Harman and Ben Cooper reunited for a gig in London, before recording an album in Finland.


Brighton Jive dancer Alex Blackman wrote and recorded Marks Out Of Tenn, a song paying tribute to club boss Colin Tenn.




---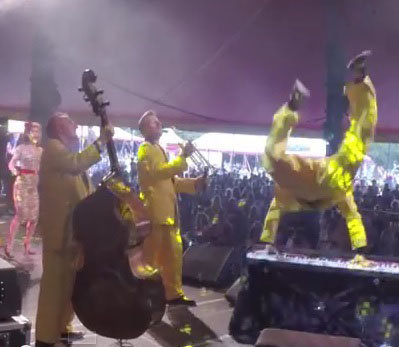 June

Jive Aces pianist Vince Hurley managed to keep playing after his keyboard stand collapsed during the band's Glastonbury gig.


19-year-old Billy Collins made his debut leading his own band, with a gig at Bewicks in Maldon, Essex.





---
July

Singer Dave Bogle put on a gig which raised nearly £1,000 for prostate cancer research after he won his own battle against the disease.


Imelda May and Darrel Higham announced they were splitting after 13 years of marriage.


Reelin' n Rockin' said they would take no further bookings at Stanwick Working Men's Club in Wellingborough, Northamptonshire after the venue cancelled two of their gigs, blaming "double booking" problems.


---
August

DJ Colin Silcocks celebrated 30 years of rocking the Midlands by organising a Birmingham Big Bash Weekender.


Sharna-Mae Brown launched her new band, Sharna Mae & The Mayhems.


The Jive Aces made their first movie appearance. The band was included in British independent film, Pleasure Island, set in Grimsby.


South London's Diamond Jive closed after six years when organiser Frankie V. emigrated to Nashville.


---
September

Jerry Lee Lewis marked his 80th birthday by playing farewell UK gigs in London and Glasgow.


Bass player David Roberts launched Yorkshire-based trio, the Rockabilly Rebels.


The Jive Aces played a fundraiser for the Essex-based National Jazz Archive.


Fever played the inaugural High School Hop at the Queens School in Aldenham, Hertfordshire.





---
October

Tributes were paid to FretTones front man, Keith Turner, who lost his battle against cancer. He was 53.


Crazy Cavan played a session for Jools Holland's Radio 2 show.


In a double line-up change for One Jump Ahead, pianist Perry White was replaced by Nick Tomalin, and guitarist Steve White decided to share his duties with John O'Reilly.





---
November

Juke Joint Jump launched the Rhythm Joint, a new monthly club night in Newmarket.


Songwriter, producer and New Orleans r'n'b performer Allen Toussaint died just days before a rare gig in London. He was 77.


Visa problems forced the Jive Aces to cancel a high-profile gig in Los Angeles on Friday 13th November.


Clarissa Land became the lead vocalist with South West London jump jive band, Sugar T & The Swells.


Musician Andy Horrobin stepped in to rescue Ibstock R'n'R Club in Leicestershire from closure.
---
December

Mike Sanchez was forced to pull out of a UK gig, injured after his car overturned on a Spanish road.


R'n'b saxophonist Joe Houston died in Los Angeles after a series of strokes. He was 89.


After four years, Kai Hoffman called time on her monthly Live & Lets Jive parties at Ronnie Scot's club in London due to "changes in circumstances".


Pill Memorial Club in Bristol hosted its final rock'n'roll night after 12 years.


Viva Las Vegas supremo Tom Ingram launched a new show on Rockabilly Radio.





---

Have we missed anything? .

Happy new year to our readers and contributors. We're genuinely grateful to all of you who've sent story tips, quotes, copy, information, competition entries or just messaged us to say hello during 2015.
Special thanks to Ed Stephenson, Jim Hammond, Ian Clarkson, Alex Douglas, Neale Hobday, Bob Cotton, Dave Bogle, Russ Sear, Pagan Gould, Greggi G, Kit Packham, Nick Street, Dave Bogle, Ritchie Gee, Peter Stechman, Evelyne Bibi, Steve Mash, Terry and Cathy Merritt, John Howard, Steve Tynan, Darren Juvie, Linda Mason, Mike Burrows, Kai Hoffman, Ben Cooper, Paul Jackson, Mike Cookson, Polly Meadows, Richard Cox, Martin Reeves, Linda Dunmore, Steve Cage, Sarah Guest, Alexys Becerra, John Bakewell, Peter Riley, John Scanlon, Tim Bailey, Roland Purdy, Ivor Bennett, Jane Warner, Rick Dawson, Mick Wyeth, Ian & Stella Bailey, Ian Frakes, Ian Soanes, Debra Smith, Christine Knights, Simon Raynor, Michelle Mains, Jean Plummer, Mel Lipman, Howard Cox, Howard Thompson, Gillian Newsome, Dave Raven, Julie-Ann Creswell, George Gatrell, Colin Waddilove, David Burns, Lord Tim Croxford, Steve Pointer, Mike George, Maurice Stoner, Sally Ann Rena, Mel Stevens, Jeniffer Jackson, Pamela Szabo, Benjamin Whitehead, Pete Bruce, Gary Boon, Jade Skerrett, Emily Macauley, Carini Tiziana, Liisa Davis, Martin Smith, Pete Emmens, Gina Williams, Dennis Smith, Linda Wilsmore, Paul Wilkinson, Paul Richardson, Fred Hunt, Debbie Franklin, Wil Collins-Nuttall, June Chisholm, Alan Smith, Gary Tuppen, Julie Burns, James Butler, Elaine Corby, Nick Street, Nicholas Segonds, Issy Janicki, Joesph Sewell, Louise Wheeler, Charlotte Middlemiss, Paul Gold, Alan Landon, David West, Wendy Fox, Maurice Stutely, Julie Candy, Lorraine Turner, Wayne Conn, John Long, Mick Wyeth, Mike Rose, Louise Barrell, Dave Norrell, David Roberts, Jordan Coates, Neil Thompson, Martin Charles, Paul Down, Jean Leclerc, John Davies, Alan Savage, Melvyn Edwards, Steve Brown, Nina Slater, Jan Kershaw, Sandra Harris, Graham Jackson, Julie Cheung, Joanna Green, Andy Horrobin, Paul Kent, Paul & Sarah Day, Tony Stickland, Nicky Plant, Andy Macnewman, Ellen Boyle, Debra Smith, Jeniffer Jackson, Gary Hoole.

---

---

If it jumps, jives, bops or strolls we want to know about it. Email or call 07833 703189.