The Jive Aces have seldom been out of the news on Planet Jive.
Here's a look back at some of their most memorable moments...





Piano stand collapses on stage, but Vince plays on

GLASTO COLLAPSO

<! 1 Jul 2015>

•

July 2015



Jive Aces pianist Vince Hurley managed to keep playing after his keyboard stand spectacularly collapsed during a gig at the Glastonbury festival.



The stand, provided by the festival organisers, gave way as Vince leapt up and down in a trademark piano-pumping frenzy.




Vince told Planet Jive: "Due to injury I hadn't performed that number for a couple of months, so being at Glastonbury and doing it for the first time in ages, I gave it everything I had.

"I was having the time of my life, my legs was kicking out and the crowd was going nuts. I've been playing wild piano stuff all my career, so wherever the keys go, my hands just follow!

"When the stand collapsed, I heard a roar of astonishment from the crowd and when I carried on their cheers raised the roof. So many people were asking how I managed to carry on without missing a beat, and all I could say is everyone was having so much fun that the show must go on. So it's really become a career highlight! The show at Glasto is one of the most enjoyable and exciting I've ever done."

Mudfest
| | |
| --- | --- |
| | |
| | Wellied up at Glasto: Ian with Cassidy |
The gig on Glastonbury's high-profile Avalon Stage was the Jive Aces' second visit to the Somerset mudfest. Their last appearance was in 2008 with Imelda May.

The band have just released their latest album, Spread A Little Happiness, including the single La Dolce Vita, featured in a music video. (See below.) Their next video, Smile, is being edited after filming in Los Angeles.

"It's been a good year for us," says front man Ian Clarkson. "What with the US tours, BBCs People's Strictly etc. We've also had airplay from the album on Radio 2 and loads of regional BBC radio shows.

"We were invited to Buckingham Palace again for the garden party for the Not Forgotten Association and I met Ray Winstone among other celebs. He was a lovely geezer, very down to earth. I used to know him years and years ago when he used to call me 'Ted' and he remembered me. Also Ken Dodd who we had a good chat and laugh with."




---



Living La Dolce Vita...
in East Grinstead


<! 4 Feb 2015>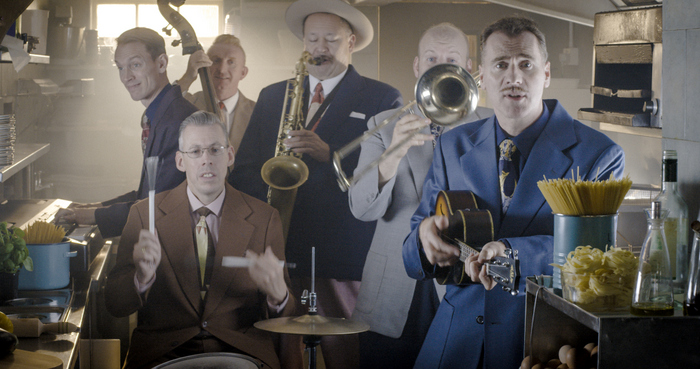 •

January 2015

It captures the spirit of 1960s Italy, but much of the Jive Aces' glitzy new video was filmed in... East Grinstead.

The Sussex town seems a world way from Italy's architectural treasures and Mediterranean beauty spots, but the band reckoned their local high street restaurant, La Farola, was the perfect backdrop for the video of La Dolce Vita, a track from their new album, Spread A Little Happiness.

The song pays tribute to the classic 1960 Federico Fellini film of the same name. Lead singer Ian Clarkson explained: "La Dolce Vita means 'the sweet life' in Italian and the film features some interesting Italian r'n'r acts. We wanted to capture the flavour of that while of course keeping it within budget and logistical possibility. Luckily we were performing in Italy not far from Verona, which has its own mini Colosseum and is also the 'home' of Romeo and Juliet, thus suitably romantic. So, after our gig, we stole a few shots before flying home.

"As well as Verona, we filmed at La Farola restaurant in East Grinstead, and the beautiful Italian garden at Hever Castle. These were all chosen for the look. The 'Dolce Vita' theme meant we had to create not only a 1950s classic rock'n'roll look but also the Italian style. So we came up with the idea of story that would fit a mid to late 50s UK or European movie. We captured that with help of our friend, film director Mike Doxford, who had some amazing ideas and techniques. The track itself is a romantic Italian themed song. It's a very danceable mid-fifties style jiver with a honkin' sax solo".






Waitress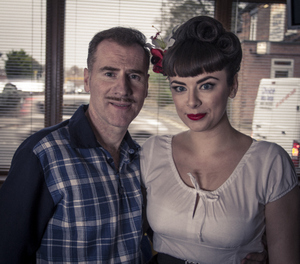 In the video, Ian is enjoying a meal when his wandering eye settles on an attractive waitress. He sweeps her off her feet for a dance, and a whirlwind romance ensues... until it's revealed that the whole fling has been no more than an idle daydream.

The band's quest for authentic period detail is apparent throughout the video. It even led to the crew filling La Farola with retro kitchenware. But finding the right clothing wasn't a problem, says Ian. "Most of the band have been into the 50s style clothes for years so finding suitable attire wasn't too difficult. My vintage gaucho shirt is La Riviera and I'm wearing classic 50s style 'pegged' pants by D&G Tailors in Essex. These styles are just classic and never go out of style. It's what the band members wear all the time anyway when not on stage, and when we turn up to venues asking for the dressing room, people often think we're already changed for the gig!"

The wardrobe for the waitress, played by Helen G. Diamond, was provided by Vivien of Holloway and make-up by Natasha from Pretty Me Vintage. Ian added: "Helen had done vintage modelling before but had never acted in anything. We convinced her to give it a go as she had the perfect look for what we were aiming for. She did a great job too.. a natural!"

Blonde bombshell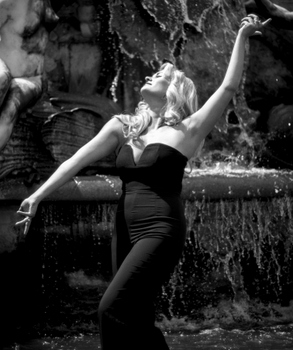 Another sequence in the video sees lovestruck Ian and waitress Helen stroll through the gardens at Hever Castle. It recreates the classic Anita Ekberg Trevi Fountain scene from Fellini's La Dolce Vita. But when Ian came up with the idea, he had no idea that it would take an ultimately poignant turn.

"The idea for the fountain scene was an obvious homage opportunity, and I had it in my mind as soon as we had recorded the song. In the original film, Ekberg plays a 'Marilyn'-type voluptuous blonde Hollywood star visiting Rome and playfully gets into the famous fountain enticing the hero to join her. Kristina Mitchell, who used to sing with us in The Flirtinis, is now an actress in LA and has that Hollywood blonde bombshell look. So she was great for the Anita Ekberg part.

"Sadly as I was writing this, I got the news that Anita Ekberg had just passed away. I guess our video scene that was meant as an homage to the Swedish actress will now be a tribute. She lived until 83 and died in Rome. Summing up the message of our video perfectly, Anita herself said: 'If you want La Dolce Vita, it is how you look at life.'"

La Dolce Vita is the Jive Aces' fifth vintage video. Although they have appeared on many TV shows over the years, including Opportunity Knocks and Britain's Got Talent, they owe much of their fame - particularly overseas - to YouTube.

It started when their jived-up version of Bring Me Sunshine went viral in 2011. Set in a 50s American style diner and featuring top jive dancers, it got them shows all over the world from private parties in Russia to a theatre tour in the US. (See below.)



---
'Lucky break' for Jive Aces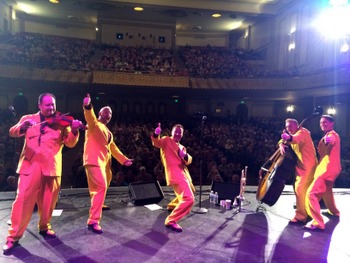 •

December 2014

The Jive Aces are poised for US stardom, after they were 'discovered' by a theatrical agent who watched one of their YouTube videos while recovering with broken ribs.

The remarkable story began with a moment of sheer disaster, when Ellie Monchak lost her footing and plunged 12 feet through the attic floorboards at her Ohio home. She landed on the concrete floor of her garage, smashing most of the bones in her body.

Two months later, and still in a wheelchair, Ellie received an email from her brother in Virginia who wanted to cheer her up by sharing a link to the Jive Aces' feelgood video, Bring Me Sunshine.

Ellie had more than a passing interest in the band, as she books artists for the Civic Music Association in the city of Warren. She contacted the Jive Aces and got an immediate reply, which would eventually lead to the band gigging in her home town. That, in turn, brought further bookings for a full US theatre tour, as a fellow agent picked up on the buzz surrounding their appearances.

Breakfast boost
Despite her pain, Ellie says watching the band's video in her darkest hour made her spin with joy in her wheelchair: "I broke a total of 18 bones, which included a broken pelvis, ribs, vertebrae, and shattered my heel and several bones in my foot. I was airlifted to a trauma hospital, had surgery on the foot, in a rehab hospital for three weeks and a couple of months of home therapy. I was in a wheelchair and non-weight bearing for four months, including the Christmas season. I did my best to keep my spirits high.

"Two months after my fall, I was still in a wheelchair and homebound. I am the Artist Selection Chairperson for the Warren Civic Music Association, and it was at this time I began my search for talent for the following concert season. My brother, who lives in Virginia, had emailed a YouTube video of the Jive Aces performing Bring Me Sunshine.

"I immediately liked what I heard and sent off an email, which went directly to the band, and I had a response in 24 hours... I asked if they had a promo video and they sent me that, and a CD. When it arrived, I put it into my CD player and I couldn't help but smile and feel happy when listening to their music. I started spinning around in my wheelchair 'dancing' to their music. It was an immediate morale and energy boost. From then on I started my day by listening to their music while eating breakfast.

"The Jive Aces came to the USA and put on a wonderful show. Our audience loved. them. An agent - [Eric Amada] - then called me and said he saw on our website that the Jive Aces had appeared for our organisation and asked for my feedback. I told him the story of how I came to 'discover' them and the wonderful effect they had on me during a particularly down period in my life. He went on to sign the Jive Aces and since then, they have been appearing in many cities and venues in the USA."

Amazing tour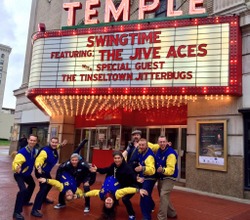 On their latest tour, the Jive Aces travelled from Ohio to Michigan and then through Milwaukee, Wisconsin, then Utah, Palm Springs and Long Beach. They played 700-1500 seat theatres and arts centres, selling out most nights.

"We played 11 dates on the tour. It was like a trial run," said Jive Aces lead singer Ian Clarkson. "It was an amazing tour with so many great gigs, moments and stories. We had different guests with us along the way, including dancers, the Satin Dollz and Toni Prima. We went through Chicago where we jammed at Buddy Guy's blues club and played the Cicada Club in downtown LA, and also filmed a new music video.

"We were quite surprised that our shows sold so well, it being our first time. To be honest, our UK theatre tours have been harder work to promote than this, but the yanks are all about promotion! I think the people also spend less time sitting at home, they seem to go out to eat a lot more and go see entertainment.

"The response we got from audiences was amazing! The feedback after the show was great. The music is really part of their culture so young and old alike pretty much understand what we are doing.

"We met a lot of interesting people along the way. One was Vic Flick in Vegas, the British guitarist who played and invented the original James Bond 007 guitar theme and played on the Oh Boy show and the 6-5 Special etc. He's a Londoner and told us a lot of stories about how he started in the 50s as we met him over lunch in Vegas where he retired to. (He actually played on one of tracks, London Rhythm on our Recipe for Rhythm album a few years ago but we didn't really meet him until this.)"

Sunshine
The Jive Aces head back to the States for a further 22-date tour after their Big Jive gig in Worthing on February 14th.

Ian added: "It looks like we will be spending a lot more time over there and I'm looking forward to visiting new places and meeting more interesting people. It is, after all, the roots of the music we love. The States is so big, each city is so different... from Chicago to LA to Kalamazoo, where we stopped for lunch while on the road. And most of it has links or references to some song, artist or film that we know. It is what we dreamed of when we were rockin' teenagers back in Essex."

And he reflected: "It is quite funny being a British band taking American music 'back to America'. Sometimes an older guy at a show would say that he had seen Louis Prima or someone back in the day and how much I had got the vocal sound but how funny that I spoke with such an English accent.

"In fact the 'British humour' and 'tea sipping' became a talking point. They would discuss how our Vince has energy like Jerry Lee Lewis, and they had actually seen Jerry Lee back then. There is also a younger audience getting into jive and rock'n'roll etc again over there. It will probably happen here too, if the big music companies and media let it."

On their most recent tour, the Jive Aces were reunited with their 'guardian angel', Ellie Monchak, when she came to see them at a gig. She explained: "I had the pleasure of meeting the Jive Aces when they appeared in a city a couple of hours from my home. They are still as wonderful and uplifting as I remember hearing them for the first time. They are genuinely nice, friendly people who love to entertain and make people feel good. They radiate wellness and sunshine with their music."


---



Band to the rescue as blaze threatens Sussex church

JIVE ACES FOIL
ARSON ATTACK

•

October 2013

<! 27 Oct 2013>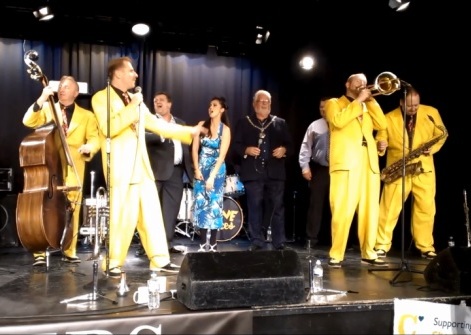 The Jive Aces have foiled an arson attack.



The band had just left a gig in West Sussex when they spotted a fire at a church. It happened in the grounds of St Mary's in Shoreham as they walked into town to get some food after their charity show at the Shoreham Centre.

Quick-thinking pianist Vince Hurley leapt into action and put out the flames from a pile of burning newspapers in the doorway.

Jive Aces front man Ian Clarkson said: "We went through the churchyard to get something to eat and the piano player noticed that there was newspaper rolled up and stuck in the door, and flames were coming out of the door.

"He pulled it back and stamped on it, then called the police."

Disruption
| | |
| --- | --- |
| | |
| Quick-thinking: Vince | |
Although the fire caused little damage, police say it was one of a series of arson attacks in the town centre that weekend. Piles of newspaper were also used to start fires in a wheelie bin outside a library, and later by the back door of a health centre.

PC Chris Bartram of Sussex Police told the Shoreham Herald: "Although there was very little damage caused in these incidents, they had the potential to cause huge disruption in the area. All the fires were started in the evenings and I am keen to speak to anyone who might have seen them being set or seen people running away from the medical centre or St Mary's Church."

A 17-year-old girl from Bognor Regis was arrested and questioned on suspicion of arson. She has been released on bail while inquiries continue.

With the Jive Aces playing for free, the gig at the Shoreham Centre raised £2,500 for Chestnut Tree House children's hospice in Arundel.


---
Summer of fun keeps Toni Prima in UK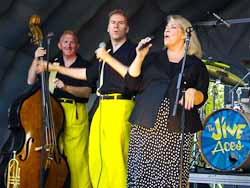 •

September 2013



Louis Prima's daughter made a last minute decision to join the Jive Aces' autumm theatre tour because she was having so much fun on a visit to Britain.



Toni Prima orginally came for the band's Summertime Swing event in August, but decided to stay on. Jive Aces front man Ian Clarkson said: "She was meant to fly home but she was having such a nice time (and the unusually sunny British weather didn't hurt) that she wanted to stay and play a little longer."

Toni told Planet Jive: "I love England and it is always hard for me to leave where I love, plus being with the Jive Aces is more than fantastic. We have a grand fun time at every show and they are the best band out there doing Prima music that I have heard. They make it their own and are so good and so genuine and so talented. Ian and I have great affinity with each other on stage which makes it even more fun if that is even possible. It is a blast!

"I think I can say for us all how excited we are to be doing the theatre tour and bring this very upbeat joyful music to even more audiences."

On their 15-date tour, which ran until October 27th, the Jive Aces were promoting their King Of The Swingers album, a tribute to Louis Prima. Toni said: "I really love the new CD, King Of The Swingers. I especially love Ian's song, King Of Jive. Ian wrote it about my parents, and when I was first learning it to sing it with him it kept bringing tears to my eyes, plus the new video for King Of Jive is my absolute favourite!"

Ian added: "We played at the Great British Rhythm and Blues festival in Colne, Lancashire. Ex-Rolling Stone Bill Wyman and Georgie Fame were there and were thrilled to meet Toni as they loved her mum and dad's music. They even dedicated their encore, Jump Jive And Wail, to her and we ended up hanging out backstage with them for a while."


---
Fairytale tribute to Prima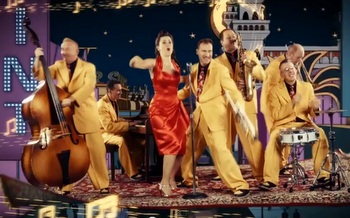 <! 11 Jun 2013>

•

June 2013

The Jive Aces have paid tribute to Louis Prima in a polished seven-minute music video presenting his life as a fairytale.

The track, King Of Jive, is a self-penned number from their latest album, King Of The Swingers. It's part of the band's campaign to bring Prima's music to a new audience and generation.

Front man Ian Clarkson said: "So many famous singers and artists are influenced or inspired by Louis Prima, from Van Morrison to Paolo Nuttini, and of course Dave Lee Roth who covered his version of Just a Gigolo. He took his arrangement completely but rocked it up, but does Louis get the credit or coverage he should? Not to us, so we are righting that wrong! Outside our scene in the UK people, if they know him at all, know him as the monkey in the Jungle Book.

The King of Jive music video is a fun film to make people want to dance and smile but it's probably our most adventurous yet. It's the story of Louis Prima and Keely Smith as they embark on their career in Vegas in the early 1950s, but written as a fairytale."

The video was shot mainly on green screen in Hollywood using retro-style cartoon and animation to portray an image of vintage Vegas. It features jive and swing dancers from all over Los Angeles and many local actors and actresses plus the vocal talents of Prima's daughter Toni and the glamorous Satin Dollz. Other friends appearing in the video include Nancy Cartwright, the voice of Bart Simpson.

Ian added: "We know Keely Smith and Toni well. They told us the story of how Louis and Keely met and ended up in Las Vegas, and needed to play in the lounge because the 'big room' was full. They created everything we now know of vintage Vegas entertainment (including the Rat Pack) and it just seemed like a fifties fairytale, so I wrote this for Toni and Keely. But mainly it's just good jivin' fun and we had a ball filming it!"





Guests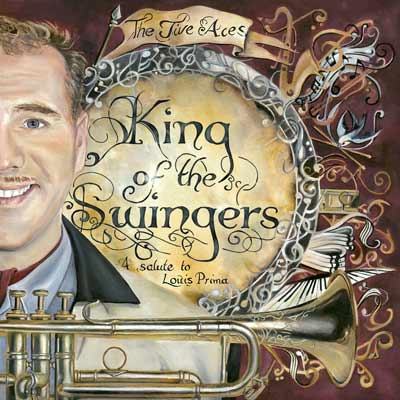 As well as plenty of Prima favourites and lesser known songs, King Of The Swingers includes the Jive Aces' own version of Bring Me Sunshine as they feel the great man would have done it.

Guest artists include Toni Elizabeth Prima, daughter of Louis Prima and Keely Smith, dixieland jazz legend Kenny Ball, Ray Gelato, Marco Palos from Louis Prima Jr's band, Rebecca Grant, The Flirtinis and Hossam Ramzy on percussion.

"It's a tribute to one of our idols and influences," says Ian Clarkson. "On first look this may seem unusual for the Jive Aces as our albums are normally a mix of different covers and originals but we think Prima is such an important figure in the shaping of music and the transformation from swing to rock'n'roll in the early fifties that we want everyone to know.

"He and Keely took 50s black r&b, added his own jive sound and helped change a genre. They won one of the first Grammy awards in 1958 with their version of Old Black Magic.


Duets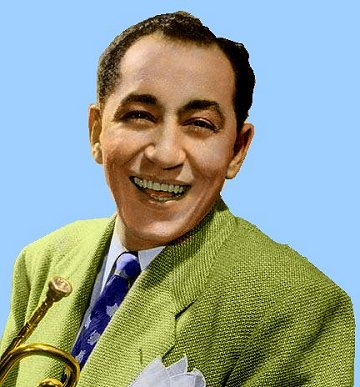 "Our album features many Prima favourites including Just A Gigolo, Oh Marie, Angelina and his Sing, Sing, Sing - which is one of our live numbers. Everyone asks when we are recording it, so now we have. It includes the Louis/Keely duets like Hey Boy, Hey Girl, Nothing's Too Good and That Old Black Magic and some different songs that have been given the Prima touch. Bring Me Sunshine is one of these, and our video now has well over two million views on YouTube.

"We have even done some interviews with Toni Prima, Keely Smith and actor Tom Hardy to be a mini documentary vid on our YouTube channel to show people who Prima was and how important he still is today to people with discerning taste.

"There are many guests featured on the new album including Toni Elizabeth Prima (Louis' daughter), trumpeter Kenny Ball, UK Prima fan and musician Ray Gelato and Rebecca Grant as seen in the Nothing's Too Good video.

"So we hit them the obvious Prima hits like I Wanna Be Like You and take them into lesser known tracks like Rainbow and Oh Babe! which features US sax man Marco Palos from Louis Prima Jnr's band and the Barrel House Boys."



---



Doc prescribes a dose of 'Bring Me Sunshine'

JIVE ACES HEAL THE SICK

<! 3 Sept 2012>

•

September 2012



A US doctor is treating sick patients with the music of the Jive Aces.




Seattle-based Wallace R Hodges, a specialist in internal medicine, amazed patient Sally Schneider by writing out a prescription telling her to watch the video of the band's hit, Bring Me Sunshine.

"It made me think of what doctors, and others, can do besides lab tests and drugs to help their patients heal," said Ms Schneider.

The video has already been watched online two million times since its release in April 2011 and won seven awards, but this improbable accolade from the world of medicine has taken even the Jive Aces' publicist Grazia Clarkson by surprise.

She said: "I am so pleased that some doctors realise that, yes, music does have healing powers. I was totally chuffed to see that this doctor in Seattle actually prescribed it to his patient. Love it! The video is totally brilliant and is a bad mood lifter. Only a mad person would say the opposite. If the Jive Aces' music can help create a better world then I feel we are truly helping our fellow man and that's very personally rewarding!"

Grazia says she has also heard from a church minister in Ohio who played the video at a Sunday service to cheer up his congregation and a teacher who used the song in a music class.

She added: "I have come across many blogs saying how much the video has helped people make them feel better, get rid of their blues and even a couple said to me 'after an argument we play Bring Me Sunshine and all calms down at home'. The feedback from this music video is just amazing."

Burgers
In the lavishly produced five-minute Bring Me Sunshine video, the Jive Aces hijack a doomladen TV newscast and cheer up viewers with their version of the Morecambe & Wise classic.

Most of the filming took place at Bobby Jo's 50s Diner in Southend-on-Sea, Essex but some scenes were shot at another period venue, Cafe 50s in Hollywood. Remarkably, additional filming was carried out in Taiwan, Ukraine, India and Australia, where locals are seen watching the performance on TV.

Lead singer Ian Clarkson explained: "The main bulk of the shooting in Southend took about three whole days, with some very early mornings in October last year, and the rest was filmed mainly in January and February in various stages. With all the dancers and extras on the set we had a great time at the diner and the girls who work there were very patient. We bought so many burgers for the cast and crew that we actually used up their week's supply. Even though it was hard work, the atmosphere was a lot of fun and I ended up playing the tune on the ukulele about a thousand times (at least it felt like it!)"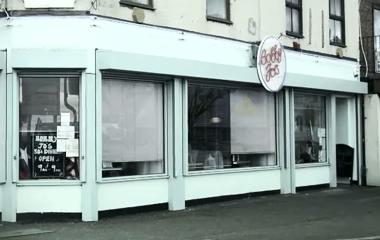 Diner owners Jo and Tony Cox said: "The guys borrowed some of our uniforms and we made sure they were fed and watered all day. The milkshakes went down a storm. A lot of the furniture had to be moved around and light fixtures removed as the dancers were flying about in the air and we didn't want anyone knocking themselves out! When we saw the video we were so pleased. It's amazing and of course we loved the way the diner looked... so bright and inviting. It really did make you tap your feet, smile and want to dance."

Ian Clarkson says the video's success is down to teamwork: "We work very much as a team but the story for the video including the concept of the TV newscast was thought up by our trombonist Alex and our American director Rachael Hastings, who has a lot of experience with music videos and also loves the music and style too, which definitely helps.

"The whole team had a lot of great ideas and input and we would be constantly talking about it, but Alex had that initial concept and managed to communicate back and forth to America until Rachael was very interested and engineered getting a great shoot team together and some great equipment - which even attracted attention from another crew filming a movie just down the road from the Southend diner."

Tough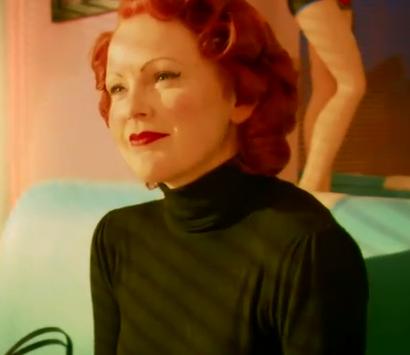 "The difficulties in making such a video are really the usual problems of time and finance, but we got a lot of help from friends and extras and dancers happy to hang about in a 50s diner all day. The director, described by Scott Cupit of Swing Patrol as 'That great tough American girl who kept us all in line', did an amazing job with her team. We even got some behind the scenes footage for a possible 'making of' video, just for fun.

"As you can see, there are a lot of people involved: Joseph, Trisha and Manny from JiveSwing, Scott and Annie from Swing Patrol, Mark and Gen from Essex and Lil' Miss Hayley just to name a few. The girl with the red hair who starts out bickering with her other half is Lili La Scala, a retro opera singer, actress and friend who happens to live five minutes away from the location.

"Playing the news anchor is Jim Meskimen, a very accomplished actor, comedian and well known impressionist who has appeared in tons of movies and TV. His mum is also Marion from Happy Days, so the 50s are in his genes!"

Prima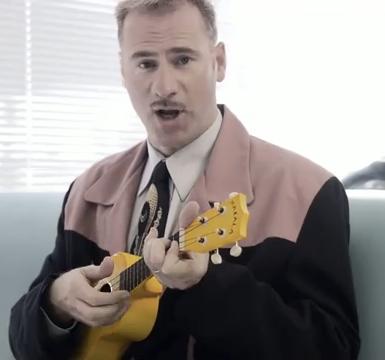 "Bring Me Sunshine was one of the first songs I learnt to play on the ukulele and I always loved it and I even got to play it for Prince Charles at the VE Day celebrations last year. We chose the song as part of our forthcoming album King Of The Swingers, which is basically a tribute to Louis Prima. Although the song was never done by Prima, we decided to give it a Prima arrangement as we felt the message of the song really summed up the effect his music has had on the world and it's what we aspire to doing too, ie. making people happier.

"We are releasing the single in a few weeks. It'll include a bonus extended version featuring special guest Toni Elizabeth Prima, daughter of Louis Prima and Keely Smith - plus another track from the album and the video on it too."

The Jive Aces have previously shot videos with Lionel Blair and Rolf Harris, but this - their most ambitious project - has been rewarded by their biggest online ratings yet.

Said Ian: "We were very happy with how the video turned out and we knew people would like it but it really has spread like wildfire, faster than we'd expected and it hasn't slowed down, only sped up. It gets more views per day as each day passes. Many of the comments we have got back were people saying things like 'This really brightened my day' or 'This really made me smile'. In several cases people told us it actually brought the sun out for real after they played the video! So it's definitely having the effect we intended, but on a much bigger scale, which is great."



•

See the Bring Me Sunshine video here:







---
Jive Aces perform for the Queen
JIVING JUBILEE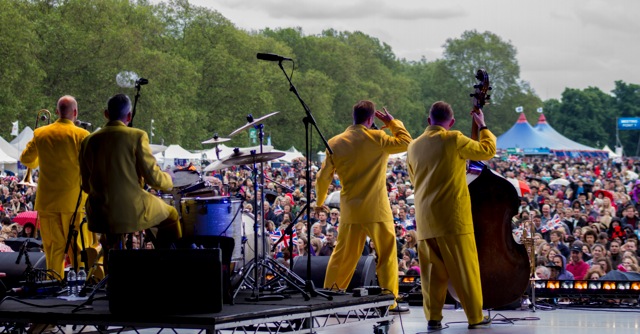 •

June 2012

<! 28 Apr 2012, 13 May 2012, 15 May 2012, 7 June 2012 >

The Jive Aces rounded off a triumphant Jubilee weekend by entertaining 10,000 people in London's Hyde Park.



The headline performance at the Jubilee Family Festival led up to the Queen's appearance on the balcony of Buckingham Palace, cheered by huge crowds, on the June 6th Bank Holiday.

On the preceding Saturday they played at the Epsom Derby during the Queen's visit. And on the Sunday they gigged at the National Theatre following the Jubilee pageant.

<!a href="http://www.youtube.com/watch?v=_Vr37QSeUGI" target="_blank">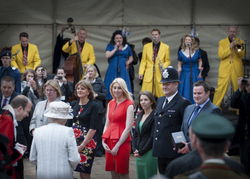 <!/a> Lead singer Ian Clarkson said: "It has been an amazing weekend for the band and of course for Britain, uniting us all again to celebrate a great and hard working lady, our Queen Elizabeth!"

And the Jive Aces played for the Queen in person when she and Prince Philip visited Bromley in South East London on May 21st. The swing band were chosen to perform along with vocal group the Swingtime Sweethearts.

Speaking after the Aces' defeat on Britain's Got Talent, Ian said: "When we entered BGT, our ambition was to play the Royal Variety Performance in front of the Queen, and now our dream has come true, sooner than we had hoped for!"

The band's self-penned song, Diamond Jubilee was well received, with crowds joining in the chorus: 'Everyone say thank you Ma'am, it's the Diamond Jubilee!' The track is now available as a free download.



---



Jive Aces hounded off Britain's Got Talent by performing pooch

JIVE ACES LOSE OUT
TO BGT TOP DOG

<! 28 Apr 2012, 13 May 2012 >

•

May 2012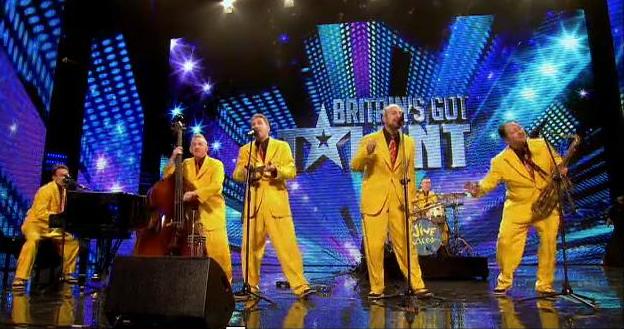 The Jive Aces' hopes of winning Britain's Got Talent were dashed... by a performing dog.

Border collie 'Pudsey' and 17-year-old owner Ashleigh Butler triumphed over the swinging five-piece in the May 6th semi-final, and went on to win the series.

In contrast to their first appearance in the auditions, the Aces' rendition of the Jungle Book classic Bare Necessities left judge Simon Cowell underwhelmed, with him telling them they did not have a "cat in hell's chance" of winning.

"It was fun," he conceded. "But my problem was that I expected a step up and something different." He also said he was bored with the band's yellow suits. Among fellow judges, only Alesha Dixon managed to enthuse, pronouncing the Aces "joyful to watch".

Energetic
| | |
| --- | --- |
| | |
| Top dog: Ian with BGT winners Ashleigh and Pudsey | |
Despite pulling off an energetic performance, band leader Ian Clarkson appeared to be stuggling with a throat complaint. And when viewers' votes were declared, the Jive Aces were the first act to be sent home.

However, the band are looking on the bright side.... A spokeswoman said: "Wow, what a rocket ride! We got to play to 12 million people on prime time national TV! A big thanks to everyone who supported, voted and spread the news. We love you all!

"We've had such a great response from new fans and old friends and been covered in six national papers as a result. We've also made some new and very talented friends in the other acts who have all been fantastic and very supportive of each other throughout the competition."

Responding to a fan's comments on Facebook urging the Aces to refresh their image and set list, the band said: "The [yellow] suits - whether you love 'em or hate em, you don't forget 'em. It's the Jack Sparrow philosophy. As in: 'you are by far the worst pirate I've ever heard of, but you have heard of me!' All the people who saw us on TV who don't have the attention span to remember the three words in the band's name will at least be able to identify us.

"As for our set, we learn new songs all the time. We are constantly evolving the set list. We play to many different types of audiences that you have to change it up a bit, ie. theatres, 50s r'n'r crowd, 40s crowd, general music lovers, jazz fans, rock festivals etc."





The Jive Aces were fast-tracked to the semi-final after an audition screened on April 28th featuring another Jungle Book anthem, I Wanna Be Like You, which was hailed as "abolutely brilliant" by cartoon-loving Simon Cowell. He gushed: "Those guys have put me in a good mood."

Fellow judge David Walliams agreed the Jive Aces should go through to the next round, declaring: "101 per cent yes". Alesha Dixon's verdict: "A massive yes from me, guys. You are through to the next round."

Lead singer Ian Clarkson told Planet Jive: "We are very excited about getting some jive out on national TV. Maybe we can start a new trend!"

The band's audition was filmed in Cardiff a few weeks earlier. Ian Clarkson, bass player Ken Smith, pianist Vince Hurley, drummer Peter Howell, sax player John Fordham and trumpeter Alex Douglas wore their trademark yellow suits and gave a characteristically dynamic performance which had the audience cheering.

But some Jive Aces fans were furious that ITV producers gave the band just 30 seconds airtime, while other acts got more than eight times as much. To add insult to injury, the band's brief slot was interrupted by cutaways of other contestants rehearsing backstage.

"Not enough. We want more!" wrote Fiona Haywood on Facebook.

"Well done Jive Aces," said Sarah Pratt. "For the little we saw, your performance was ace!"

Trace Dennis wrote: "Was sad they gave you such a tiny slot but you still rocked."

Fia Parry wrote: "I was a little disappointed the boys where only shown playing for half a minute! I guess that's what happens when you spend five on some guy playing the organ!"


---





Jive Aces play huge Royal Festival Hall gig

IN FULL SWING

<! 25 July 2010>

•

July 2010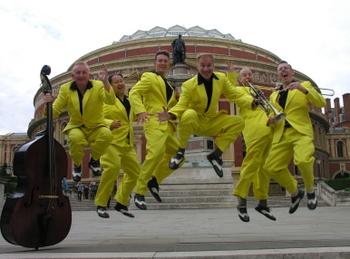 The Jive Aces have played a special gig at the Royal Albert Hall, described as London's "biggest jive night since the swing era".



The floor of the arena was filled by a 5,000 square foot dance parquet oak dance floor, providing ample room jivers to dance the night away.

1,300 dancers turned out for the £25-a-head In Full Swing event, featuring Top Shelf Jazz, the Back To Basie Orchestra and headliners the Jive Aces.

Lead singer Ian Clarkson said: "We have wanted to do this at the Royal Albert Hall for a long time but this was an amazing opportunity. To headline at the Royal Albert Hall and fill it full of our friends... it was more like a huge party! And we only had five weeks to promote it from when they decided to use the dance floor. Thanks to their team and everyone that came, it was a fantastic success."

Special guests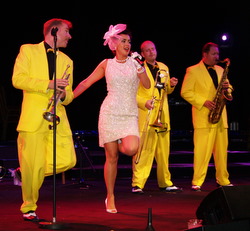 The Jive Aces brought on Holby City actress Rebecca Grant as guest performer, plus swing dance duo G.I. Jive. There were also lindy displays from Scott Cupit and his Swing Patrol dancers, Simon Selmon and London Swing Dance Company, Joseph & Tricia Sewell with their JiveSwing.com troupe and Robert & Claire Austin with their Hollywood Hoppers. Tim "Hellzapoppin'" Hardy was the DJ for the night. Presenter was James Horada.

Ian added: "The Royal Albert Hall team were thrilled with of the success of the evening and got many compliments from both dancers, entertainers and crew. Was this event the beginning of a new swing trend at the Royal Albert Hall? Many fans really do hope so. This really shows the growth not only of the Jive Aces' popularity but also the scene itself."

Best known as the home of The Proms, the Royal Albert Hall is a Grade I Listed building which has been in continuous use since its opening in 1871. It was built to fulfil the vision of Queen Victoria's consort, Prince Albert, of a 'Central Hall' that would be used to promote understanding and appreciation of the arts and sciences.
New video
The Jive Aces have finished their London Rhythm video promoting their latest album, Recipe For Rhythm. The video includes a cameo appearance by Lionel Blair.





The Jive Aces and dancers from Swing Patrol and GI Jive braved freezing conditions to film at a variety of London locations, including a rooftop overlooking St Paul's Cathedral, the Millennium Bridge, Southwark, Westminster, Piccadilly and Marble Arch.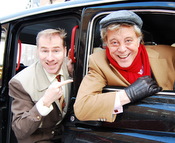 The following day saw them in Kingston with Lionel Blair. During his 'cameo' appearance in the video, the 78-year-old showbiz veteran dances in the snow in front of the town's famous row of collapsed phone boxes, and later reappears driving a London taxi.

"It was a lot of fun," said front man Ian Clarkson. "Lionel is such a nice geezer and is so well known in London. Everyone recognised him as we filmed and he took time to talk to them all and pose for photos. Then we had lunch and he told loads of stories about his career from going to a bullfight with Errol Flynn when he was 17 to performing with Sammy Davis Jnr at the Royal Variety Show."




---




Revved up all-dayer

•

February 2009

<! 6 Jan 2009>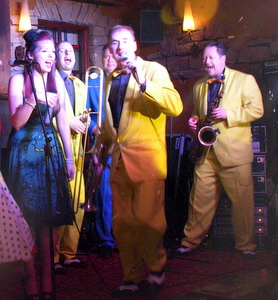 The Jive Aces have revealed a 'revolutionary' plan to ensure a fast turnaround between bands at their forthcoming all-dayer. When each of the four bands in the line-up finishes its set, a revolving stage will swing into action to bring on the next act without any delay.

Joining the Jive Aces on February 7th at the Lakeside Country Club in Frimley Green, Surrey will be the Swing Commanders, Oo-Bop-Sh'Bam and Laura B & The Moonlighters. DJs include Terry Elliot's Sentimental Journey, Ian 'GI Jive' Hartley and the Bees Knees.

Alex Douglas from the Jive Aces said: "The venue is best known as the place where the World Darts Championships are held and televised from. There is a huge dance floor and a revolving stage. In fact the revolving stage was one of the main attractions in choosing the venue as this means the bands can be set up out of view and without bringing a halt to the proceedings."

Other special guests include 11-year-old boogie woogie piano prodigy Cody Lee and Li'l Miss Hayley, a 15-year-old double bass player singer (pictured right).


| | |
| --- | --- |
| | |
| Keely Smith and the boys | |
Lead singer Ian Clarkson said: "There's a lot of great talent out there and a lot of younger 'cats and kittens' who can see past the lifeless pop drivel that is spoon-fed to them everyday to search for some real sounds and find the roots, r'n'r, r'n'b and jive scene. If we encourage them, the future looks bright for the next generation of rockin' bands."

The Lakeside all-dayer follows a string of 'Big Jive' gigs organised by the Jive Aces in 2008. It proved to be a momentous year for the band, with appearances at Glastonbury and the Grand Order of Water Rats Ball, plus an award from the Variety Club of Great Britain.

In December the band played a series of one-nighters across the country to promote their new album, Recipe For Rhythm and guested on 15 radio shows, including a live spot on BBC Radio London on Christmas morning. Louis Prima's widow Keely Smith and his daughter Toni Prima made a surprise visit to the UK to perform with the Jive Aces. Later in February the band return the compliment by joining Keely and her orchestra in Palm Springs, USA.




---

---

If it jumps, jives, bops or strolls we want to know about it. Email or call 07833 703189.