•
A look back at some Planet Jive interviews...
Planet Jive interview exclusive
QUOTES FROM BLOAT
| | | | |
| --- | --- | --- | --- |
| | | | |
| | | | |
| | | The Bloater years | |
| | | | |
| | | 1971 Birth of Bloater | |
| | | | |
| | | 1988 Formed Midnight Shift with brother Alan | |
| | | | |
| | | 1992 Formed Solid Senders with Red Peters and Paul Culshaw | |
| | | | |
| | | 1993 Formed Southside Stompers | |
| | | | |
| | | 1995 Married Lisa Jane | |
| | | | |
| | | 1996 Appeared for a week on C4's Big Breakfast | |
| | | | |
| | | 1998 Played Viva Las Vegas | |
| | | | |
| | | 2001 New album, You Better Believe It | |
| | | | |
<!img src="pxb.gif" height=600 width=6px align=right>

•

March 2000

Big Boy Bloater is about to record a new album, provisionally called You Better Believe It.

Bloat said: "After a year of line-up changes and postponements we are very pleased to finally have a great line up and be able to get in to the studio for this long overdue recording."

BBB is one of the best known faces on the UK jive scene. From The Big Breakfast to Viva Las Vegas he's led his band, the Southside Stompers, to a series of triumphs at home and abroad. The larger than life jump blues star has been telling Planet Jive what makes him tick...



•

How did it start?



First gig was while at school but I couldn't tell you exactly when or where because I can't remember! The Jive Cats started as a rockabilly band in about 1988 called Midnight Shift which was me and [my brother] Alan and a couple of mates. Flo joined later and the band changed which prompted the name change!

The Solid Senders was co-founded by myself and Fiona and Paul Culshaw. It was their idea really, they had always wanted to do it and we were good friends when I left the Jive Cats so they asked if I would do it with them. We started the band that became Red Peters And Her Solid Senders in the Summer of 1992, although for one reason or another nothing really happened with them until 1993 and by that time I had formed Big Boy Bloater and his Southside Stompers (Spring 1993).



•

What sort of differences made you leave the Jive Cats? Did it get bitter?



Musical differences. They started doing pop numbers which had nothing to do with the direction I wanted to go in. I knew a long time before I left them that it would never be the band I personally wanted but it took me a while before I decided to go. Yes it did get bitter, but it was a long time ago and not worth commenting on now. We all got where we wanted to go in the end.



•

Why did you leave Red Peters And Her Solid Senders before playing any gigs?



It is a very long story and a boring one too, but the facts of the matter were just that we formed the band and had a couple of people mess us around so it didn't get off the ground very quickly. I needed to earn money at the time and took up a job with another band just to fill in. When that band came to a natural end (it was just a three-piece rockabilly/pub band) I had been singing and fronting them and had more confidence to form my own band again but this time with me singing!



•

Musical influences?



I listen to a wide range of musical styles but usually in the era of late 1940s early 1950s American. At the moment I am listening to a lot of Ike Turner, Johnny 'Guitar' Watson, early BB King and even Screamin' Jay Hawkins but I vary depending on what mood I'm in at the time!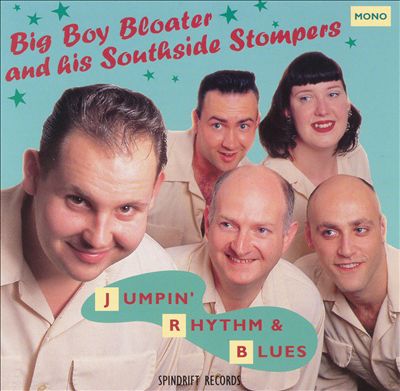 •

What was the first instrument you learned?



Guitar from the age of 11, although since then I have learned drums and double bass. Although I am well known for being a guitarist I sometimes get asked to dep for other bands on bass and drums, although I don't get much time to help them out these days!



•

What do your parents think of your and Alan's musical exploits? Were they from a musical background?



They have always been very supportive of both of us, financially and otherwise. I can honestly say that neither of them are musical. Anyone that has heard my dad whistling would agree! They both love coming to see both bands and always have a great time. They both love all eras of music and are big fans of live music.



•

Any sibling rivalry?



No rivalry at all. Alan does what he does and I do what I do!



•

What are your proudest achievements?



It's hard to specify particular achievements as I seem to have had so many over recent years. The Southside Stompers have been given so many fantastic opportunities since we started that an achievement you are really proud of is suddenly overshadowed by an even better one! I think my top five would be:-

Getting asked to appear on the Big Breakfast as the 'house band' for a whole week (January 1996)
Being voted Best Band of the Weekend at the first Viva Las Vegas (April 1998), earning us another appearance this year
Being asked to record two sessions for the Paul Jones Rhythm'n'Blues show on Radio 2 (November 1998)
Being asked to record with Paul McCartney on his Rock'n'Roll album (which unfortunately never happened as his management blocked it and went with Pink Floyd or someone!) (January 1999)
Appearing at the top of the World Trade Centre for two nights and going down a storm (March 1999)
On a more personal note I am very proud to be the band leader for the Rhythm Riot Kings of Rhythm, as it means I get to back a lot of my heroes (Nappy Brown, Joe Houston, Rosco Gordon, Marvin and Johnny) and I even get to tell them what to do!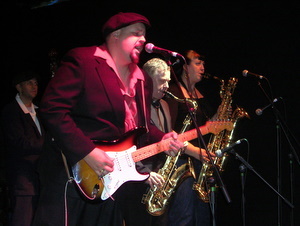 •

What was your worst moment on stage?



I can think of a couple off hand involving a hairpiece that someone in one of my old bands used to wear, but it probably wouldn't be fair to put the details here so I'll think of something else. (Catch me when I'm drunk and I might tell you face to face!)

Other than that, it would probably be when we appeared in Phoenix earlier this year the support band had lent us a guitar amp and it was a really rare and expensive 50s amp. Half way through the set it completely blew up and I wasn't really sure what to say to him! He was being really nice about the whole thing but I felt awful. I collect 50s amps myself and I know how precious some of them are. I think he managed to fix it. After that they found another amp for me but I couldn't carry on with that one because it kept giving me electric shocks. They finally managed to dig a third one up from somewhere and then the show went on.



•

Do you get nervous before going on stage?



No, not at all. I know some people do and I can't understand why they would choose to do this for a living if that's how they feel.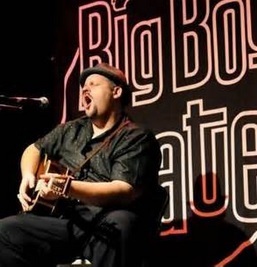 •

Do you have a day job?



Certainly not now, but once upon a time I did (about 10 years ago though) It wasn't anything interesting, just something to fill the time between gigs. I was with the Jive Cats then.



•

Who coined the name Big Boy Bloater, and when?



Bloater came first, it was a nickname from school which kind of stuck. The Big Boy came from a painting of the logo of the Burger chain in America which I had painted on my leather jacket by my girlfriend because it looked like me! When we started the band we knew it would have to be Big Boy Bloater and the somethings. Can't remember who came up with the Southside Stompers bit though.



•

What do you weigh?



More than I did when I was born!



•

What's your favourite food?



Chicken (but not cooked in Italy).



•

How do you get your way?



In the band we run a democracy as much as possible although I get the final say if anything is becoming contentious or no one can make a decision. I get my way then because ultimately I am the manager and the band-leader so it has to be that way really. At home I just look at Lisa with my big brown eyes and she crumbles. (She told me to put that.)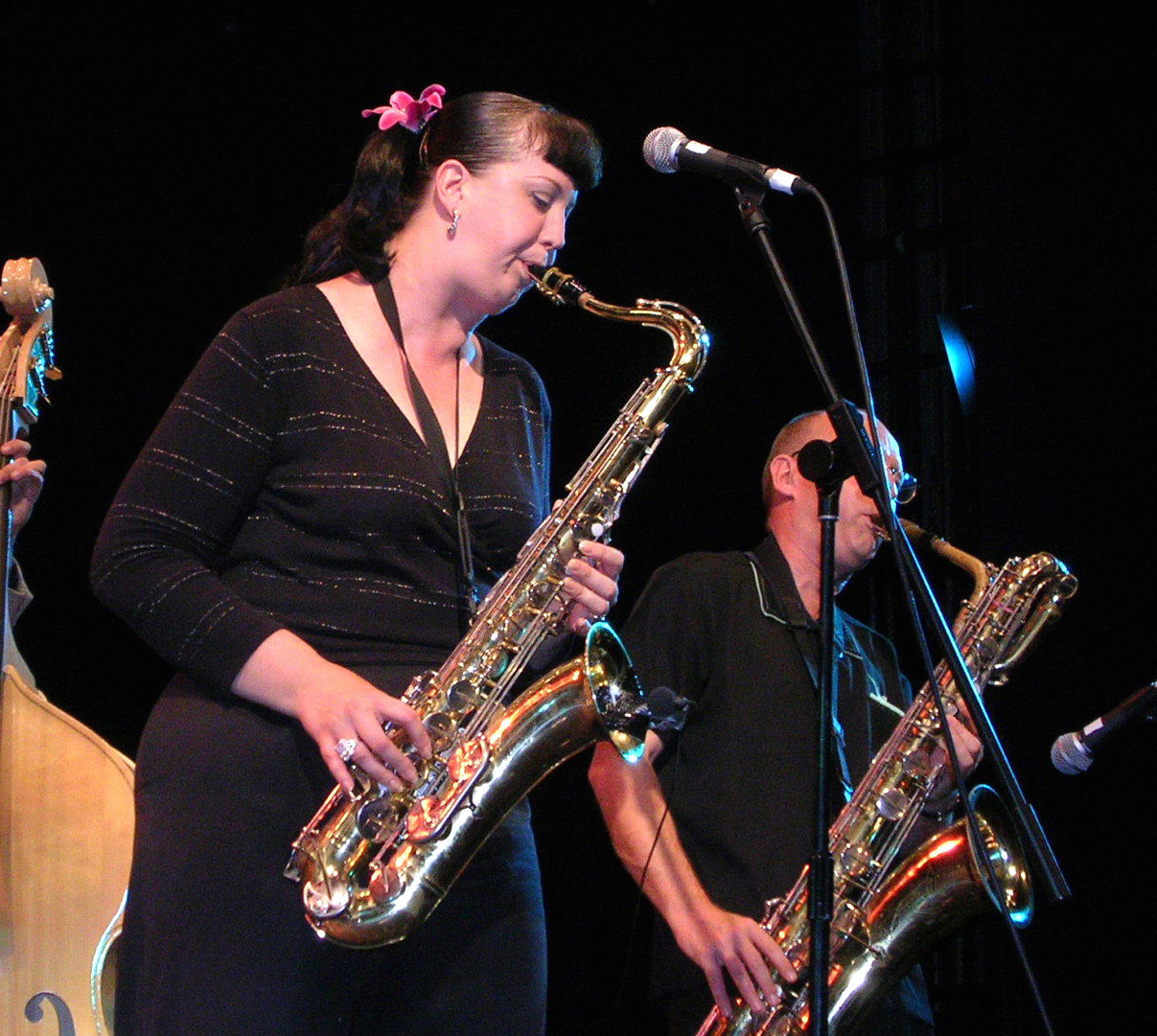 •

Tell us about your "significant other".



I am married to Lisa. We met at Hemsby in May 1991 (when I was a mere 19-year-old lad) and got engaged New Year's Eve 1991. We moved in together at the same time and got married in 1995. Most people know her as the sax player in the band.



•

Tell us about the other members of the band. Any line-up changes expected?



The line up changes every now and again, we are a six-piece with piano, drums, guitar, double bass, baritone sax and tenor sax with myself and Lisa doing lead vocals. Our piano player has been with us since the beginning but the others have been subject to change for one reason or another.



•

How did it go at Viva Las Vegas? Do you have any plans to return to the US or play abroad again?



Vegas was great. We also did Hollywood, San Diego, Long Beach and Phoenix on this trip. Last year we toured the East Coast of America, including Canada (we had a live TV interview on their version of 'This Morning', very spooky), Connecticut, New Jersey and five gigs in Manhattan, all of which were great fun. We haven't got any immediate plans to go back to America, maybe next year, but this year we are going to Paris, Cologne, Switzerland and also Denmark.



•

Since you started gigging have you noticed any changes in the jive/r'n'r scene?



Well, I could go on about this subject all night, but I won't. I certainly think that since we started less emphasis is being put on how good the music is and far too much emphasis is being put on how important dancing to it is. There have been many 'jive' clubs popping up all over the country, not always run by people that know anything about music, which in turn waters down the authenticity of the genre. There will always be a need for good bands that play r'n'r, r'n'b, jump blues authentically but whether or not a 'jive' crowd can dance to them should not be the yardstick by which they are measured. I think live music should be enjoyed for what it is. If you are moved to dance to it (in whatever style or however badly!) then do it! Surely the music comes first. People would look damn silly dancing without it.


---



We talk to rockabilly heroes

STILL RESTLESS
AFTER 25 YEARS

•

July 2005 <! 22 July 2005>

Restless are celebrating 25 years as one of our top rockabilly bands. They've headlined in Hollywood, toured all over the world and this year joined Little Richard on his eventful UK tour.

In this Planet Jive interview, the band's founder Mark Harman explains why the band quit the Little Richard tour early and speaks of his fears for the future of Britain's r'n'r scene. And he reveals what keeps Restless rockin'...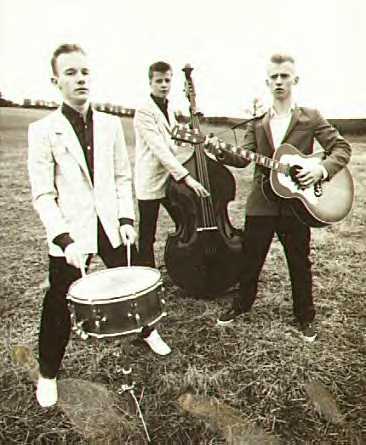 •

How did you first get into rock'n'roll?



It was Mum and Dad all the way. Mum loved Elvis, Dad loved Gene Vincent. They both had pretty formidable record collections some of which (Elvis's HMV releases for example) I now own. There was no escaping the music!



•

How old were you when you first picked up a guitar?



Dad bought me a ukelele when I was twelve. I got pretty good on it so he invested in an acoustic guitar that same year. Couldn't put it down. Wish I still had it.



•

How did you and your brother Paul get together with Ben to form a band?



We'd done school projects and things but never as a real band. Remember, we were only fifteen when we first got Restless together in 1979. This was when Ben came down to Suffolk from London after being deported for being a juvenile delinquent!



•

How did you hit on the name Restless?



We looked over our album sleeves. Ben thinks we got it from his Johnny Kidd album. I remember it coming from my Carl Perkins album. Take your pick. They're both brilliant!



•

What do you remember about your very first gig in 1980? 



Being very scared! In fact, I was so nervous I got Ben to talk to the audience 'cos I couldn't do it! Good gig though. All the neighbours, friends and more were there to see us play. It was April 26th, 1980 at Springlands Social Hall in Sudbury. It's no longer standing unfortunately.



•

How did the style of Restless differ from other r'n'r bands around at the time and in what sense did you 'scare' promoters?



Our style differed because we were writing our own songs with a modern slant to them. We didn't want to be just another covers band. If people turned up to our gigs expecting a jive night in those days they were, how can I put it, always very surprised. It took a while for British promoters to understand that what we were doing was trying to keep the music new, fresh and alive as opposed to it (and us) being just another nostalgia trip. The young fans made them see sense.



•

What have been the most memorable moments and your biggest achievements over the 'Restless years'?



Headlining in Hollywood? Far too many memorable moments to mention here. Could write a book about it! Now there's an idea... Biggest achievements? Still going after all these years, and as human beings outside of the band - our children, of course.



•

Do you have a favourite Restless song?



You'd think we'd get bored with playing all the Restless faves over and over again but we really don't. There's nothing like seeing a crowd going loopy to songs we've written, so all the numbers we play in the set are our faves. We wouldn't do them just for the sake of it. We genuinely enjoy them all.


Restless rock the Royal Festival Hall
Photo: Tabatha Fireman
•

How did you land the tour with Little Richard?



The promoters contacted the management with a view to initially invite us to play just the one show at London's Festival Hall but after some deliberation decided to offer us the whole tour. Also our reputation stateside has been growing lately as well, and it all just landed right for us.



•

What was it like touring with a 50s legend? Did you get much of a chance to speak to him?



It was hard to get anywhere near him although we did get to say hello. It was privilege enough for us to be in the same building as the great man. He also paid us a wonderful tribute at Cardiff's St. Davids Hall. It was a real experience and one that we'll never forget.



•

Why did you leave the Little Richard tour earlier than planned? How disappointing was it?



The tour for us was fantastic. We got to play some amazing places as well as meeting some important people. We also had amazing reactions to our shows even though the crowds were, of course, there primarily to see the Emancipator of Rock'n'Roll. There were some logistical problems which didn't really concern us and because of this, some shows were pencilled in for cancellation due to unforseen circumstances. We decided that as we'd done our bit for ourselves and the tour, and as the rest of the schedule was looking a little unsure, we'd leave on a high, which we did. The promotional team respected our decision. It was all very friendly and indeed we'll be working with them again in the near future. It was a shame to let any Restless fans down and we apologise for that but without getting into the politics of the business, it really was the right thing to do.



•

How does it feel to be back with the original Restless line-up now - 25 years on?



It's like we've never been apart. Just fantastic to work with Ben and Paul. Best musicians on the scene, no question. We're best mates too.



•

Any regrets?



Well of course it would've been nice to have made it big anywhere but we can't complain. For three little spotty teenagers with a common love for rock'n'roll to manage to get themselves all around the world and back again to great acclaim should be enough for anyone.



•

You've done a lot of touring abroad. How do you compare the foreign audiences with those in the UK?



England has gone very quiet at the moment but it's done this before. Working abroad is much more gratifying at the moment 'cos the audiences are there and they're still going wild, but what goes around comes around. Old Blighty's gonna bounce back sometime and once again it'll set the scene for all to follow.



•

How healthy is the state of the rockin' scene in the UK in your opinion? How can it attract more youngsters?



Well WE (Restless) can try by playing but we can only do so much and we can't go on forever. It's up to the older fraternity to introduce youngsters (be it their sons/daughters/relatives or friends) to the beauty of rockin' music. It seems nowadays that the elders are far to content to keep it all to themselves. This is already showing its effects even as we speak and it could have totally devastating results later on in the future. Can you imagine a world without r'n'r? Spread the word. This music belongs to everybody and not just the select few. Let's not cut off our noses to spite our faces. When I got into the music proper I was a teenager, but there were thousands of teenagers doing the same thing at the time. Why was this? I believe it was a combination of our parents' influence coupled with young and cool rockin' bands crashing what was a relatively active scene at the time. I guess we'll just have to see, but something's got to give. Without the injection of youth, it's got a one way ticket to whoknowsville!



•

Any recording plans or big projects coming up?



Yep, working on a new album as we speak.



•

Is there anything else our readers might be dying to know?



Yep, my wife's expecting twins in October. Double trouble coming my way!



Restless are Mark Harman (guitar and lead vocals), Paul Harman (double bass and backing vocals) and Ben Cooper (drums and backing vocals).
---



Jackson Sloan album captures sound of the 'Thames Delta'

MADE IN ESSEX

•

November 2013

<! 11 Nov 2013>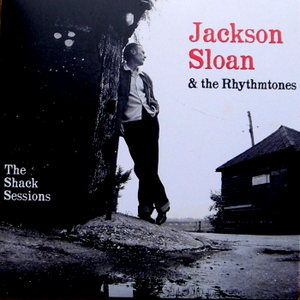 With eight musicians from Essex collaborating on his new album, Jackson Sloan says it captures the sound of the 'Thames Delta'.

The Shack Sessions is Jackson's first album leading his new band, The Rhythmtones. They're joined by special guests Essex diva Laura B, Steve West Weston on harmonica, Vic Collins of legendary Southend band the Kursaal Flyers on pedal steel; and on sax, Westcliff's own Graeme Turner whose credits include a stint with The Drifters.

Lending a hand on backing vocals are Londoners Dave Tonner, Jon Pannaman and Paul Solomons from veteran doo wop band The Metrotones.

Reinforcing its local provenance, the album is named after the Shack Studio near Chelmsford where it was recorded. All 12 tracks have been penned by Jackson himself, continuing a career of prolific songwriting that began with his first band, Rent Party, in 1982.

So how does the Colchester-based maestro keep coming up with tunes which could have come straight from the speakeasys of 1940s and 1950s America? Jackson has been talking about his inspirations in this Planet Jive interview...



•

Why do you think Essex boasts such a strong roots music heritage?



On the new CD eight out of the twelve musicians come from the Essex area. Essex has always had a big music scene, and several top musicians come from this part of the country.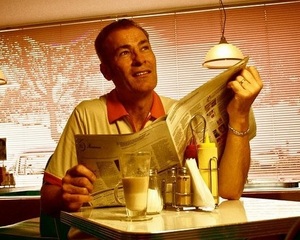 Over the years, iconic venues such as the Kursaal Ballroom and the Queens Hotel held gigs by all the top touring bands in the world.

On top of that, you had Shades coffee bar, the Long Bar, which in the 1970s was a top venue for all the rock'n'roll bands, the Top Alex. the Grand Hotel in Leigh-on-Sea, plus two top specialist shops, Record Mart run by Pete Eden, and Record Museum run by Derek Glenister. Both men had extensive knowledge of roots music.

Pete Eden has produced albums and contributed to several magazines around the world and Derek Glenister helped put out the classic rock'n'roll track Jungle Rock and imported lots of rare records and also contributed to the BBC Arena special on Eddie Cochran.

So with all this and many record collectors (including me), it helped push the musicians on the Thames Delta.



•

What sense of satisfaction did you get from completing this album?



I'm very pleased with the album. It's everything that I had in my mind, but now it's all been put together, it has grown and exceeded what I had imagined. The musicians and special guest musicians really added their own flavour which takes the music on in a unique way, but still remains roots music influenced, which is really important to me.

Paul Richardson at Shack Studios has done a great job. He is a big fan of this music, and that really shows. He has captured a live feel and this gives the album a great vibe, and Jackson Sloan & The Rhythmtones are now picking up gigs both here in the UK and all over Europe. I am really excited to be working with these guys.



•

You've written all the songs on this album yourself and many many more over the years. How do you keep on coming up with ideas?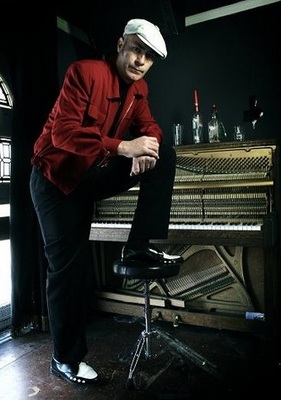 I have always written original songs. Rent Party's first single on Waterfront Records was an original song, and I continued to put in original songs within our sets. I also worked with top Latin percussionist Snowboy on Old Angel Midnight which featured five of my songs. I also worked with Mop Mop and LTJ in Italy with some songs.

I get inspiration from reading, watching old films, but mostly from a single line or idea that I come across randomly - maybe just sitting at the kitchen having a coffee - that I quickly scribble down, and then I sit down and try to finish off the idea.

It's not a 24/7 thing for me. It's more hoping to bring a lyric together that makes a story and that takes time. I have always wanted to push the boundaries of roots music and work with vocalists and musicians from the live music scene. All my favourite albums feature different musicians coming together and just letting it happen spontaneously. It's so great to be in the studio and hear everyone say, 'Man that worked!'



Full details of The Shack Sessions are at www.jacksonsloan.com
---



R'n'r dance teacher celebrates anniversary

20 YEARS OF KAV'S COLLEGE

•

May 2005

<! 13 May 2005> As he celebrates 20 years teaching rock'n'roll dancing, Kav Kavanagh says 'ageist' jive clubs aren't doing enough to encourage children into the scene. The top DJ, compere and singer is throwing an anniversary party in Kent this month featuring his own band, Kav & The Kavemen.

In this Planet Jive interview, Kav says r'n'r dancing is an art form, but it's not about posing – just enjoying yourself...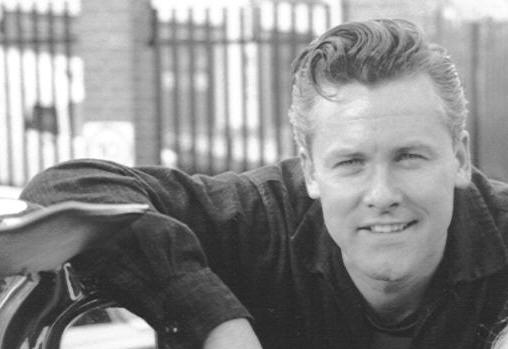 •

Did you have formal lessons or just pick it up in the clubs?



I learnt from going to the clubs. The guys were at the bar and the girls were on the dance floor. Guess where I was! Fifties Flash was the prominent DJ at the time so I learnt dancing to all the latest gems.



•

What do you find most rewarding about teaching?



Watching my students dance in a club. It's very satisfying to watch them having a good time.



•

Do you think it's best to have people stick with the same partner or get them to rotate?  Do you tend to get even numbers of men and women?



Numbers tend to fluctuate according to the weather, pay day or bloody football, but I insist people learn together, especially long term students because I can advance them more.



•

What are the pitfalls of teaching aerial moves?  Do you worry about people having accidents and suing you?



I won't and don't teach acrobatics in a general class. It requires personal tuition. However I do teach simple aerials which I feel ALL the class will be able to do. In 20 years I can count no more than five accidents. I don't take risks with people and ensure their safety when teaching.



•

Who turns up to your classes?



I've taught politicians, news correspondents, royalty and a few celebs, but I treat them with the discretion they deserve. My youngest have been around five or six years up to 74 - and I taught him to throw his daughter. Everyone's welcome from six to senile. I've even taught disabled people in wheelchairs and people with downs syndrome.



•

What have been the highlights of the past 20 years at your classes? 



The most memorable isn't perhaps the right term but it's great that some people come back after many years. My Highgate class in North London has been running 19 years and as such it's my flagship class and it's great when I have students return after 15 plus years.



•

Have any love affairs blossomed at your classes?



Almost on a monthly basis some romance occurs and, yes, there have been a few marriages. I do get a lot of couples learn to dance for special occasions like their wedding in which case I teach them moves depending on what the bride will be wearing.



•

Why do you think there are so few r'n'r dance classes around the country compared with modern jive and swing dance? 



Rock'n'roll is to me an art form and as such you have to have an understanding of what rock'n'roll encompasses, to which I don't think many people can really profess to teach real rock'n'roll. I believe with my pedigree that someone can teach someone to jive but to teach rock'n'roll is a different matter. However a dancer doth not a teacher make.



•

There are several high profile annual competitions in modern jive and lindy with big prizes and big entrance fees, but apparently not in r'n'r.  Why do you think that is?



Rock'n'roll is the working man's social dance. It's not necessarily competitive but a social dance for all to enjoy. The scene these days is more tolerant of different jive styles and as such it's all become a bit of a mish mash. It's not about posing but enjoying yourself.



•

Are there enough youngsters getting into r'n'r dancing to ensure it doesn't become a dying art?



No there's not. It's a shame but whereas rock'n'roll was born out of the social clubs which were family oriented, jive clubs tend to be a little ageist and don't encourage kids. However the way some people dress like extras from Grease, it's hardly cool or encouraging, but it's nice to see kids getting involved and I champion kids at every opportunity.



•

You've done some workshops where you give modern jive dancers a taste of r'n'r dancing.  What sort of reception do you get?



I can't stand Ceroc or Leroc due to its parasitic origins claiming to be the 'new' rock'n'roll and more recently the 'new salsa', but the breakaway modern jive scene is a little more open-minded and willing to adopt new moves and/or learn from me and I've been very well received. I've been very outspoken about any form of modern jive as it's not rock'n'roll but each to his/her own. I'm happy to teach anyone who wants to learn.



•

You've made a rock'n'roll dance video. What are the pros and cons of learning by video?



If you make mistakes, you don't have anyone to help you correct them, but at least you can get a general idea. I've had some really good reviews/feedback of my videos. It's nice when someone totally out of the blue comes up top me and thanks me for teaching them.


---



All-girl big band gets swinging

MEET THE BOMBSHELLETTES

•

January 2009

<! 7 Jan 2009> Fifteen musicians are launching a big band with a difference... They're all women.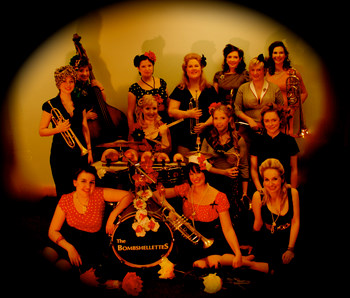 The Bombshellettes are paying homage to little-known all-girl swing bands of the 1940s. Band founder and drummer Rosie Morris told us more...



•

What inspired you to set up an all-female band?



I had always been a bit of a nerd when it came to swing music and I had done a lot of research into all-female swing bands of the 1920s, 30s and 40s. Women band leaders like Ina Ray Hutton (and her Melodears), Thelma White (and her all-girl Orchestra) and Anna Mae Winburn (The International Sweethearts of Rhythm) were an inspiration, along with the women musicians that they led. I could go on forever about many other great female musicians that pretty much went under the radar.



•

Tell us a bit about your own background.



I've played drums and several forms of percussion since I was 11. I've studied all different types of music ranging from rock, pop, world music to classical, jazz and my favourite - 1930s/40s big band. I did a degree in contemporary music at Paul McCartney's institute (LIPA) where I also played in the college big band. Before that I played with NYJO and a local youth big band in the borough of London where I grew up. Professionally I worked as a session musician playing in everything from folk bands to doing pop miming work and indie bands, but all along I was missing playing that music from the swing era.



•

Where are most of you from and how did you all get together?



We have a really mixed bag of excellent players actually. Some have a jazz background, some pop and others classical. One of our singers is trained in musical theatre, another in opera, and the third in folk and pop! This all works brilliantly for us as we each bring something different to the table, but with the same vision in mind for the band. We want it to be a visual experience as well as pleasure to listen to.

How we got together was a funny one. Some of the girls answered my advert on the Arts Council jobs board or Music Jobs website, while the others came on recommendation. I tend to go on 'vibe' with players, so if they turn up and are a nightmare to work with, they wont be invited back! Thankfully we have a bunch of genuinely good players, and lovely people too!



•

Have any of you had bad experiences in previous male-led bands?



No, not at all. Well, we have all had bad experiences in bands, but not because they were necessarily male led.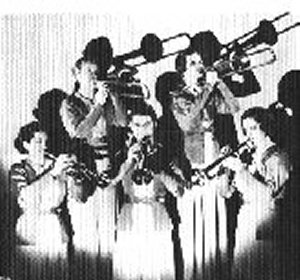 All-girl swing bands, especially during the 1940s had a pretty hard time of it just by being women and especially if they were black (or were white wanting to play with black musicians). Bands were not allowed to be mixed (by either sex or colour), and when Ina Ray Hutton & Her Melodears cut their first record, it was so good that critics said it must have been over-dubbed by men! At around the same time a jazz orchestra called the International Sweethearts of Rhythm, a 'coloured female only band', toured America. They sometimes had a few white girl players on the sly (and they had to be covered in make up to disguise this fact) who could be arrested if they were discovered performing in a 'mixed band'.

Some of the musicians were so good, Louis Armstrong once tried to bribe one of them to join his band for ten times the wages they were getting in the girl band. But they refused, staying loyal to their girls. That must have been hard to do, especially as most of them were desperately poor.

So this band is not a statement against playing with the fellas! It's simply us paying homage to the girls that went before us and appreciating that they were really very serious and talented musicians.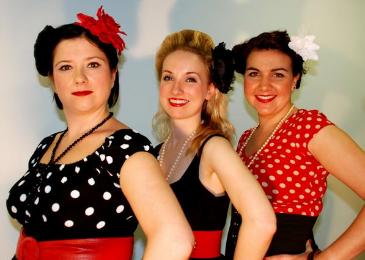 •

How would you describe the sense of camraderie in the band so far?



Fantastic really. We have become like a big family and really support each other in what we are doing. If someone takes a solo, we all whoop and cheer to encourage them. It works the other way too - if we are in rehearsals and one of us makes a huge mistake, we'll all be right there ready to take the mickey and let them know!

Another thing we all do together is hair, make-up and wardrobe. We are lucky to have my mother, who was previously a make-up artist. She helps us with the outfits, curler duty and photography! Quite often we'll all be doing each others victory rolls and red lips!



•

How much will the band's set list be focused on danceability? Are any of the band dancers themselves?



A lot of the music we play is dance music by default, as most 1940s music was written with dancers in mind. If we were to play for specific dance events eg. jive, ballroom, latin, etc. then we can tailor our set to suit what people might want. We're pretty versatile! We have several members of the band that have some background in dance, ranging from ballet, modern, tap to even bellydance! I've had a couple of quick step lessons, but am eager (along with a few of the other girls!) to try lindy hop. The only thing is, we're usually all too busy playing the music to get a chance!



---



From fan to lead singer...

MY DOO WOP DREAM

•

January 2012

<! 11 Jan 2012>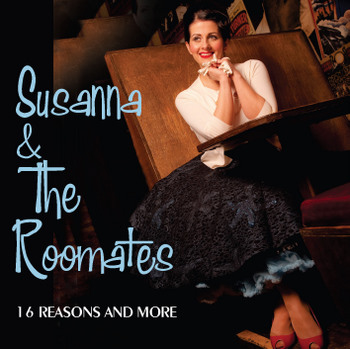 She started out as their biggest fan... Now, Susanna Pichin has fulfilled a doo wop dream by singing lead vocals with her favourite band, The Roomates.



Their ninth album, 16 Reasons And More, features the talented Swedish-born singer performing with the British doo wop four-piece. The 30 tracks cover styles of late 50s and early 60s vocal group material. It comes a year and a half after The Roomates released an album with Finnish singer Jeena Rancken.

The Roomates - who are mostly from London - took their name from an original 50s US band and have been together since 1986 when they gave their first performances busking in a subway.

Susanna came to the UK from Sweden in 1998 and lives in North London. Her father is Spanish. The album includes a song in Swedish and one in Spanish, which the band hope will widen their appeal. The 35-year-old singer has been telling us more about her passion for doo wop and the unusual story of how she hooked up with the band...



•

When did you first get interested in doo wop?



My interest in doo wop started when my mother introduced me to it back when I was about 10 years old. She was an entertainment journalist in the early 1960s and I used to love listening to her telling me stories about the era; the films and celebrities, the clothes and the music... She had saved a few 45s, neatly tucked away in her trunk filled with juicy memorabilia of that time, which I managed to dig out and started playing one day. I guess you could say I was hooked ever since!



•

How long have you been singing?



I joined all sorts of choirs whilst at school and I would always be the first one to audition or volounteer for plays and shows. I've always loved singing and seeing that little bit of instant happiness it brings people sure puts a huge smile on my face. This particular style though has always been a passion of mine. People ask me if I sing the way I do because of the music I love so much, but I'm not really sure if this is the case, or if it's because my voice suits this music... Either way, I just do what I love and hopefully people will like what we've done with these somewhat obscure songs and appreciate the sounds of Susanna & The Roomates!

<!img src="susannaradio.jpg" width=300 alt="Studio" hspace=10 align=left>

•

What were your first impressions of the Roomates?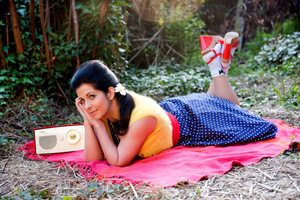 I have listened to The Roomates for years and always been in awe of their vocal arrangements and the fact that they have such an authentic sound, even though their songs been recorded at least 30 years after this music style was around! The mellow harmonies and beautiful melodies they produce are second to none and a lot of people know it. They have a dedicated fan base, which have followed them through years of performing and recording.

I found out about them in the early 2000s as I was looking for a doo wop wedding band based in the UK. I didn't get married, but The Roomates stuck with me and I started to look some more online to see what I could find out about them. I came across a few videos on YouTube of the subway recordings, which then spurred me on to comment on a few of their clips. I guess my comments stood out and hopefully they realised that I wasn't just a crazed fan, but actually knew something about doo wop and shared the same passion for their particular song choices.



•

So you had to wait four months for a reply because the band's Steve Webb was having computer problems... What was your reaction when he finally got in touch?



Well, I was quite (pleasantly) shocked actually! I mean, I was a fan and here they were contacting little ol' me! Steve and I started emailing and very quickly realised that we had a very similar taste in this music and we started talking about their albums and what they wanted to do next.

He then went on to tell me that they had recorded with Jeena a few years earlier and that they now were looking for someone to record their next album with. Apparently some auditions had taken place the previous year, but no one with the right sound had been found. I think it was just a coincidence that he asked me if I sang and then we talked about the style he was after and could I do that? A few songs were suggested, of which I sang snippets into my Mac and sent off to Steve and then the wait began... It didn't take long before Steve replied that he was pleased with what he had heard and that he thought all our voices would blend really well. It was only after then that we actually spoke on the phone! The rest is, as they say, history...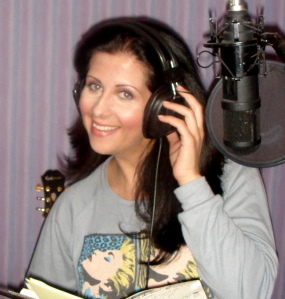 •

How did the recording session go?



Recording sessions are always good fun. We have quite a laugh in between takes and stop every now and then to sing other tunes or just part of a melody we have just thought of; perhaps for a new song. It's always very laid back, although it's taken very seriously. After all - this is what you hear on the CD! Outtakes always make for a laugh, and I do keep some of them for my own amusement!



•

What sort of direction would you like to take next with your singing career?



I would love to gig with the guys and perform these songs and others at venues organised for true hard core fans. I have no preference as to the size of venue, as this differs from club to club, but I would absolutely love to do festivals and outdoor gigs; maybe in the summer, who knows?

There's nothing better than seeing these people dancing the night away to our tunes and genuinely having the time of their lives, remembering what it was like when they were teenagers and this music was in the charts. It's such a lovely thing when being approached to be told that someone celebrated their 'Sweet 16' to a particular song we've just performed or even proposed to their wife to!

And I love the effort people make dressing up! It really is such an event and they do take it rather seriously [as do I!]; loads of vintage pieces; such as fabulous petticoats and winkle pickers, cool and sometimes crazy hairstyles. It's of course all good fun, but this is an opportunity for them to appreciate this music live and to meet like-minded people. It makes me smile just thinking about it and, hopefully, the gigs to come. Could I please thank all the existing fans?


| | |
| --- | --- |
| | |
| Susanna and the Roomates live | |
•

More recordings? Own band?



I've always wanted to share my love for doo wop and other music styles of the era and who would have thought I would record with The Roomates - even a little over a year ago... I would love to record another album with more songs chosen by fans. We actually have a few already done, and are about to record some more next month. Let's see what the audience say first, as this really rules anything from here.

It would be great to release some of our own material, as we have written a few already. Of course I would be extremely happy if there was interest to do more. Not only because I enjoy singing, but because it would, hopefully, mean that this music is spread and be available to more people, worldwide.

Let's keep doo woppin'! Own band? Why would I want that when I have the boys? I am happy to lend my voice to other projects, if they are suited, but it's got to be something very special in that case! One of my dreams have always been to be featured on a background track or as a singer in film or TV series (think American Dreams). Now, THAT would complete my doo wop dream for sure!



•

Why was doo wop such a male dominated genre. Have female artists been overlooked?



Doo wop was originally just that; guys singing on street corners, but eventually branched out to some girl groups and some groups with female leads, or shared male/female leads. Although not as common, there are some real gems out there with original female leads and it's what we are looking for to sing. Saying that, we have also covered a lot of male sung songs, as these can easily be altered to suit, all depending on range of course.

I reckon most of guys' voices are 'punchier' and boppier than girls', but it's not to say it can't be done. Who doesn't appreciate a smooth love ballad of the time...? It's all a matter of taste really and being able to apply a creative imagination and knowing how to interpret a song in a variety of ways. I do feel privileged to be contributing to this music style with my voice, being female, but also of course being in year 2012.



16 Reasons And More is available from Rare Rockin' Records.
---



Saxophonist Pete Cook pens musician's survival guide

ROAD RAT'S TIPS

<! 8 Oct 2012>

•

October 2012


| | |
| --- | --- |
| | |
| | Photo: Martin Hart |
<!img src="petecookzoom.jpg" alt="Pete Cook" width=300 hspace=10 align=right> In his 20 years on the road, veteran sax player Pete Cook has seen it all.

From Clarence 'Frogman' Henry to Elton John and the Scissor Sisters, he's worked with the greats of rhythm'n'blues, rock and pop.

Now he's giving something back to the scene by sharing his experiences in a new 'survival guide' for fellow musicians.

Road Rat's Tips tells musos everything they need to know about keeping comfortable, safe, sane, reliable and gainfully employed.

In this Planet Jive interview, Pete - who's also the Head of Jazz at the London College of Music - tells us what inspired the book...



•

What prompted you to write the book?   Were you surprised at the 'gap in the market' for this kind of musician's handbook?



At the tail end of each academic year I do a talk to my university students on being a professional musician. Normally this covers keeping simple business records, what is and isn't tax-deductible and the like. A year or two ago, I modified this to talk about the practicalities of being a musician and travelling around. You know, the sort of stuff you usually only learn from (sometimes bitter) experience. It went down a storm with the students and the seed was sown for Road Rat's Tips. I thought it'd make a good book some day, when the time was right for me.

I love writing – it's my only creative outlet outside of music – and I've published a blog fairly regularly since 2007.

When I realised there seemed to be a gaping hole in the market, I knew the right time was right. I had to turn it from a pipe-dream into reality, and so I put pen to paper. There seems to be nothing else like it out there, and certainly nothing that mixes the informative with plenty of laughs along the way.

It's going really well at the moment, and I'm being asked to go on radio/video shows etc to talk about it. I'm toying with the idea of doing a 'lecture tour' to take it round the various music colleges and universities. That said, it's not a music student thing, it's of equal value to semi-pros and amateur musicians. Even seasoned pros tell me they've got something new out of it.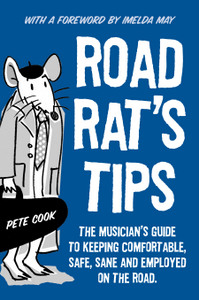 •

What are your pet hates when gigging?



I like to keep a fairly positive head on, and it takes a lot to upset me (although I don't suffer fools!) But, on our scene, I think my pet hate would probably have to be working for amateur promoters.

Over here, it usually manifests itself as stuff like not having proper changing facilities, poor quality equipment, an amateur sound guy (who seems to love feedback!) and, worst of all, a promoter who's relying on taking enough on the door to pay the band. They often seem to think that if they haven't taken the agreed fee it's acceptable to pay a smaller amount. Gig promoting is a 'swings and roundabouts' business and the professional promoters seem to accept that they'll take a hit on certain gigs and make a killing on others. That's why it's always such a pleasure to play the bigger festivals – Rhythm Riot, Hep Cats Holiday, Twinwood, Hot Rod Hayride, etc etc, which are always very well organised.

Abroad, my pet hate is a promoter assuming you'd want to spend all your time at their festival if you weren't working there. I love hearing all the other bands as much as the next person. I love looking at the trade stalls too, eating, chatting (I'm a real chatter-box), etc, BUT if I've had to get up at 3am to catch an early flight, and I don't start work until 11pm, to do my best for the audience (which, let's face it, is why I'm there), I need some rest – and you can't get that at a noisy festival with nowhere to sit.



•

How can dancers help or hinder things at gigs?



What a great question! I wish someone had asked it sooner. Well, from a band's point of view, dancers can absolutely make or break a gig. Everybody likes to see a full dance floor, and it's a pretty good barometer of how well the band's going down. The problem that sometimes arises when you're playing to a dance audience is that they tend to 'applaud with their feet'. That's to say, they don't actually applaud the band much between tunes.

This in turn can make the band think they're going down badly or doing something wrong. It's a two-way street though, and we musicians are often blissfully ignorant of what dancers want from us. I took a 20-week jiving course with Maddy's before forming my own band to get a better idea for myself about what constitutes good dancing tempos, feels, etc.

My mate was playing a dance gig many years ago. As a couple danced past the stage, the male half of the couple put a piece of paper at the feet of the horn section, upon which was written: TOO FAST!! The next time the dancers passed the stage, they were greeted by the paper, which had been turned over and now bore the legend SMACK IN MOUTH??



•

What particular hazards can gigging abroad present?




| | |
| --- | --- |
| | |
| | Pete with Clarence 'Frogman' Henry |
That's a huge question; so much so that there are several chapters in the book that cover stuff like what to do if you lose your passport, flights, luggage, dealing with foreign sound-crews/promoters etc… This from the 'Lifelines' chapter of Road Rat's Tips:

One of my chums was playing a dream gig somewhere very hot and on the coast. During the day, he went to the beach with a fellow gigster and went paddling. Very soon they were waist-deep in the cool, clear water.

"Wow" exclaimed my chum suddenly. "Did you see that purple fish?"

"That's no fish, man," replied his fellow bather. "That's your passport!"

I guess the over-arching advice is to travel light, but for many of us, the biggest problem is getting your instrument into the cabin of the plane with you. I've got quite good at this over the years, and people don't believe me when I tell them that only once has my bari had to go in the hold. I've had some narrow escapes though… This from the 'Luggage' chapter of Road Rat's Tips:

I was coming home alone from a festival in Spain and the organisers had taken a pretty 'Southern European' attitude to getting me to the airport in good time. I was, therefore, a bit agitated and not in the best of humour when I checked in.

When the check-in clerk told me my horn would be going in the hold rather than in the cabin with me, my usual pleas, followed by protestations, followed by shameless begging, all fell on deaf ears. He took my boarding card and wrote something on it in Spanish along the lines of 'Please remove the guitar from this passenger at the gate'. Feeling thoroughly defeated, I trudged towards the already crowded gate resigned to the fact that my beloved baritone would probably be the shape of a French horn by the time it arrived back in Luton.

When the gate opened, however, a miracle occurred. Just as I surrendered (and I use the word advisedly) my boarding card, the chap in front of me started an argument with the gate staff who proceeded to hand me the stub of my boarding card with not even the most perfunctory of glances. I couldn't believe my luck! A couple of minutes later I was triumphantly loading the horn into an overhead locker above my favourite window seat, confident that not even the most attention-deprived, tartrazine-addled toddler was going to spoil this flight.

Eating is always an issue when you're working abroad, and eating at every opportunity becomes very important indeed as you often don't know when you'll eat next. I think this might be my favourite story from the book:

A famously tight-fisted trombonist, while working abroad, was walking back to his hotel one evening. Passing the pavement cafés, he noticed a pizza, barely touched, on a plate at a recently vacated table. Having surreptitiously scooped up the remains, he rushed back to his hotel, where he proceeded to warm it up… in the trouser press.



•

What advice would you give musicians about 'drinking on the job'?



In a word, DON'T. If they were driving a school bus for a living they wouldn't drink before work, and I'm sure they'd all be pretty annoyed if a surgeon arrived 'over-refreshed' to operate on them. The trouble for musicians is that we tend to work around alcohol, and as it's naturally occurring, legal, and freely available, it's very much a socially acceptable drug. Like other drugs though, in my experience at least, it makes people play worse, but think they're playing better. Boozing does, though, give rise to some great stories. Also for most musicians, no driving licence equals no work. This from the 'Driving' chapter of Road Rat's Tips:

A saxophone player was driving home from a gig somewhat 'over refreshed' and, in his befuddled state, managed to pull up on the end of a London taxi rank. An ordinary car on a cab rank attracted the attention of a passing policeman who duly investigated. He tapped on the window and said: "What's going on, sir?" The muso replied: "I don't know officer. I think these traffic lights must be stuck… I've been here for ages."

Needless to say the cop hauled the muso out of the car and gave him a breath test, which he failed miserably. Seeing the hopelessness of the situation, the tipsy muso said: "You see officer, I've been to a cheese and wine evening – and they ran out of cheese!"



•

Looking back over your long career, what have been the absolute best and worst moments?




| | |
| --- | --- |
| | |
| | Photo: Gordon Ayers |
<!img src="petecook.jpg" alt="Pete Cook" width=300 hspace=15 align=right> The worst was when I was booked to augment an American group at a British festival a few years ago. I arrived at rehearsal at 11am to find the group very drunk indeed (11am!!), with the guitarist slumped in a chair centre-stage. It soon became apparent that they'd upset everybody they'd come into contact with that day – stage crew, sound guys etc, and the whole atmosphere was a bit 'vibey'.

I was made to feel most unwelcome (except by the singer and the other sax player), and the final straw came when the seated guitar man decided he was going to throw up. He staggered towards the wings, too drunk to realise that his guitar was still plugged in. The inevitable happened and he ended up pulling over the amp with an ear-splitting CLANNNGGG from the reverb spring. At this point I very discreetly slipped through the tabs, put my horn away, and went to tell the promoter I wouldn't be appearing with them and why.

There's a nice coda to that story in that I got a full apology from a very contrite guitar player later that weekend, and the other guys always ask my buddies after me if they see them in the States. It seems it pays to take no nonsense!

One of my top two best experiences also happened in a rehearsal at a British festival. I was playing with the Five Keys, and straight away the guys were really warm towards us. A few songs in, one of these old guys, using a walking stick, hobbled over to the lead mic to sing a ballad – The Glory of Love, I think it was. Well, the sound that came out of this guy was incredible. I could feel the hair standing up on my neck and arms. It really brought 'a lump to my eye and a tear to my throat'. It was a truly memorable moment for me. The gig that night was great with the audience roaring every time we played one of the hits. After the show I knocked on the Five Keys' dressing room door and said: "Thanks gents, you've just reminded me why I play music."

Possibly as good as that was spending a week in Italy last year at the Summer Jamboree festival where I'd been hired as musical director for The Cleftones. It was really nice to hang out with The Cleftones, along with The Bobbettes, and my buddies Lil' Gizzelle and the guys from The Goodfellas, away from the performing environment. What a lovely bunch of people. I had a great time hanging out with all the other musicians on the festival too, (and Nico Duportal's band taught me some really foul language in French). I played three gigs - Cleftones, Si Cranstoun and Laura B - and the icing on the cake was being invited by the house band to play the end-of-festival party with Big Sandy and Gizzelle. It was certainly one of the best weeks of my musical life. I remember sitting one late afternoon in the lovely Italian sun, looking out over a shimmering blue Adriatic and thinking, 'That's what all those hours of solitary practice were for…'



•

The government's just announced plans to sweep away licensing restrictions on live music for audiences of up to 200 people before 11pm. How far has red tape inhibited live music in the past, and do these changes go far enough?



Well this is certainly a start, and let's hope it opens a lot of doors and creates playing opportunities for young musicians. The pub circuit, that was so vibrant in London in the 80s, is where many guys of my generation learnt their craft, and where I got interested in playing music from going out to see bands like The Chevalier Brothers and Rent Party.

For many years we were held back by what became known among musicians as the 'two-in-a-bar' rule which meant that duos (even if it were Paul McCartney and Sting) could legally play in a pub without a licence, but put three workaday journeymen pros on the stage and you'd be breaking the law. Funnily enough, I'm told these licensing laws were actually never-repealed Victorian rulings that were originally introduced to prevent accidents caused by people dancing on rotten pub floors. Do the changes go far enough? Well, let's wait and see…



•

As you reveal in the book, life on the road is clearly not as glamorous as some might think.  Do you have any regrets about becoming a musician or would you do it all over again?  What advice would you give to anyone considering going professional?




| | |
| --- | --- |
| | |
| With Big Boy Bloater | |
I've absolutely no regrets at all. Turning pro was the best day's work I ever did. I've seen stuff I'd never have seen had I stayed in engineering. This from the 'Local Knowledge' chapter of Road Rat's Tips:

I well remember playing a very posh function at the Banqueting Rooms in Whitehall and saying to my colleagues: "Guys, just look at that ceiling! Rubens was up there on a scaffold painting that; and apparently Charles I walked through this room to be executed. He must have walked right past the bandstand". I realised my enthusiasm didn't seem to be shared when one of my much younger colleagues said: "What you fuckin' on about?"

I even met Romano Mussolini – the youngest son of Benito Mussolini – when I toured Italy with Ray Gelato in 1996. He was no slouch as a piano player either. Romano that is, not his famous dictator dad.

The biggest factor I had to take into account when I was turning pro was that I was sentencing myself to a life of relative poverty, so I guess the advice I'd give to anyone considering going professional is (a) make sure you're good enough to freelance (I think all bands have a finite lifespan), and (b) don't do it if you're really into money. There are other, more important things in life.

I'm glad you asked the question though, because I've really got the writing bug now, and the very last page of Road Rat's Tips gives a secret key to a free chapter from my next book, which just happens to be called 'So You Want To Turn Pro?'



•

There's more information on the book at www.roadratstips.com

---



Berlin is perfect base, says British guitarist

ICH BIN EIN BERLINER

•

April 2013

<! 27 Apr 2013>
| | |
| --- | --- |
| | |
| | Spike at Berlin's Wild At Heart club |
Rock'n'roll guitarist Spike Neil has turned his back on Britain, and started a new life in Berlin. He says he's found the perfect base, with more gigs, higher pay and better venues. And, in this Planet Jive interview, he says musicians get treated with more respect.



•

Tell us a bit about your musical career in the UK. How did you get into rock'n'roll, when did you take up the guitar and which bands did you play with? What were the most memorable moments?



I got into rock'n'roll music at a very early age, although my parents weren't fans of the music (my father was a huge trad jazz fan) there were a few records hidden among their collection that I managed to find! I guess I was about 10 years old when I heard my first Gene Vincent song, Crazy Legs.

My dad had bought me a transistor radio for my birthday and I used to listen to it in bed. One night I tuned in to Radio Luxembourg and that was it. I was hooked on that wild sound and just had to get me more of it! I remember going to school one day in 1977 when I was 15 years old...complete with a greasy quiff and rolled up jeans. I got sent home and thought: 'Wow, I'm being bad. I like it!'

I started playing music at 15 when a couple of friends who already played guitar wanted to start a band. Another friend bought some drums so it was bass guitar or nothing for me. I got one and within three months did our first gig as The Firecats! (later to become the Buccaneers). We were terrible but we loved it! I bought a double bass a bit later on but broke it soon after. I really wanted to play guitar like Cliff Gallup though so I bought a six string and gave up on the bass!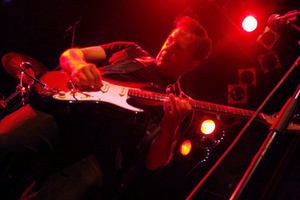 The next band was the Millhouse Boys, with me singing and playing rhythm guitar. The lead guitarist left after a while so I willingly jumped into the role. I was now a singer and lead guitarist!

In 1983 I joined The Rapids as lead guitarist and the band soon got a name on the neo-psychobilly scene with their wild brand of fast 'adventure' Rockabilly! We got a recording deal with Nervous Records and made an album, Turning Point and a 12-inch EP, The Raid. We did a lot of gigs at the Klub Foot and downstairs at the Clarendon back then and had a couple of tracks on Stomping At The Klub Foot 2 plus a few other compilation LP tracks released.

ThunderbirdHead came to life in around 1987, an offshoot from The Rapids, playing a heavier style of rock'n'roll. I was also playing in a few other bands at the time, Hog Valley Stompers (rockabilly), Catfish (cowpunk) and a busking Skiffle band, Inspector Tuppence.

In '89 I joined top psychobilly band Frenzy. I gigged with them for about 18 months and recorded an album This Is The Fire with them. By this time the band I was having the most success with (financially and fun-wise) was the Skiffle band Inspector Tuppence so I dedicated all my time to that. We started playing the clubs on the London circuit and venues all across the UK. In July 1991 we became tired of the musicians life in the UK so we piled ourselves into an old Transit van and set off to busk across Europe for three months.

It was the most memorable experience of my musical life! We ended up in Barcelona in August and completely took the place by storm, busking every day and gigging almost every night! Needless to say we said goodbye to England and settled there. In 1994 we got a record deal Zafiro, with one of the major independent labels in Spain and had a number six chart hit with Don't Put Me Down, countless TV and radio appearances and gigged at some of the top venues.

I also spent some time playing guitar with top Barcelona rockabilly band Bop Pills and a young psychobilly band, Hellmaniacs with whom I recorded an album, Somewhere In Our Minds on Tombstone Records.

In 2003, after 12 years in Barcelona, the bands I was playing with all burnt out and split up and after several failed attempts to make things work I ended up living in a tent, so cut my losses and came back to London broke!

After about a year of doing manual labour I got back to playing music, firstly with The Nightshakers, a rockabilly trio, then the Rat Pack, another well known trio on the scene, The Lynchmen and The CosmiX, a rock'n'roll three-piece. I also had a few Rapids reunion gigs in the UK and Germany and ThunderbirdHead at the Calella psychomeeting in Spain.

I was always looking for something 'different' though and finally found it in 2010 when I joined a London band called Spyders. I did a few dep gigs with them when their guitarist wasn't available and they liked what I did and gave me the job. They played a 'Tarentinesque' style of rock'n'roll and were all first class musicians. I played with them right up until I left the UK again.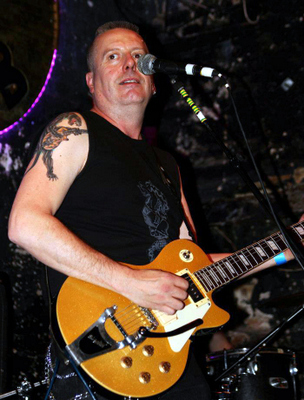 •

When did you move to Berlin and why?



I moved to Berlin in February 2013. The reason being that I got married in December 2012 to an American girl (who lived and worked in Germany) with the intention of settling in London....only to be told by the powers that be that due to new immigration laws she could not enter to live and work in the UK. Yes. I know... unbelievable. But in all honesty, it was the best thing that could have happened.



•

What sort of experience did you have getting started as a musician in Berlin? How difficult was it to make contacts and get established?



Berlin has a lot of rock'n'roll going on. There are at least 10 bars and venues putting on live rock'n'roll bands within walking distance of our flat. The Wild At Heart is one of the best, with bands playing at least four nights a week plus a tiki cafe next door open from 9.30am until 3am with rockin' music playing all day and night and a little shop downstairs selling all kinds of great clothing! Of course you have to get out and make contacts and let the scene know that you're here, so I expected things to take time but it's all go now. There are other musicians making the move here all the time looking for the same thing. You just have to find them!



•

From a musician's point of view, how does the scene in Berlin compare with the UK? Are there enough gigs and venues for you to earn a living?



I guess it all depends on what your personal thing is. For me it's perfect here, there are definitely more gigs and the venues are so much better, they give you a more rock'n'roll feel... Dark, dingy and music to suit everyone. I could never get a good feeling in the UK playing in social clubs and holiday camps... way too clean and squeaky!

On top of that, as a musician I get treated with more respect, (as was the case in Spain). Nobody ever asks you if you have a 'proper' job. The pay is better too compared to the cost of living (which is about half of what it costs in the UK) and when you gig, you get fed and watered.



•

Is there anything British bands and promoters could learn from Germany?



Well, I guess the main thing is for bands to stop selling themselves short by playing cheaply for free and for promoters to stop being greedy. You don't get promoters muscling in and trying to put different gigs on the same night in the same town here, they all work together with respect for one another.



•

What opportunities are there for UK bands to tour in Germany?



There are great opportunities for that here. I know because my wife Johnny Pepper has been a tour booker for many years and arranges at least four or five tours a year for bands from the UK and all over the world. The great advantage of touring over here is that you have Holland, France, Belgium, Poland and other countries to play in without the hassle of customs to deal with.


---



12-year-old rocker records album

JUNIOR LEE LEWIS

•

March 2014

<! 4 Mar 2014>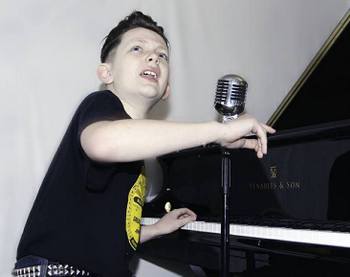 Piano pumping prodigy Lewis Jordan Brown has recorded his first album... at the age of TWELVE.

At the recording session, Bournemouth's 'junior Jerry Lee' was accompanied by an all-star cast of musicians, including Chas Hodges, Sugar Ray Ford, Alex Bland and Nick Lunt.

Recorded at Sugar Ray's Vintage Studio in Wickford, Essex entirely on 1950s valve equipment, the album is being pressed directly from an original Ampex 300 reel to reel tape recorder without using any digital technology.

Lewis is the son of former Big Six musician Dave Brown. In this Planet Jive interview, Lewis and his proud dad reveal how they set up the epic recording session.



•

Lewis, how old were you when you first started playing the piano and what inspired you to get started?



We have always had a piano in the house but I didn't start playing until I was eight. I had lessons for a year and my music teacher wanted to put me in for grade one, so I quit. One day they were having a talent show at school so I put my name down. When I got home I told my dad. He asked what I was going to do. "Play the piano," I replied, and I remember the look of panic on his face. This is really when I started playing and enjoying things. What nine-year-old wouldn't enjoy playing Wild One to devout Catholics?



•

Who are your musical heroes?



Would you be surprised if I headed the list with Jerry Lee Lewis? "I was born to the sound of Jerry Lee" is the opening line from my own song, Can't Take The Rockin' Out Of Me. I love rockabilly and for me the greatest is Carl Perkins but of course there are so many greats. I love the voice of Sonny Burgess and the style of Ray Campi. To see them both at the last Hemsby was fantastic, to then have them come and sit and watch me play either side of the Hemsby grand piano was unreal. I listen to other genres occasionally, but rock'n'roll is where I am at.



•

When did you first play in public and how did it go?



I first played at the school talent show when I was nine. It was a few months later that I got up and played in a pub in Windsor where my dad's band was playing. This was the weekend before Hemsby 48 and I knew I wanted to do the talent show. I don't get nervous... I leave that to mum and dad.



•

Tell us about the experience of recording at Sugar Ray's studio.



It was great. It was a lot of hard work and there were some huge difficulties. There are no headphones or monitors so I am sitting in a room with the top musicians, most of whom I had never met, also most of them had never worked together.

We have three original songs to record and they can't hear a word I'm singing and hardly a note I'm playing. You all have to start together and stop together and hope that what is in the middle is captured on tape. If there is a mistake you have only two options, ignore it or release it. There is no option to just record the piano part or a missed vocal. We didn't actually get recording until gone 8pm on the Saturday (we had been in the studio most of Friday and had started again on the Saturday at 11.00 in the morning).

There was take after take we couldn't use, my voice was going and dad was looking extremely worried. Suddenly it all started to come together and before we left late on Saturday night we managed to get three tracks recorded.


| | |
| --- | --- |
| | |
| Lewis with Chas Hodges | |
The best part was really the musicians. Ricky Lee Brawn was on drums and is an absolutely amazing drummer. His experience, style and musical input really lifted and shaped a lot of the recording. Antonio Diavolo on guitar I didn't know much about. Dad has worked with him and I had seen him play with Voola & The Jayhawks. I didn't know him, but having met him he is not just a brilliant guitarist who made a huge contribution to arrangements, but also a really nice and funny man and a great magician/comedian. I believe he's bookable for children's parties.

On bass was Paul 'Choppy' Lambourne, one of the leading psychobilly bass players. I've known Choppy for years and he used to play with my dad's band The Rev D Brown. I don't know how I would have managed without him. He has been over sometimes twice a week helping me to get the songs together. He is not just a fantastic bass player (wait till you hear him play electric bass on The Beast) but also a really good friend.

Then on the Sunday I had Alex Bland and Nick Lunt come to the studio to play sax on some numbers. These are two top sax players who have both worked with Ricky and Pat Reyford (who was engineering) as well as my dad in The Big Six. They had to come up with arrangements on the spot, as while I had chosen to have horns I hadn't written any lines. And finally at just after 4 o'clock Chas Hodges called in. He was a really great guy and just sat down and we played the piano together. He then switched to electric bass and we managed to record in total about five tracks. I was fortunate enough to have both some of the best musicians who all gave so much to this project, and with the help of Dave, Dean amd Pat at Sugar Ray's I hope soon to have a new dance floor filler.



•

How do you feel about making music a full time career?



I would love this as my career. It's fun, you meet lots of great people and get to play rock'n'roll.



•

What do your school friends think of you being a rock'n'roll star?



My friends at school are fine but don't really understand the scene. Some other kids try and wind me up but I don't take much notice.



•

Dave, what's your own musical background?



I had my own band The Rev D Brown plus played with many top bands including The Big Six. I've played with many of the greats including Janis Martin, Hayden Thompson, Ray Campi, Sonny Burgess, Gene Summers, Sleepy La Beef, Barrence Whitfield, Johnny Powers, Roc La Rue, Nick Willet, Jay Chevalier… loads more I can't list them all.



•

How did you go about arranging the recording session at Sugar Ray's?



We called into the studio on the way back from Hemsby and fell in love with what the boys were doing. We had no intention of booking the studio at the time, but fell in love with the place.



•

In what sense will the album be a technical first?



In no way. In fact it would be like relaunching the Model 'A' Ford and claiming a technical breakthrough. But what you will get is a sense of individuality, a sound that is both unique and exciting. Edge of your seat stuff and the knowledge that what you are getting is real. Anybody could take an electric piano in a modern studio and record a great classical masterpiece. Computers can sort all this for you. They can make you sing in tune and play in time. That's technology, then download it on your phone. Great. But some of us still like a bit of excitement which is why we still buy vinyl, still watch live bands and still drive old cars.



•

How proud are you of Lewis's achievements?



Very!




•

See Lewis in action at Hemsby...





---

---

If it jumps, jives, bops or strolls we want to know about it. Email or call 07833 703189.