Injured star cancels UK gig

MIKE SANCHEZ IN
'HORRIBLE' CRASH

<! 3 Dec 2015>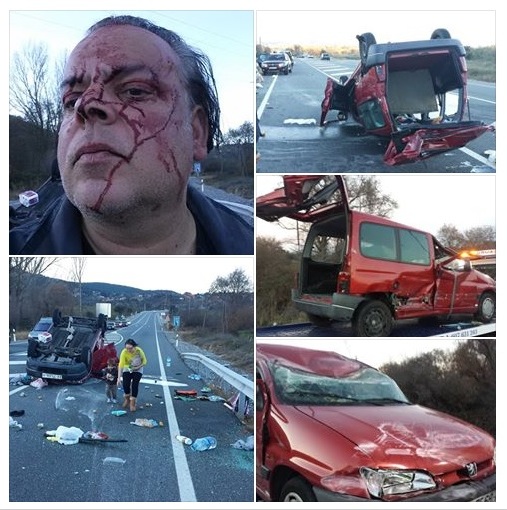 Mike Sanchez has been forced to pull out of a UK gig after his car overturned on a Spanish road.



The musician says he and his family are lucky to be alive after the accident, but he has a serious injury to his left arm and hand.

Mike, who lives to the west of Madrid, has given his Facebook followers a detailed account of the "horrible" accident, with graphic photos from the scene. The crash happened as he was returning home from a supermarket with wife Sarah and son Louie.

He told how a car pulled out into his path at a junction, forcing him to swerve.



As I veered to the left to try to avoid him... his car managed to hit the right rear body of our car which totally knocked us right over. We must have rolled over a couple of times smacking into a side barrier before ending up back in the middle of the road on our roof!

"The next thing, we're upside down, mangled metal, smashed glass and plastic everywhere. I look at Louie, he's just starting to cry, still hanging on to his seat as the belt was very tight, thank god, then Sarah started screaming, I looked down to see if her legs were in one piece, she seemed OK, I then checked myself, my arm is covered in blood and I felt blood dripping off my forehead onto the ground.

"My arm and my head must have been leaning on what used to be the windscreen which now was broken glass and road tarmac, so I've come out with an injured left hand and cuts all up my arm, plus whatever injury I have on my head.

"I can't raise my left arm or move my hand very easily, the left side of my head is developing a bruised area and I'm walking like an old cripple cos my body feels like shit.

Crazy
"I'm just so glad that we're all still alive and well. How simple and how crazy it is that someoneís carelessness on the road can potentially risk the lives of so many people?

"We've both cried a lot, simply at the thought of what could have happened. It'll take a while before all is fine again but we won't be forgetting the feeling of that moment when we could see that car pulling out on the road and the flash-like horror of the three of us tumbling around (in slow motion like in a bloody movie) to the destructive sound of my dear dad's car being written off around us! Unbelievable!

"In the meantime I have had to decide to cancel my flight to the UK and the show I had in the Portsmouth area on Saturday night. I need to rest up, get well again and also take care of paperwork and logistics. Not sure about anything right now."

Organisers of the Christmas Swinging Ball at Portsmouth's Admiral Lord Nelson School said their dance would go ahead without Mike. His December 6th show at the 100 Club in London had already been postponed for unrelated reasons.

Kindness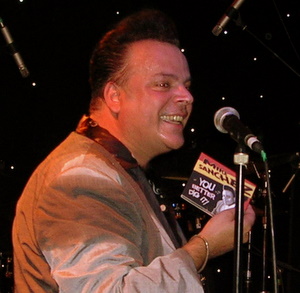 Mike Sanchez grew up in Worcestershire in the late 1960s, inheriting his older brother's love of 1950s rhythm'n'blues. Despite his fame on the UK music scene, Mike took the decision to give up his showbiz lifestyle and in 2011 moved to Spain to nurse his elderly mother Manuela at her home near Madrid. The Alzheimers sufferer had been widowed the year before when her husband, Jesus Sanchez Diaz, died aged 77.

Mike's indelible image as a frenetic front man, pumping powerful boogie-woogie from the piano in a sweat-soaked red suit, has won him fans from all over the world and attracted a following from many famous rock and blues legends who have lined up to work with him.

In the 1980s and 1990s he fronted the Big Town Playboys, headlining many European festivals and supporting the likes of Eric Clapton and Fleetwood Mac on their tours. Mike spent 2001-2004 as a full-time member of Bill Wyman's Rhythm Kings, performing alongside Georgie Fame, Beverley Skeete, Albert Lee, Andy Fairweather-Low and Eddie Floyd on their annual world tours.

Despite being a huge draw in Northern Europe, Mike has a relatively low profile in Spain. He recently played gigs in Valencia, Barcelona and Madrid on a mini-tour which, along with a radio appearance and national media coverage, he hopes will establish him more firmly in his new homeland. He says it's ironic that he drove himself and his band thousands of miles across Spain without incident, only to come to grief days later on a local shopping trip.

The 51-year-old has praised the police and bystanders who helped him in the aftermath of the accident: "The kindness and help we received from everyone who was at the scene of the accident really brought joy to my heart. I often doubt these days whether there is any hope for mankind and this week Iíve gladly been proved wrong. We're actually more than happy because we're so lucky!"


---



Rockabilly Collins


<! 7 Apr 2015>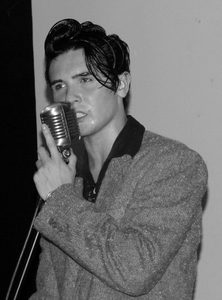 An Essex teenager has launched his own band.
19-year-old Billy Collins is out front on vocals and rhythm guitar while his brother Danny plays drums, their father Wil plays double bass and Rob Glazebrook completes the line-up on lead guitar. The debut gig was on June 17th at Bewicks Rock'n'Roll in Maldon.

"We are high energy," Billy told Planet Jive. "I sing stuff by Elvis Presley, Johnny Cash, Carl Perkins, Hal Harris, Bob Denton, etc."

Billy and his brother Danny also figure in their father, Wil's band, Fever.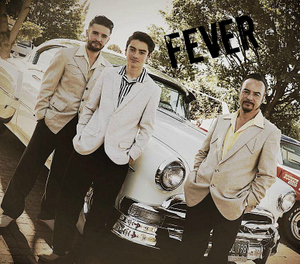 "It's a family affair now," said Wil. "And I couldn't be most proud to have my sons at my side knowing that when I call it a day in a few years, they will be carrying on the rock'n'roll flag. Makes me very proud indeed."

Speaking after the debut gig, Wil said: "Billy's two 45-minute sets were quite obscure rock'n'roll and high energy rockabilly stuff with great fire to them. Hopefully it will be the start of something as the scene needs new blood and especially something with a bit of balls and energy. Just how it used to be."

And Wil says Billy's resemblance to Elvis is getting the band extra attention. "Billy does get quite a few remarks about his Elvis likeness, which he absolutely loves, being a big Elvis fan himself. One of his best moments was at the Shake Rattle & Roll weekender. Bobby Brooks Wilson stopped mid-song, walked straight over to Billy at the front and said 'Hey man, you look just like Elvis'. To say he was pleased was an understatement."



---

<! note standard target differs from other pages>
---

If it jumps, jives, bops or strolls we want to know about it. Email or call 07833 703189.