As part of our review of the stories covered by Planet Jive from 2000-2015,
we focus on the kindness of rock'n'roll fans...






Singer "gives something back" to medical research

BRAVE DAVE'S CANCER
FUNDRAISER

<!img src="davebpetebinns.jpg" align=right border=1 width=358 alt="Dave B and Pete Binns" vspace="5" hspace="10"> <! 4 Aug 2015>
| | |
| --- | --- |
| | |
| | Dave and Peter on stage |
•

August 2015

He's beaten cancer, and now singer Dave Bogle has "given something back" by putting on a gig which raised nearly £1000 for a medical charity.

The Buddy Presley front man teamed up with singer 'Memphis Pete' Binns to play a four-way rockin' tribute night to Elvis, Buddy, Shaky and Motown. It took place in Leeds on July 31st, with proceeds going to Prostate Cancer UK.

"It was simply brilliant," said Dave. "Over 150 turned out to see us at Rowland Road Working Men's Club in Beeston. We have raised £980 for Prostate Cancer UK. We were donated two personalised baseball jackets by the East Coast Swing Jive and Dance Club. We auctioned these and they went for a total of £130. Also a brilliant raffle. We also produced a charity CD and those all sold out.

"The feedback on Facebook has been incredible with tons of congratulations on our show as well loads of friend requests. All everyone wants to know is when and where the next one will be. I'm sure this event will be repeated, but for now we need some rest."

Dave was diagnosed with the disease in May 2014. He told Planet Jive: "It was a total shock as I've been active all my life. I've never smoked, and like to think I have looked after myself.

"I then had four months of hormone therapy, then seven weeks' solid radiotherapy which started on December 30th, 2014. I was finally told in April that my cancer was in remission. I have just had another blood test for my first follow-up appointment. Fingers crossed.

"I then decided that I wanted to and could give something back. I approached Peter Binns, an Elvis tribute artist who also does Motown, about us putting on charity concert for Prostate Cancer UK. Pete had done a big fundraiser the year before and from the moment I approached him he was in."

Bad times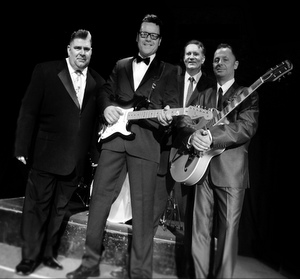 While undergoing treatment, Dave has continued to front The Buddy Presley Show, playing the parts of Buddy and Elvis, backed by a seven-piece band.

He added: "It's been a bittersweet 12 months. My rockin' theatre shows with The Buddy Presley Band have gone from strength to strength. Then with the same band we have our 'Elvis v Jerry Lee Lewis The Showdown' with Peter Gill as Jerry Lee. I have also recently guested in the stage show Rock'n'Roll Paradise as Buddy Holly and will be returning to the production in Blackpool in October.

"So, as you can see, fighting cancer and playing rock'n'roll seem to be running in parallel with me at the moment. But my real 'rock' is my wife Anna. She made the first medical appointment for me and has nursed me through the really bad times. I would also urge men to go and get a test from your doctor if you find you're peeing a lot. I did, and it saved my life."


---



Another memorial gig for Whirlwind singer

NIGEL DIXON: THE
LEGEND LIVES ON

<! 26 Apr 2014>

•

April 2014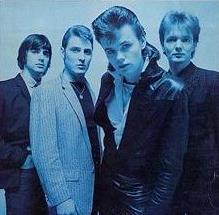 Whirlwind are to headline an all-dayer dedicated to the memory of their original lead singer.



Nigel Dixon, one of the founding members of the 70s line-up, died from cancer in 1993, aged 36.

A gig last year to mark the 20th anniversary of his death was such a success, raising £1688 for Cancer Research, that another memorial concert will be held on May 17th at the Drill Hall in Horsham, West Sussex.

Also on stage will be The Outcasts, The Atomic Hotshots, Ron Walton, Denvir Jet & The Shockwaves, Fever, The Vee 8s, The Wilsons, Jonicat & The Nightshades.

Organiser Lorraine Dale said: "I have lost both my parents, a niece, brother-in-law, several aunts and uncles to different types of cancers over the years. So with this in mind I decided to do a 'one-off' charity fundraiser back in 2010. (Unfortunately since this first event I have lost quite a few friends to cancers.) This was a great success and I was approached by Cancer Research UK to see if I would like to fundraise on a regular basis. I was more than happy to do this, and along with my youngest son, formed the RH20s fundraisers group. I hold various fundraising events throughout the year, and to date have raised just over £11,000.

"I was very lucky to have Whirlwind play at one of my first events and the band have been regularly supporting my events ever since. Mick Lewis, one of the founder members, told me he had always wanted to have a concert in memory of Nigel and asked if I would be interested in helping with the organisation. The rest is history."


Something special
| | |
| --- | --- |
| | |
| Whirlwind rock Horsham at last year's memorial gig | |
Whirlwind guitarist Mick Lewis and singer Nick Dadd said: "It is important to keep Nigel's name alive so people remember what he and Whirlwind did to bring rockabilly to the fore in the late 70s and the inspiration he and the band provided for a lot of youngsters at the time which got them into the scene. A lot of the bands and musicians today still quote Whirlwind as the band that kick-started their interest, as they brought something different to the scene at the time. The band's followers still remember Nigel with great affection and it's important that his contribution to the rock'n'roll music scene is remembered.

"Response to the all-dayers has been overwhelming and we didn't have to persuade bands to play. They were queueing up to take part as so many of those there are big Whirlwind fans too and realised it would be something special for everyone to get together for a good cause in Nigel's name.

"All of the bands, including those from abroad paid their own expenses including travel. That's how much they wanted to be there. There were many highlights last year. From the comments of the people attending who said it was one of the best events they had attended, down to the silence in the room when Whirlwind performed A Thousand Stars, having dedicated it to Nigel.

"Let's not forget also the fantastic amount of money raised and the auctioning of Nigel's suit. Also his guitar being on display at the front of the stage."

Revival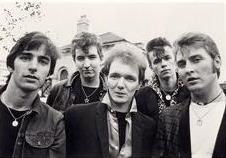 Formed in 1976, Whirlwind were the one of the first significant rockabilly revival bands to emerge in the UK. They established themselves as a top live act, earning a residency at the Speakeasy in London, and also building up a fan base, not just on the rock'n'roll scene but with the punk and new wave set.

They were signed by Ted Carroll's Chiswick Records. Between 1978 and 1980 two albums - Blowing Up A Storm and Midnight Blue - were released, along with a number of singles. Whirlwind toured Europe and Scandinavia as well as supporting Blondie, The Clash and Elvis Costello.

After a brief period signed to the Stiff label in 1981, Whirlwind finally dissolved, although various band members continued to work together on different projects. The story resumed in 2009 with the release of the Dangerous album, containing unreleased material and demos.

Its success prompted original lead guitarist Mick Lewis to re-form the band. In November 2010 Whirlwind travelled to Luton to play their first gig in 30 years. The current line-up consists of Mick Lewis on guitar, Nick Dadd on vocals, Chris Emo on double bass and James Bell on drums. It means every surviving founding member is now back in the band.


---



Heart death tragedy inspires charity gig

THE CLUB WITH A
HEART OF GOLD

<! 31 Jan 2012>
| | |
| --- | --- |
| | |
| | The device that can save a life |
•

January 2012



A rock'n'roll club is raising money for a life-saving defibrillator after a gig-goer died of a heart attack.



The tragedy happened last October during a gig by the band Rockola at Pill Memorial Club in Bristol. The victim was a recently widowed 62-year-old man who had come for a night out with a couple of friends. He had gone outside for a cigarette during the band's second set when he suddenly collapsed. The gig was halted while a first-aider rushed to help the man, carrying out chest compressions. A 999 call was made, but paramedics didn''t arrive for 20 minutes. It was too late to save the man.

Now, club organiser Dave Clarke is putting on a special gig to raise money for a defibrillator, in the hope of preventing another death at the venue. The gig on February 18th features the band, Revival.

"We need £1000 to buy a defibrillator," says Dave, who with wife Shirley has run gigs in Bristol for 17 years, raising £25,000 for children's hospices and other good causes. The October event at which the heart attack happened wasn't actually organised by Dave, but he still feels the club and all its various users should have access to the life-saving equipment.

Survival
A defibrillator delivers a controlled electric shock to revive the heart after cardiac arrest. But treatment needs to be prompt. Research shows that applying a shock within five minutes of collapse provides the best possible chance of survival. For every minute that passes without defibrillation, a patient's chances decrease by 14 per cent.

The British Heart Foundation says at least 230 lives have been saved by the 6000 defibrillators placed in public places since 1996.

"It would be a good idea to have a defibrillator located in the club," said Dave. "There's no special training required. The instructions come with it and anyone can use it. If it prevents another death, it'll definitely be worth it."



---



Band raises £1370 for boy's mobility trike

NEW HOPE FOR RHYECE

<! 18 Mar 2009>
| | |
| --- | --- |
| | |
| | Smiling through: Rhyece Baker |
•

March 2009



A rock'n'roll gig has raised more than £1300 for a boy suffering from cerebral palsy.



The March 7th gig near Wolverhampton by The Wanderers drew jivers from across the Midlands.

"What a great night we had," said the band's Pagan Gould. "You couldn't move, unless you were on the floor dancing. With everyone's help we managed to raise £1370 on the night. Lots of raffle prizes were collected and some records donated for an auction. We had support from all the local r'n'r clubs, Springvale, Brookfields, Shepwell Green and Redditch Rowdies to name a few.

"It will be a night that myself and my wife Katy will remember for a long time. I would just like to say a big big thank you to everyone for their help and time to make this a great rockin' event for such a great cause."

The proceeds will help to buy a specialist mobility tricycle for six-year-old Rhyece Baker from Wolverhampton. After ordering the trike, Rhys's father Chad lost his job and found he could no longer meet the demands for final payment. The family's plight touched the hearts of Wanderers star Katy Gould and her friend Debby Tandy.

Katy said: "I have a huge insight into cerebral palsy, as at just 17 years I was a weekend live-in nanny for a 13-year-old boy with severe cerebral palsy. It can happen to anyone's healthy baby if there is not enough oxygen at birth."

Pagan & Katy were joined on stage at Featherstone & Hilton Community Centre by musicians Damon and Tom from the Drugstore Cowboys, plus guitarist John Plummer from The Tonemasters and Firebirds. "Each of them gave up their time for nothing more than expenses. Bless them!" said Katy. "I would havve been happy with £500, so you can imagine how ecstatic (and emotional) I was to hear the final total. A huge thank you to Simon from the Skyrockers too, who donated some first class r'n'r items for auction, which alone raised a huge £200."

Gratitude
| | |
| --- | --- |
| | |
| On stage: Pagan, Katy and friends | |
In playing the gig, Katy also felt moved to repay a debt of gratitude to the rock'n'roll community for supporting her after she suffered a brain haemorrhage and collapsed at a gig last March. She had to undergo a life-saving operation at Birmingham's Queen Elizabeth Hospital. In June top bands put on an all-day benefit gig for her.

She told Planet Jive: "I was so overwhelmed by the money raised for us in our time of need, I wanted to give back now that I'm fit and well. A local boy to me, seemed the ideal candidate, it's more personal that way. I can't begin to tell you how grateful I am to everyone who helped keep The Wanderers on the road, while I was poorly.

"The all-star line up who didn't once hesitate to drop everything to help us out (Jason, Zac, Simon, Alan, Dan and of course Jim from The Borderlines), the promoters who didn't cancel our bookings, the special friends who organised the Saddlers all-dayer, and to everyone who put their hand in their pocket for us. Thank you, from the bottom of my heart. Now it's time for me to 'pay it forward' and get Rhyece the mobility he so deserves."

Pagan paid tribute to his wife's efforts to help organise the fundraiser for Rhyece... "Though she has sometimes found it hard to keep going, she had put 110% into advertising this event. She was so worried we had left it too late, but it all came together. Katy as you well know at Planet Jive has had a bad year, and yes, believe it or not it is one year ago today as I sit here writing this, that she was fighting for her life in hospital. She is an amazing woman and I am so very proud of her."



---
| | |
| --- | --- |
| | |
| | |
| | Keran's tribute to Janis |
ToppKatz reunite for charity gig

A TRIBUTE TO JANIS

<! 8 Jan 2008>

•

January 2008

<!IMG SRC="keranbawa.jpg" ALIGN=right hspace="10" alt="Keran" width=200>

A Janis Martin tribute gig has raised nearly £1800 for cancer research.



Veteran band The ToppKatz reunited especially for the show in Bristol on January 5th. Also on the bill were Rudy la Crioux, the Red Hot Trio and the Kool Katz.

"The whole evening was terrific," said organiser Gwen Hale. "Dancers filled the floor all evening long. It was a good party spirit and our DJs excelled themselves. Keran Demmery with The ToppKatz stole the show. She did a complete set of Janis numbers that Janis herself would be so proud of. Rudy la Crioux & The Allstars did a stonking set and came back with an encore."

The Toppkatz, who split in 2006, were inspired to get back together for the tribute gig after Gwen invited the Bristol band's singer/sax player Keran Demmery to take part.

Keran, who sang alongside Janis at a weekender in the 1990s, said: "I was honoured to be asked by Gwen to pay tribute to my idol Janis Martin. This was the lady that gave me my inspiration. She had a terrific voice. All I ever wanted was to be just like her. I have never forgotten being on stage at such a big event as I did with Janis all those years ago."

Gwen thanked fans who came to the gig from as far afield as Cornwall, Sussex and Staffordshire. "The main reason why we were at the BAWA Club was to celebrate the life of the late Janis Martin, queen of rockabilly music. We raised our glasses as a mark of respect to Janis who lost her life to the 'big C' on September 3rd 2007. The total amount collected was £1767.77, which is being donated to cancer research."




Female Elvis
Born in March 1940 at Sutherlin, Virginia, Janis Martin started rockin' at the age of four when she began playing guitar by standing it up like a fiddle because she was too small to hold it on her lap.

At 15 she was signed by RCA Victor which dubbed her the 'Female Elvis'. Her biggest hits were Drugstore Rock'n'Roll, My Boy Elvis, Bang Bang and Barefoot Baby.


| | |
| --- | --- |
| | |
| Janis Martin and British pal Gwen Hale | |
Marrying at 15 and becoming a mother at 17, Janis spent just four years on the road before abandoning her career for the sake of her family. Her second husband did not approve of her singing, and her musical talents languished until he died in 1973. She then juggled her job as the manager of a country club with appearances at rockabilly festivals and weekenders. She said: "I love the fact that I can lead a normal life and do a normal job, and come out and be Janis Martin once in a while."

In March 2007 she recorded a new album of ten of her favourite r'n'r tracks. It was produced by Rosie Flores and Bobby Trimble. Rosie recalled: "Backed by an amazing line-up of musicians from Austin, we all gathered at a friend's home studio and in three days finished a body of work that she is very proud of and excited about as well as a feeling of great accomplishment. She sang with as much energy and intensity as she ever had.

"We all feel so fortunate to have had the opportunity to share many great moments with such an amazing artist and beautiful person. She's the original female rock'n'roll artist, and as many of you have seen from her recent concert performances overseas and in the US, she just never stopped rockin'."



---
Stars rally round for sick tot
ALL-DAYER FOR ANNIE
| | |
| --- | --- |
| | |
| | Annie |
•

July 2007

<! 13 July 2007>

Paul Ansell and Darrel Higham are to play a Kent all-dayer to raise funds for a tragic tot.



Proceeds will go to help the recovery of 18-month-old Annie Collis from Bexley who has undergone major surgery following a severe head injury. Also in the line-up for the August 4th all-dayer in Northfleet are Shake Rag Combo, Frank Ryan & The Hayriders, The Shotrods, The Blue Moon Trio and Johnny Angel.

Organisers are Suzy Q and Kav Kavanagh who met Annie's father James and the girl's grandmother Brenda through the rock'n'roll scene. Suzy explained: "Annie was due to have major surgery as a result of falling down the stairs. The injuries meant her brain was growing outside her skull on the right side of her head just above her ear. "On June 14th she underwent five hours of surgery which involved major skull repair and bone graft using bone from her head. It was a very very traumatic day. We didn't even know whether Annie would survive such a long operation, having already had heart failure and a heart attack at two months old. When Annie gained consciousness she whispered 'hello' to her Daddy before drifting back to sleep. Just that one word was enough to keep everybody going as the next few days were crucial. She is now recovering at home.

Traumatic
"I wanted to be able to do more to help them. I decided to use the mailing list I have for gigs and my 'friends network' on Myspace.com to ask for help. Within hours I was inundated with offers of band T-shirts, CDs, driving lessons, Hemsby merchandise, a guitar, a double bass, a long weekend in France for James and Annie to recuperate... the list is endless. Two bands wrote to me saying they would gladly play for free to raise funds. So then my thoughts turned to a possible all-dayer.

"As Kav and I run Higham Rock'n'Roll Club among other ventures, we discussed the possibility of putting together a fundraising gig. We threw some names around and within a few hours Kav had got seven bands who were more than happy to help us."

When plans to hold the all-dayer at Higham fell through, local promoter Pete Bruce came to the rescue with an offer to stage the event at a venue he uses for his fortnightly Beauwaters R'n'R Club.

Good cause
Suzy added: "As with anything these days we've had to um and ahh about prices etc and a few people have made it known that 15 for an all-dayer, which includes seven great bands and guest DJs was too expensive. But having researched other all-dayers and events we found we were the cheapest in the country and offer a lot more. At the end of the day we are only concerned with raising as much money for Annie's well-being as we possibly can, for what we and a lot of other people consider a good cause. The generosity of the majority overrides the minority who've complained.

"Since putting this together, we have been overwhelmed and take this opportunity to thank everyone for their support no matter how small. In particular our collaboration with Jane and her crew at Crondall Rock'n'Roll Club. If it's a success, we are considering making it an annual charity event."



---

<! 27 Nov 2006>

Jivers raise thousands for good causes

SEASON OF GOODWILL

<! 27 November 2006>
| | |
| --- | --- |
| | |
| | Brave: Amy |
•

November 2006



A girl battling cancer is set for a dream holiday - thanks to kind-hearted rock'n'roll fans.



A benefit gig in Northamptonshire raised £2700 for Amy Claridge. The 11-year-old from Milton Keynes in Buckinghamshire has been undergoing extensive radio and chemotherapy since an operation to remove a brain tumour earlier this year.

She was the guest of honour at the November 4th gig at the Embankment Club in Wellingborough featuring Darrel Higham, Alan Mills, Colin Evans, Paul Crosby and The Back Beat Boys.

The organiser, DJ Bill Guntrip, said: "We had a great crowd with a great atmosphere. Everything run very smoothly and we all had a lot of fun. Amy stayed till the end and was in very high spirits. She came onto the stage and thanked everyone and gave all the artists and myself presents to show her appreciation. She thoroughly enjoyed herself.

"I would like to thank all those who attended and helped. We managed to raise a staggering £2700.26 which is sufficient for Amy to go on holiday. We are holding a smaller event, a record hop on Saturday 9th December at The Plough pub, Water Eaton Road, Bletchley, Milton Keynes. This is to raise a little extra so Amy has some spending money. She has told us that she hopes to go on holiday in August."



The Jive Aces boosted the BBC's Children In Need telethon with a live gig from historic Duxford air museum in Cambridgeshire.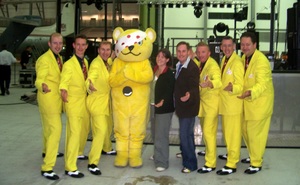 They appeared on BBC 1 in the East of England three times during the evening. One of their spots after the Ten O'Clock News was seen nationally. Many local jivers and swing dancers turned out, and and at one point even Pudsey Bear jumped on the stage for a quick jive.

The charity raised its highest ever amount on the day, a staggering £18 million. Jive Aces publicist Grazia Clarkson said: "The band received a sincere letter of thanks from the BBC for their help and they would like to thank all the dancers who came and supported them on the night."



The Swingin' Vegas dance in Gloucester on November 17th raised £3600 for three charities - the Levana Hanson Trust, CLIC and the Meningitis Research Foundation. Organisers Sara & Gary Boon said: "This wonderful total is by far the best amount we have ever raised. This money will change lives. It really makes a difference."



A charity gig by The Sunsetters at Ely's Hiam Club raised £1010 for the Arthur Rank Hospice in Cambridge.



Bands played for 72 hours non-stop at a rock'n'roll charity marathon in Sussex.



15 bands took part in the weekend at the Half Brick pub in Worthing. Organiser Sandy Dowsett was inspired to become a charity fundraiser after losing her mother and two friends to cancer. "I'd like to thank the bands that turned up and those who stayed and didn't leave," she said. "I'm doing it again next year but a lot differently and with the same charity and the bands that stayed and got it rockin' all the weekend. Money is still coming in. If you want to donate, send a postal order to S Dowsett, 105 Maldon Road, Brighton BN1 5BE."


---



Benefit gigs and fundraisers

JIVERS BOOST TSUNAMI FUND

<! 18 Jan 2005>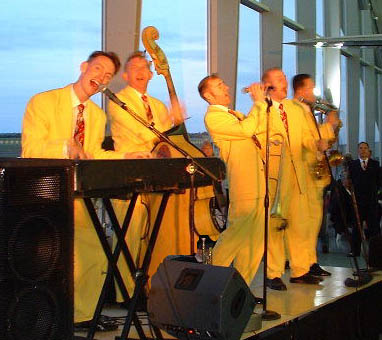 •

January 2005



Jivers, clubs and bands have raised thousands of pounds for the tsunami appeal. The Jive Aces played five benefit gigs, while Kav Kavanagh has adopted a devastated village in Sri Lanka.



The Jive Aces played two shows in Manchester plus a Ceroc tea dance in London, a Valentines Dance in Cardiff and a special show at their home base, Saint Hill Manor, East Grinstead.

Portsmouth R'n'R Club raised £3,000 at a gig in Southsea featuring The Firebirds and Rudy la Crioux plus guests Chas Hodges, Mike Berry, Graham Fenton and Johnnie Fox. The impressive total was raised despite a comparatively low turnout. Other benefit gigs have included Glenn Darren & The Krew Katz at the Leabrooks Club in Alfreton, Derbyshire, the Ramshackle Daddies in Newmarket and Dynamite at Southam, Warwickshire.

Tragedy
Jive Party in South East London raised £2024 at an extra night with music from the Big Easy on January 29th. Organisers Graham Trainor and Ken Richman said: "An extra big thank you to John Stapleton and The Big Easy for donating their services and making it such a good night. Also to Bill and Jeannie of the Rivoli Ballroom, for giving us the extra night at a vastly reduced rate and for working so hard to actually open the venue after part of the ceiling had collapsed a couple of days prior to the event. Thanks also to those who 'gift aided' their donation making it worth even more."

Among jive clubs who have held collections are Hipsters in West London, Let's Dance in Harlow, Essex and Daddy-O's/Swing Cats Corner in Central London where £270 was raised. "While watching the death toll rise yet again we decided that the Daddy-o's Xmas bash should be something more than just another party," said organisers Robert & Claire Austin. More than £1000 was raised at Newmarket's Exning Road R'n'R Club. A similar amount was donated at a Rock The Block dance in Norfolk.

Pupils at Kav Kavanagh's dance classes in Lingfield, Dartford and North London have donated £500 and adopted a Sri Lankan community. They were inspired by the story of Rammika, a work colleague of Kav's DJ assistant Suzy Q. The Sri Lankan woman has left her home in Croydon to return to her homeland to try to help victims of the devastating Boxing Day tidal waves. The disaster has claimed more than 280,000 lives in 11 countries.

£63 in 5p pieces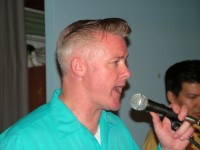 "We realised that we could help on a more personal level," said Kav (pictured left). "We chose to give her the money and maintain a relationship with the community we are now helping. Rammika has promised to update us as soon as she possibly can. She's gone for three weeks and took just a couple of changes of clothes having filled her luggage with necessities for the community. Although her husband's family were affected by the disaster they didn't actually live in the disaster zone."

Kav says he was surprised by the large donations at his dance classes: "We started the ball rolling on New Years Eve. After all, we were celebrating while they most certainly were not. We took about £100 and at that stage hadn't even worked out how we were going to pay it to the charities concerned.

"It was then after further collections we realised we could do some real good and monitor our progress that we decided to dedicate a page on my website so our donors could see for themslelves too. In one class alone we took over £250. Donations ranged from a few quid to £20-£50 and another of £63 (in saved 5p pieces). I was pleasantly suprised by the generosity of my students and how they related to our own appeal. Rammika was overwhelmed and says it's within her religion to pray for all our kindness. On a personal level it made me feel good that I was able to do something positive."


---



£2500 boost for cancer research

WHO CARES WINS

<! 3 March 2003>

•

March 2003


| | |
| --- | --- |
| | |
| | |
| Liberty Ballroom | |
<!img src="liberty.jpg" alt="Liberty Ballroom" align=right>

A dance run by a jiver who lost his wife to cancer has raised £2500 for research into the disease.



The Who Cares Wins ball at the Liberty Ballroom near Newbury, Berkshire on April 12th was such a hit, it could become an annual event. It was the first dance organised by cancer fundraiser Steve Catchick.

"It was a huge success," he said. "We had a full house of over 250 people. We even had to turn some away at the door as the management were very concerned about the fire regulations and insurance. I was completely overwhelmed by the support we had."

Loss
Steve, who's from Reading, took up fundraising after his wife died of cancer more than a decade ago. He told Planet Jive: "I used to be involved with the local branch of the Imperial Cancer Rearch Fund, running three half marathons to raise funds. I have had personal loss, losing my wife and the mother of my sons 13 years ago, plus some friends over the years.

"Last year I decided I wanted to do something for Cancer Research UK, as it is now called, and the opportunity stared me straight at the face through a self expression and leadership course I attended with Landmark Education, to take on a project and take it out to a community. From here I started thinking bigger. I always knew it would have something to do with cancer research, and hence the dance and a bike ride were created.

"We raised over £2670 (£109 from the bike ride the next day) with £175 in expenses. A cheque for £2500 will be sent to Cancer Research UK."

Steve says he is indebted to Ginger Jive duo Kerrin Osman and Luci Buxey who helped promote and run the event as well as paying half the venue cost out of their own pockets. The other half of the hire cost was met by Liberty Ballroom manager Steve Hunt. The historic ballroom is on the former Greenham Common US airbase - now a trading estate.

Auction
Also lending a helping hand at the dance were Dan and Christi Guest from Lindy Circle, Nigel and Nina from Jump'n'Jive plus DJs Jon Brett, and Rob McKim. One highlight of the evening was a "teacher auction" in which dancers bid for half an hour's tuition with Nigel and Nina and Dan and Christi. "We raised over £200 from the auction," said Steve, "which showed how generous and supportive everyone was."

Steve is now looking ahead to next year... "I have plans to make it an annual event but not more often, as there are so many charity events, and I do not want to overdo it. It is early days yet, and I know I would need continuing support."

Steve added: "The aim of the event was not, and still isn't for me to take any credit, but was to raise funds for Cancer Research, to raise awareness of Cancer Research and to inspire others to carry out their own fundraising activities in any form and keep fighting for the cause."

Who Cares Wins is the latest in a string of high-profile charity dances which between them have raised more than £15,000 so far this year. In February the Stompin' In Brighton weekend raised £11,500 for Mencap and Jivemania's Worthing dance raised £1500 for Parkinson's Disease research.



---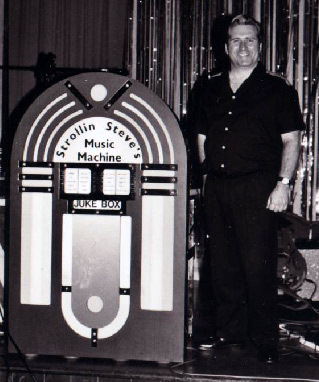 Strollin' Steve's The Seacroft R'n'R Party takes place at the Seacroft Holiday Village, Beach Road, Hemsby, Great Yarmouth NR29 4HR from March 4th-7th 2016. Appearing live will be The Firebirds, The Kingcats, The Jets, Johnny & The Jailbirds, Good Rockin' Tonight, The Downtown Daddyos, Red Thunder and Country Cattin'.




The Hep Cats Holiday runs from March 18th-21st 2016 at Pontins Pakefield, London Road, Kessingland, Lowestoft, Suffolk NR33 7PF with music from Natty Congeroo & The Flames Of Rhythm, Laura B & Her Band, Emanuele Orso & His Orchestra, Five In Love, The Devils Cut Combo and Lula & The Bebops. Early Bird Offer ends November 14th, 2015.




The Richmond Holiday Centre in Skegness hosts its 40th weekender from April 8th-10th with The Kingcats, Danny & The Seniors, The Fantoms, Glenn Darren & The Krewkatz, The Alligators, The Downtown Daddyos, Blast Off, The Koolkatz, Memphis Riders, Laura Lee, The Vee 8s, Emperors of Rhythm and Sharna Mae. Details from Sandy on 0115 932 2897.




Bristol's Rock'n'Red Hot Club has a weekender in Paignton from May 6th-9th at the Redcliffe Hotel TQ3 2NL. Bands are the River Boys, Jive Street, The Lennerockers and Sandy Ford. Cost is £226 all in. Singles are welcome. More details from Mike on 07879 228451 / 0117 967 5114.




Ritchie Gee's Wildest Cats In Town summer weekender runs from June 30th - July 3rd 2016 with 30 bands including Hayden Thompson, Gene Summers, Art Adams, Tim Gibson, Crazy Cavan & The Rhythm Rockers, Matchbox, Lou Cifer & The Hellions, Jet Black, Johnnie Fox & The Hunters, Danny Reno, The Crazy Teds, The Spunyboys, Lucas & the Dynamos, Cadillac, Lennerockers, The Silverettes, Long Black Jackets, The Bobcats, Sandy Ford's Flying Saucers, The Kingcats, The Rockatoons, Fireballs UK, Bernie Woods & the Forest Fires, Porky's Hot Rockin', The Rebel Riders, Some Like it Hot, The Rat Pack, The Rhythm Aces, The Stingrays. There's also a classic car and bike cruise, beach party, talent show, 50s jumble Sale, jiving competition, tattoo club, photo shoot and barbecues. For booking information phone Ritchie or Kathy on 01530 455657 or 07976 964086 or see www.tennesseeclub.net.









---

---

If it jumps, jives, bops or strolls we want to know about it. Email or call 07833 703189.