Headlines from the year gone by
PLAY IT AGAIN
Planet Jive has covered stacks of stories over the past twelve months. Now, relive the highlights of 2014 with our review of the year.
January

<!img src="bigjayhula2.jpg" align=right width=200 hspace="10" vspace="0" alt="Big Jay McNeely">
Phil Everly, one half of the Everly Brothers, died aged 74.


'One-eyed boogie boy' Freddie Fingers Lee died after a struggle against pneumonia.


Firebirds musician Dan Plummer landed the role of his hero, Eddie Cochran, in a touring theatre show.


Former Firebird Shane 'Pagan' Gould launched his new band, the Blue Diamond Trio.


Popular London dancer Mike Beckford died aged 52, following a struggle against prostate cancer.





---
February

Guitarist Franny Beecher of The Comets died aged 92.


Otford Swing Dance organiser Jeff Duck slammed false rumours that he had cancelled a dance.


Tewkesbury Rock'n'Roll Club in Gloucestershire was forced to cancel a gig by JJ King & The Coolers because of massive floods on the River Severn.


12-year-old piano sensation Lewis Jordan Brown recorded his debut album.


Hungarian pianist Marci Kelemen joined Jerry & The Jive Stars.


Guildford's Hot 50s club closed after 18 years.




---
March

Boy band Lights Out revealed they were planning to quit the rock'n'roll scene at the end of 2014.


Stuart Waggett, who performs as solo singer Eddie Robbins, was given a suspended prison sentence after admitting child porn offences.


The Autronics, consisting of two married couples from Birmingham, played their first public gig.


Drummer Ross Swain - son of Kingcats double bass man Kevin Swain - joined Surrey trio, Vintage.


The Jive Aces produced a mini-documentary to celebrate the British contribution to America's Viva Las Vegas weekender.


John & Caroline Hall held their first Badger Boogie dance in Silver End, Essex to raise money for the county's wildlife trust.


Fujiyama Mama's Hot Rockin' Club launched in Kingston, South West London.


---
April

Evelyne, the 'Swiss Miss', launched Guildford Rock'n'Roll Club, two months after the closure of the town's Hot 50s club - but immediately closed it, following a disappointing turnout for the launch gig.


240 people piled into the launch of the Moon Dawg R'n'R Club in Kidderminster, run by The Hayriders and the Straight Aces.


DJ Rusty Rookes launched record hops at The Thunderbolt pub in Totterdown, Bristol.




---
May

Paul Wolfey and Emma 'Dynamo' Marshall won the jiving competition at the first ATOMIC festival in Northamptonshire.


Imelda May said it was a "travesty" that performers like Mike Sanchez, Paul Ansell and Big Boy Bloater aren't better known - and she would try to give them exposure on her new TV show in Ireland.


A memorial concert for Whirlwind legend Nigel Dixon in Horsham raised £663 for cancer research.


London Swingcats supremo Robert Austin made it to the semi-finals of BBC TV's Masterchef.


Regulars at London club Hula Boogie donated dozens of items to their local food bank.




---
June

Swing East held their first dance in Poplar, East London.


Johnny & The Jailbirds released their comeback CD, Roll On.


North London club Swamp Rock closed after ten years. The Cadillac Kings played the final gig.


A gig by Greggi G in Worthing marked his 35th year in showbusiness, as well as Brighton Jive's 15th birthday.


Plans were announced for three UK gigs by Jerry Lee Lewis in 2015, on his final overseas tour.


Mark Keeley got a surprise windfall when a US TV network used one of his Elvis covers as the backing track for a sitcom promo.




---
July

Benefit fraud investigators filmed the Chuck Wagon Band's David Ballantyne jumping around at a gig with a double bass, while he was claiming disability benefits. The 60-year-old was jailed for 12 months after admitting falsely claiming over £56,000.


St Mary The Virgin church in Davyhulme, Manchester hosted the first in a series of r'n'r gigs.

<!img src="jacesbuckhouse2.jpg" align=right border=1 alt="Brian and Sarah" width=200 hspace="10">
The Jive Aces attended a Buckingham Palace garden party - a year after playing the Coronation Festival there.


The Preachers got back together after a gap of 15 years to launch rock'n'roll gigs at the Boat & Horses pub in Beeston, Nottingham.


Former lindy champ Claire Austin launched her first solo venture, Voodoo Doll's, at Kings College in Central London.


For the fourth year running, Hula Boogie was voted 'Best Vintage Club Night' by the Vintage Guide to London. All girl r'n'r 13-piece, The Daisy Chains, were named best band.


Veteran pianist Rusty Lupton said it was "a joy" to sing on the long-awaited new CD from his old band, The Alleycats.


A simple mechanical aircraft fault was to blame for Glenn Miller's death, according to a US TV investigation, which rejected theories that the band leader was the victim of RAF friendly fire or that he went behind enemy lines on a secret mission to Germany.


North East London jive club, The Chicken Shack, ditched weekly record hops at Chingford Rugby Club and launched bi-monthly band nights at Venue92 in Highams Park.


---
August

British rock'n'roll veterans Vince Eager and Laurie London were reunited for the first time in 56 years at the Jive Aces' Summertime Swing event.


The Jive Aces, Si Cranstoun and the Three Belles were among artists who took an 'ice bucket challenge' to raise awareness of the disease, ALS.


Si Cranstoun sang live on Radio 2's Chris Evans breakfast show.







---
September

South London's Hula Boogie announced that it would close after 12 years.


Fears were raised for the future of the Sydenham Blues Club in South East London after a run of poor turnouts.


Sax player and singer Kit Packham vowed not to take bookings from the Victoria pub in Addlestone, Surrey after one of his gigs was "cancelled for no good reason".


A gig by Bernie Woods & The Forest Fires at the All Saints Arts Centre in Whetstone, North London was cancelled because of problems with electrical wiring at the venue.


Swing dance outfit Hoppin' Mad ditched its Bristol venue, the Oddfellows Hall, following friction between dancers and bar staff.



---
October

Blue Diamond Trio double bass player Shane Gould 'played through the pain' when his hand poured with blood at a gig in Lincoln.


The Revolutionaires made their first appearance as an eight-piece big band for a charity gig at Durham's Gala Theatre.


Shoreham R'n'R Club in West Sussex was forced to cancel a gig by Rock Back The Clock after the discovery of asbestos at their venue, the Shoreham Centre.


Fujuiyama Mama's rockin' club in Kingston, South West London began a season of 50s movie nights.


Bournemouth Lindy Hop Club launched dance lessons at Harry Ramsden's fish and chip restaurant, but abandoned them two weeks later when the floor proved too slippery.


---
November

The Jive Aces completed their first major US theatre tour, which came about after they were 'discovered' by a booking agent who watched one of their YouTube videos while recovering from an accident.


The Inteli-Gents shocked their fans by announcing plans to split in 2015.


Hula Boogie's Julia Miranda launched a new fortnightly shot on Rockabilly Radio, with promo clips recorded by Wanda Jackson, Big Sandy and Big Jay McNeely.


---
December

Big Boy Bloater abandoned a London gig after bouncers ordered him to remove his hat.


Europe's biggest Elvis exhibition opened at the O2 arena in London.


The Pink Cadillac Club in Stewartby, Bedfordshire celebrated its 20th birthday with a gig by The Kingcats.


Buddy Holly's songwriting partner Bob Montgomery died, aged 77.


Edinburgh's Fat Sam's Band announced plans to split after 30 years.



Have we missed anything? .

Happy new year to our readers and contributors. We're genuinely grateful to all of you who've sent story tips, quotes, copy, information, competition entries or just messaged us to say hello during 2014.
Special thanks to Mark Keeley, Greggi G, Richie Lorriman, Ian Clarkson, Grazia Clarkson, Cody Lee, Kav Kavanagh, Johnnie Stark, Steve Ashdown, Robin Weathersbee, Bob Mayson, Peter Stechman, Jacqueline Raven, Dave Raven, Jackie Winchester, Phill Cragg, Mark Vincent, Pete Bruce, Ann Brown, Dan Plummer, Neale Hobday, Ian Bristow, Louie Cochran, Dave Melia, Terence Ruffle, Johnny Aitken, Fred Hunt, George Gatrell, Marty Boyle, Rose Bowers, Tim Hardy, Suzie Williams, Ruby Darnell, Peter Reilly, Paul Craythorne, Steve Tynan, Carole Lateman, Terry Cole, Rick Dawson, Liisa Davies, Jimmy Classic, Sally Ann Rena, Cathy Merritt, Evelyne Bibi, Lee Hugman, Frankie Vukas, Brian Martin, Pamela Szabo, Steve Brown, Harriet Drury, Jo Taylor, Drew Spikes, Kelly Red, Chris Woodhouse, Linda Wilsmore, Mike Burrows, Ivor Bennett, Peter Emmens, Jacen Bruce, Terry Earl Taylor, Steve Jones, Paul Fairhurst, Rory Bailey, Mike Cookson, Kevin Plant, JP Winter, Pete Masters, Jeniffer Jackson, Ritchie Gee, Malinda Lygo, Bill Guntrip, Chris Campbell, Mike Rossi, Mary Arnold, Rusty Rookes, Brooke Garvey, Andy Lee, Colin Silcocks, Kenny Armitage, Alan Cummins, Jo Pritchard, Kelly Red, Martin Reeves, Len Patterson, Mike Thomas, Tim Bailey, Colin Bennett, Sara Andersdotter, Roy Williams, Jim Piddington, Lorraine Dale, Al Singer, Mick Campbell, Steve Hurrell, Dave Mackereth, Colin Tenn, Christine Knights, Steve Hurrell, Nelson Piperides, Michael Madden, John Taylor, Peter Chantry, David Akehurst, Melvyn Edwards, Erica Bailey, Debbie Jackson, Julie Candy, David Inman, Graham Christopher, Wil Collins-Nuttall, Kit Packham, Harold Harrison, Steve Mash, Paul Kent, Pauline Somers, Pamela Maclean, Peter Curwen, Ian Bristow, Jean Leclerc, Andy Lee, Joseph Sewell, Warren Latham, Rich Oades, Nick Billett, Caroline Hall, Andy Charlesworth, Jazon Hawthorn, John & Caroline Hall, Stuart Bates, Tom Hayes, Rose Bowers, Rob Goodwin, Paul & Sarah Day, Tim McDermot, David Roberts, Ben Cooper, Debra Smith, Jan Rottiers, Paul Holloway, Roland Purdy, Ellie Monchak.



---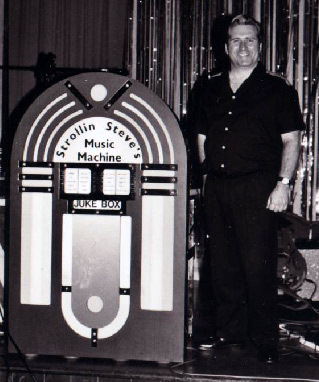 •

From March 6th-9th it's Strollin' Steve's Seacroft R'n'R Party with The Kingcats, The Revolutionaires, JJ King & The Coolers, Graham Fenton, Greggi G & The Crazy Gang. Venue is the Seacroft Holiday Village, Hemsby, Norfolk NR29 4HR.



•

The Bournemouth Rock'n'Roll Party no.16 takes place from May 15th-18th with The Kingcats, Danny & The Seniors and The Downtown Daddyos. Venue is Britannia Heathlands Hotel, Grove Road, East Cliff, Bournemouth BH1 3AY. For a booking form call Steve Ashdown on 01638 712187 / 07808 340776 or email steve_ashdown@hotmail.com




Yesterday Once More has an Elvis weekend at Brean Sands, Somerset on March 6th and 7th with Mark Keeley's Good Rocking Tonight, The Unconditionals, Firebirds, Kingcats, Colin Paul & The Persuaders and Passionettes.

• March 20th sees the It's Still Rock'n'Roll To Me Weekender at Brean Sands with Si Cranstoun, The Keytones, Lucas & The Dynamos, Jets, Pete Donigan & The Lonnie Donigan Band, Firebirds, John Lewis Trio, Paul Ansell's Number 9, Kingcats, Lights Out, Play It Cool, Dough Boys, Danny & The Seniors and Bobcats.

• From April 17th-18th it's the Amazing Jive Weekend at Beverley Park Holiday Centre, Goodrington Road, Paignton with The Firebirds, Unconditionals, Kingcats, Jive Street, Bernie Woods & Forest Fires, Jets, Lights Out, Alligators, Dough Boys, Heartbeats, Joey & The Jivers, Mark Keeley's Good Rocking Tonight and Colin Paul & The Persuaders.

• The Southport Jive Weekender takes place from May 15th-16th at Pontins Holiday Park, Shore Road, Ainsdale-on-Sea, Southport PR8 2PZ with The Firebirds, Jets, Kingcats, Jive Street, Mike Byrne & The Sunrockers, Unconditionals, Heartbeats, Colin Paul & The Persuaders, Blast Off, Rockin The Joint, Dough Boys, Rock Back the Clock and Joey & The Jivers.

• From July 3rd-4th the Adelphi Hotel in Liverpool hosts Billy Fury Weekender no.5 with Colin Paul & The Persuaders, Jay Mcgee and Mark Keeleys Good Rocking Tonight.

• And it's back to the Adelphi for another jive weekend from August 21st-22nd with Colin Paul & The Persuaders, The Firebirds, Mark Keeley's Good Rocking Tonight, The Kingcats, Jive Street and Dominic Halpin & The Honey Bs.

• From October 30th-31st it's the Amazing Jive Weekend at Beverley Park Holiday Centre, Goodrington Road, Paignton with Play It Cool, Mark Keeley's Good Rocking Tonight, Joey & The Jivers, Colin Paul & The Persuaders, Firebirds, Rockin The Joint, Blast Off, Jive Street, Kingcats, Heartbeats, Class of 58, The Alligators and Bernie Woods & Forest Fires.




The ATOMIC Festival returns to Sywell Aerodrome in Northamptonshire on May 2nd and 3rd with Carl Sonny Leyland, Gizzelle, The Ray Collins Hot-Club, The Ranch Girls, Little Victor, The Inteli-Gents, Laura B & Her Band and many more.

Organiser Robin Weathersbee says: "A total of more than 20 bands will mean that there will be a gig starting on the hour, every hour, from midday until midnight each day... And it's absolutely top quality all the way."



Hemsby 54 runs from May 8th-11th with Sleepy Labeef, Rudy Grayzell, Al Jackson, Kid Kyle, Mack Stevens, The Go-Getters, The Spunyboys, Lucky Guy & The Chancers and many more. Venue is the Seacroft Holiday Village, Hemsby, Norfolk NR29 4HR Info on 01772 761522.




The Rock'n Red Hot Club weekender runs from May 8th-11th 2015 at the Redcliffe Hotel in Paignton, Devon. There's music from Mary Jean Lewis, 59 Ford, The Alleycats and The Kingcats. Booking info from Mike on 07879 228451 / 0117 967 5114




Now in its 15th year, Ritchie Gee's Wildest Cats In Town weekender rocks Pontins Pakefield from July 2nd-6th.

In the line-up are Ray Campi, Sonny Burgess, Charlie Gracie, Rip Masters, Crazy Cavan & The Rhythm Rockers, Spunyboys, Danny Reno, The Cosh Boys, Lucas & The Dynamos, Jive Romeros, Steve Riot, CorrupTed, Lennerockers, Dave Savage and the Savages, Johnny Fox, Fireballs UK, Bernie Wood & The Forest Fires, The Kingcats, Rock-A-Toons, Sandy Ford's Flying Saucers, The Bobcats, Porky's Hot Rockin', The Rat Pack, The Stingrays, Some Like It Hot and Rockin'Em.

For booking information phone Ritchie or Kathy on 01530 455657 or 07976 964086 or see www.tennesseeclub.net.



The Hoedown Weekend rocks Fort San Antone in Lancashire from August 21st-23rd with the Tennessee Rhythm Riders, Rusti Steel & The Star Tones, the Doel Brothers, the Del Rio Ramblers and Bill Fadden's Dangerous Curves.









---

---

If it jumps, jives, bops or strolls we want to know about it. Email or call 07833 703189.