Jive Aces perform for the Queen
JIVING JUBILEE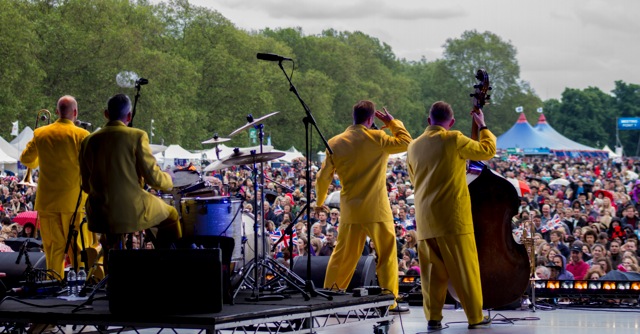 by
<! 28 Apr 2012, 13 May 2012, 15 May 2012, 7 June 2012 > The Jive Aces rounded off a triumphant Jubilee weekend by playing a gig for 10,000 people in London's Hyde Park.
The headline performance at the Jubilee Family Festival led up to the Queen's appearance on the balcony of Buckingham Palace, cheered by huge crowds, on the June 6th Bank Holiday.
On the preceding Saturday they played at the Epsom Derby during the Queen's visit. And on the Sunday they gigged at the National Theatre following the Jubilee pageant.
Lead singer Ian Clarkson said: "It has been an amazing weekend for the band and of course for Britain, uniting us all again to celebrate a great and hard working lady, our Queen Elizabeth!"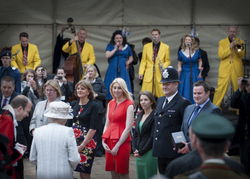 And the Jive Aces played for the Queen in person when she and Prince Philip visited Bromley in South East London on May 21st. The swing band were chosen to perform along with vocal group the Swingtime Sweethearts.
Speaking after the Aces' defeat on Britain's Got Talent, Ian said: "When we entered BGT, our ambition was to play the Royal Variety Performance in front of the Queen, and now our dream has come true, sooner than we had hoped for!"
The band's self-penned song, Diamond Jubilee was well received, with crowds joining in the chorus: 'Everyone say thank you Ma'am, it's the Diamond Jubilee!' The track is now available as a free download.
Exposure
It marked a swift reversal of fortune for the Jive Aces after the disappointment of being defeated on the BGT semi-final by Border collie Pudsey and 17-year-old owner Ashleigh Butler. The doggy duo went on to win the series.

In contrast to their first appearance in the auditions, the Aces' rendition of the Jungle Book classic Bare Necessities left judge Simon Cowell underwhelmed, with him telling them they did not have a "cat in hell's chance" of winning.

"It was fun," he conceded. "But my problem was that I expected a step up and something different." He also said he was bored with the band's yellow suits. (Ironically, the musicians had agreed with producers to appear in gold lamé suits, but there wasn't enough time for them to be made.) Among fellow judges, only Alesha Dixon managed to enthuse, pronouncing the Aces "world class" and "joyful to watch".

Front man Ian Clarkson was stuggling with a throat complaint following a busy run of gigs. With some tips from the show's voice coach he pulled it off on the night, but when viewers' votes were declared, the Jive Aces were the first act to be sent home.
| | |
| --- | --- |
| | |
| Top dog: Ian with BGT winners Ashleigh and Pudsey | |
However, the band are looking on the bright side.... Ian told Planet Jive: "We knew that it was 'reality' TV when we went in for it and we did it for the exposure and the experience - and we got a lot of both. Yes it was daring for a jive band to enter a reality show where the average age of the voters is 14. We're not a boy band but a 'man band'. And we got through to the semi-finals out of 60,000 contestants! And the dog is pretty cute!"

Despite losing out to Pudsey, the band have reaped a publicity whirlwind. A spokeswoman said: "The feedback has been incredible. Within 24 hours we had over 20 new booking inquiries. We were asked to appear on BBC Radio London the night after, then a press conference and photo shoot, and have been busy with local papers and radio since, and requests are still pouring in.

"Our online hits have gone wild with the number of people reached on Facebook alone being 290,000 since the semi-final show!"






The Jive Aces were fast-tracked to the semi-final after an audition screened on April 28th featuring another Jungle Book anthem, I Wanna Be Like You, which was hailed as "abolutely brilliant" by cartoon-loving Simon Cowell. He gushed: "Those guys have put me in a good mood."

Fellow judge David Walliams agreed the Jive Aces should go through to the next round, declaring: "101 per cent yes". Alesha Dixon's verdict: "A massive yes from me, guys. You are through to the next round."

The band's audition was filmed in Cardiff a few weeks earlier. They had originally planned to perform another song, but were advised to go for I Wanna Be Like You by producers who heard them rehearsing it.

Ian Clarkson, bass player Ken Smith, pianist Vince Hurley, drummer Peter Howell, sax player John Fordham and trumpeter Alex Douglas wore their trademark yellow suits and gave a performance which had the audience cheering.



But some Jive Aces fans were furious that ITV producers gave the band just 30 seconds airtime, while other acts got more than eight times as much.





Planet Jive is at www.planetjive.com www.planet-jive.com www.planetjive.co.uk and www.planet-jive.co.uk
---