Bring Me Sunshine storms YouTube

1,000,000 HITS FOR
JIVE ACES VIDEO

<! 1 Apr 2011>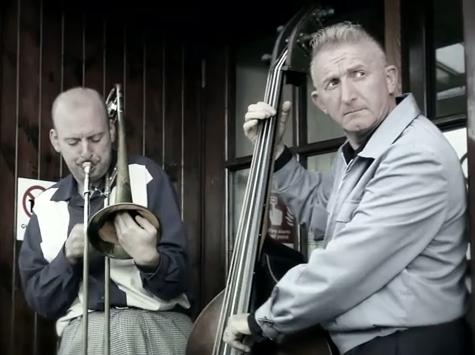 The Jive Aces' Bring Me Sunshine video has been watched more than a million times on YouTube.
The milestone was reached on June 3rd, less than three months after the video was first posted. <!on March 17th>
Speaking from Breda, Holland where the band are playing at a festival, lead singer Ian Clarkson said: "Well done everybody for watching it over and over, we do appreciate your work! And thank you for your willingness to spread the sunshine!"
Bring Me Sunshine has been released as a single and was screened at the New York International Independent Film Festival in May.
In the lavishly produced five-minute movie, the band hijack a doomladen TV newscast and cheer up viewers with their version of the Morecambe & Wise classic.
Ian Clarkson said: "It has to be the fastest moving rock'n'roll or jive video on YouTube, even beating Si Cranstoun's excellent Dynamo, which is at 39,000. It's another chance to get some good music out there and noticed by the average punter, spreading sunshine in a time of 'doom and gloom' and maybe even cutting through the stupor created by the endless stream of Britain's Got Talent and X-Factor winners and runners up."

The video was shot mainly at Bobby Jo's 50s Diner in Southend-on-Sea, Essex but some scenes were filmed at another period venue, Cafe 50s in Hollywood. Remarkably, additional filming was carried out in Taiwan, Ukraine, India and Australia, where locals are seen watching the performance on TV.

Burgers
Ian explained: "The main bulk of the shooting in Southend took about three whole days, with some very early mornings in October last year, and the rest was filmed mainly in January and February in various stages. With all the dancers and extras on the set we had a great time at the diner and the girls who work there were very patient. We bought so many burgers for the cast and crew that we actually used up their week's supply. Even though it was hard work, the atmosphere was a lot of fun and I ended up playing the tune on the ukulele about a thousand times (at least it felt like it!)"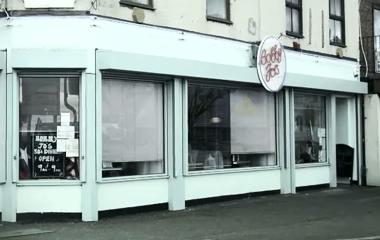 Diner owners Jo and Tony Cox said: "The guys borrowed some of our uniforms and we made sure they were fed and watered all day. The milkshakes went down a storm. A lot of the furniture had to be moved around and light fixtures removed as the dancers were flying about in the air and we didn't want anyone knocking themselves out! When we saw the video we were so pleased. It's amazing and of course we loved the way the diner looked... so bright and inviting. It really did make you tap your feet, smile and want to dance."

Ian Clarkson says the video's success is down to teamwork: "We work very much as a team but the story for the video including the concept of the TV newscast was thought up by our trombonist Alex and our American director Rachael Hastings, who has a lot of experience with music videos and also loves the music and style too, which definitely helps.

"The whole team had a lot of great ideas and input and we would be constantly talking about it, but Alex had that initial concept and managed to communicate back and forth to America until Rachael was very interested and engineered getting a great shoot team together and some great equipment - which even attracted attention from another crew filming a movie just down the road from the Southend diner."

Tough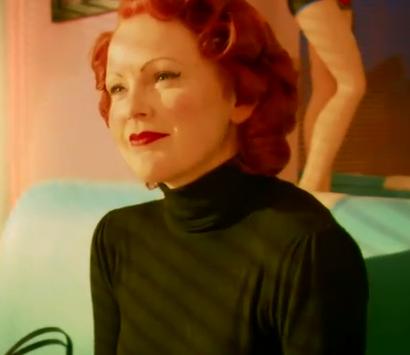 "The difficulties in making such a video are really the usual problems of time and finance, but we got a lot of help from friends and extras and dancers happy to hang about in a 50s diner all day. The director, described by Scott Cupit of Swing Patrol as 'That great tough American girl who kept us all in line', did an amazing job with her team. We even got some behind the scenes footage for a possible 'making of' video, just for fun.

"As you can see, there are a lot of people involved: Joseph, Trisha and Manny from JiveSwing, Scott and Annie from Swing Patrol, Mark and Gen from Essex and Lil' Miss Hayley just to name a few. The girl with the red hair who starts out bickering with her other half is Lili La Scala, a retro opera singer, actress and friend who happens to live five minutes away from the location.

"Playing the news anchor is Jim Meskimen, a very accomplished actor, comedian and well known impressionist who has appeared in tons of movies and TV. His mum is also Marion from Happy Days, so the 50s are in his genes!"

Prima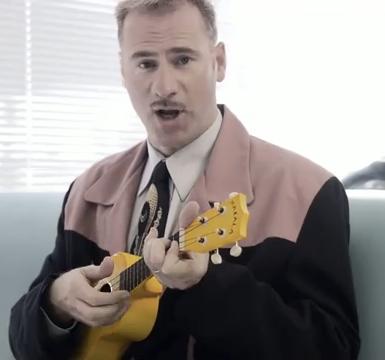 "Bring Me Sunshine was one of the first songs I learnt to play on the ukulele and I always loved it and I even got to play it for Prince Charles at the VE Day celebrations last year. We chose the song as part of our forthcoming album King Of The Swingers, which is basically a tribute to Louis Prima. Although the song was never done by Prima, we decided to give it a Prima arrangement as we felt the message of the song really summed up the effect his music has had on the world and it's what we aspire to doing too, ie. making people happier.

"We are releasing the single in a few weeks. It'll include a bonus extended version featuring special guest Toni Elizabeth Prima, daughter of Louis Prima and Keely Smith - plus another track from the album and the video on it too."

The Jive Aces have previously shot videos with Lionel Blair and Rolf Harris, but this - their most ambitious project - has been rewarded by their biggest online ratings yet.

Said Ian: "We were very happy with how the video turned out and we knew people would like it but it really has spread like wildfire, faster than we'd expected and it hasn't slowed down, only sped up. It gets more views per day as each day passes. Many of the comments we have got back were people saying things like 'This really brightened my day' or 'This really made me smile'. In several cases people told us it actually brought the sun out for real after they played the video! So it's definitely having the effect we intended, but on a much bigger scale, which is great."

• See the Bring Me Sunshine video here:





---
•
Go to Planet Jive front page for more news.